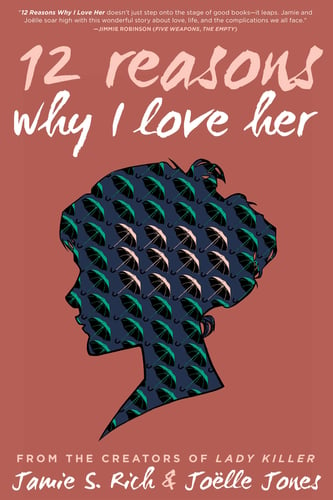 Title: 12 Reasons Why I Love Her

Creators:
Format: EBook Print

Color: Black and White

Romanceiness: Romantic Elements
Heat: NSFW
Tags: graphic novel vignettes straight

Where to Buy or Read:
Synopsis from the Creator
:
The classic romance from the team behind Lady Killer is back in print with a brand new hardcover edition! Now in a larger size, and featuring excerpts from the original script, this 10-year anniversary edition is perfect for fans of Fresh Romance. Twelve vignettes reveal the story of young couple Gwen and Evan's tumultuous relationship, one small piece at a time. It all adds up to an unforgettable romance rife with drama, humor, and heart.
Love In Panels' Review
:
At its simplest, this is the story of a relationship in 12 vignettes. They are presented out of order, which can be confusing during the first read. I haven't designated this "definitely a romance" because the story doesn't follow a traditional romantic arc. I was left feeling a bit heartbroken. The romance and love are certainly there, rendered beautifully, but there's also a lot of heartache and a very realistic look at why this one relationship fell apart.