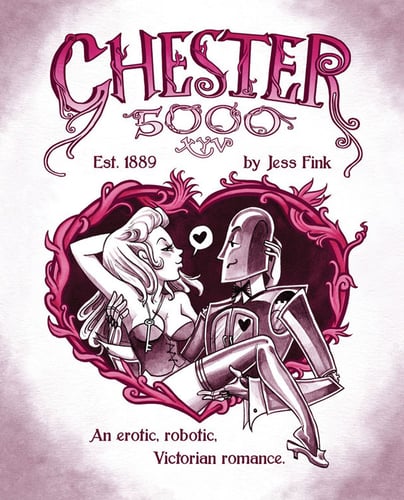 Synopsis from the Creator
:
Book One:
1885: an age of industrial revolution and sexual frustration. Pricilla is a woman with needs, and her inventor husband Robert is a little too busy with his experiments to keep her fully satisfied. Science to the rescue! With a few gears and springs, the proper appendages, a little lubrication, and a lot of love, Chester 5000 is born! He's the perfect tool for the job... but what if Chester is more than just a machine? What are the consequences of trying to engineer love? A vintage delight for adult readers of all stripes, Jess Fink's Top Shelf debut reads like a whimsical love-child of steampunk, silent film and erotic comics. CHESTER 5000: Because sometimes love comes with detachable body parts.
Book Two:
1889: an age of industrial revolution and sexual frustration. Isabelle is a lonely orphan, reprimanded at every turn by her strict matron. George is an inventor on the cusp of a brilliant discovery. Together they find love, but in an age of violent mechanization and military secrets, can their passion survive? After the smash success of CHESTER 5000's first volume (the tale of a Victorian woman and her robot lover), beloved webcartoonist Jess Fink returns with another triumphant story of boundary-breaking love, sex, and technology. Discover the origins of your favorite characters along with all-new thrills. All the drama and adventure of the silent film era is here, enlivened with modern whimsy and erotic charm.