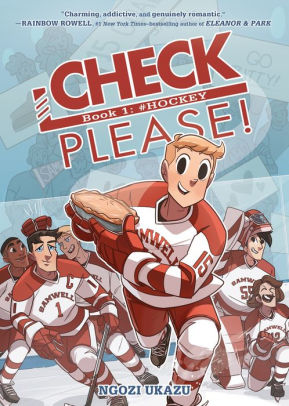 Title: Check, Please!

Creators:
Format: Webcomic EBook

Color: Color

Romanceiness: LGBTQ+ Elements
Heat: PG13
Tags: gay new adult webcomic

Where to Buy or Read
:
Updated 9/20/18:
Check Please! is now available in paperback from First Second!
Synopsis from the Creator
:
Check, Please! is written and drawn by Ngozi Ukazu.
Eric Bittle—former Georgia junior figure skating champion, vlogger extraordinaire, and amateur pâtissier—is starting his freshman year playing hockey at the prestigious Samwell University in Samwell, Massachusetts. And it's basically nothing like co-ed club hockey back in the South. For one?
There's checking.
It's a story about hockey and friendship and bros and trying to find yourself during the best 4 years of your life.
Love In Panels' Review
:
Dani (@danidoit) read Check, Please! and says...
I LOVED the main character, he's so sweet and easy to root for... it's easy to see where the romance is going pretty quickly. The way the love story is handled is almost a little too good to be true. It's definitely a feel-good romance, not erotica.
I plan on recommending this to a friend of mine who is straight, but loves hockey (you learn a lot about hockey) and another friend who is gay but is not into sports. I think that both of them would get something out of it. Once I got around the technical difficulties (trying to find the best way to read it*) I had a hard time putting it down. I'm glad I found it when a lot of story line had already come out.
I would call this comic PG-13. There is definitely swearing (one character is named Shitty), but it didn't stand out to me, so I don't think it was offensive or out of character. Some characters do talk about hooking up, but it's a college setting with college-age characters.
*Love In Panels recommends reading this in the Tumblr app or heading to their shop and buying it in PDF.
Suzanne would like to add that Dani sent her texts at 10pm and the next morning at 9am raving about the comic and whining that she had to go to work instead of continuing to read. Sounds like this is a good one!