April book showers bring May book... flowers
I'm tired, just give me this one, okay? Here are some books we're excited to read!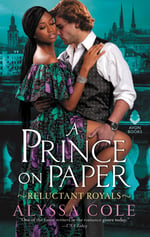 A Prince on Paper, by Alyssa Cole - April 30
The Reluctant Royals series returns with a good girl searching for the life that's not too big, and not too small, and the bad boy prince who might be just right for her…
Nya Jerami fled Thesolo for the glitz and glamour of NYC but discovered that her Prince Charming only exists in her virtual dating games. When Nya returns home for a royal wedding, she accidentally finds herself up close and personal—in bed—with the real-life celebrity prince who she loves to hate.
For Johan von Braustein, the red-headed step-prince of Liechtienbourg, acting as paparazzi bait is a ruse that protects his brother—the heir to the throne—and his own heart. When a royal referendum threatens his brother's future, a fake engagement is the perfect way to keep the cameras on him.
Nya and Johan both have good reasons to avoid love, but as desires are laid bare behind palace doors, they must decide if their fake romance will lead to a happily-ever-after.
Suzanne - I've read all four of the stories in this series so far and, while I'm going to be sad to say goodbye, I also cannot wait to read this one. Fake engagement!
Amy - AHHHHH! I've been loving Cole's Princess series and can't wait to see what shenanigans happen in this one.
Buy a copy: Amazon, Apple Books, Barnes & Noble, Kobo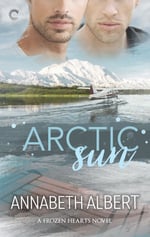 Arctic Sun, by Annabeth Albert - April 1
Everything's bigger in Alaska, especially the HEAs. Annabeth Albert kicks off the brand-new Frozen Hearts series with Arctic Sun, an opposites-attract romance between a rugged outdoorsman and a smoking hot former male model.
He's built a quiet life for himself in Alaska. But it doesn't stand a chance against the unrelenting pull of a man who's everything he shouldn't want.
Ex-military mountain man Griffin Barrett likes his solitude. It keeps him from falling back into old habits. Bad habits. He's fought too hard for his sobriety to lose control now. However, his gig as a wildlife guide presents a new kind of temptation in superhot supermodel River Vale. Nothing the Alaskan wilderness has to offer has ever called to Griffin so badly. And that can only lead to trouble…
River has his own methods for coping. Chasing adventure means always moving forward. Nobody's ever made him want to stand still—until Griffin. The rugged bush pilot is the very best kind of distraction, but the emotions he stirs up in River feel anything but casual, and he's in no position to stay put.
With temptation lurking in close quarters, keeping even a shred of distance is a challenge neither's willing to meet. And the closer Griffin gets to River, the easier it is to ignore every last reason he should run.
Publisher's Note: Arctic Sun deals with topics some readers may find difficult, including sobriety and eating disorders.
Alex - I've read a few of Annabeth Albert's books in Out of Uniform series, but I am especially looking
forward to reading this book because I have heard it has less focus on the military than most of
others.
Andrea - This book is amazing. It's a story of two guys on completely different paths of life who bond over hiking, outdoor photography and the daily grind of being in recovery. Bonus fact: both guys are out and identify on-page as pan and bi! [Read Andrea's review here!]
Buy a copy: Amazon, Apple Books, Barnes & Noble, Kobo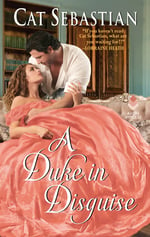 A Duke in Disguise, by Cat Sebastian - April 9
One reluctant heir
If anyone else had asked for his help publishing a naughty novel, Ash would have had the sense to say no. But he's never been able to deny Verity Plum. Now he has his hands full illustrating a book and trying his damnedest not to fall in love with his best friend. The last thing he needs is to discover he's a duke's lost heir. Without a family or a proper education, he's had to fight for his place in the world, and the idea of it—and Verity—being taken away from him chills him to the bone.
One radical bookseller
All Verity wants is to keep her brother out of prison, her business afloat, and her hands off Ash. Lately it seems she's not getting anything she wants. She knows from bitter experience that she isn't cut out for romance, but the more time she spends with Ash, the more she wonders if maybe she's been wrong about herself.
One disaster waiting to happen
Ash has a month before his identity is exposed, and he plans to spend it with Verity. As they explore their long-buried passion, it becomes harder for Ash to face the music. Can Verity accept who Ash must become or will he turn away the only woman he's ever loved?
Andrea - Besides the fact that it's Cat Sebastian so I'm totally in... A scandalous novel with erotic illustrations, now-or-never friends-to-lovers vibes, a woman doing what she's gotta do, and a ticking timebomb 'this could change everything' situation? Sold!
Suzanne - The heroine is bi. That's the pitch.
Buy a copy: Amazon, Apple Books, Barnes & Noble, Kobo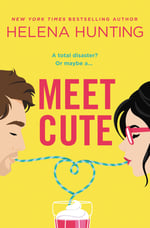 Meet Cute, by Helena Hunting - April 9
Kailyn Flowers was always calm, rational, and controlled-until she ended up sprawled all over Daxton Hughes, the former actor she totally crushed on as a teenager. Then she did the unthinkable: She became a mortifying fangirl in five seconds flat, which may or may not have included professing her undying love. And oddly, he didn't run away. In fact, their meet cute led to a friendship she never saw coming. Of course, she never saw his betrayal coming, either...
Now Dax needs her help. As guardian to his thirteen-year-old sister, he's in way over his head. And though Kailyn hasn't forgiven Dax, she isn't heartless enough to make him fend for himself, either. Soon their friendly meetings turn into flirty dinner dates, and Kailyn can feel their chemistry is as explosive as ever. But how can she possibly let down her guard again to a guy who has heartbreak written all over him?
Suzanne - This is such a cute cover and the inside of the book is supposed to be very sexy. There's also a teenager and I'm super excited to see how a teenage kid is going to annoy the crap out of her older brother.
Buy a copy: Amazon, Apple Books, Barnes & Noble, Kobo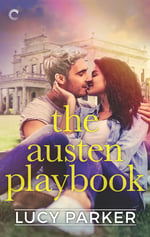 The Austen Playbook, by Lucy Parker - April 23
In which experienced West End actress Freddy Carlton takes on an Austen-inspired play, a scandal at a country estate, an enthusiastic search for a passion outside of acting…and the (some people might say icy*) heart of London's most feared theater critic.
*if those people were being nice
Freddy Carlton knows she should be focusing on her lines for The Austen Playbook, a live-action TV event where viewers choose the outcome of each scene, but her concentration's been blown. The palatial estate housing the endeavor is now run by the rude (brilliant) critic who's consistently slammed her performances of late. James "Griff" Ford-Griffin has a penchant for sarcasm, a majestic nose and all the sensitivity of a sledgehammer.
She can't take her eyes off him.
Griff can hardly focus with a contagious joy fairy flitting about near him, especially when Freddy looks at him like that. His only concern right now should be on shutting down his younger brother's well-intentioned (disastrous) schemes—or at the very least on the production (not this one) that might save his family home from the banks.
Instead all he can think of is soft skin and vibrant curls.
As he's reluctantly dragged into her quest to rediscover her passion for the stage and Freddy is drawn into his research on a legendary theater star, the adage about appearances being deceiving proves abundantly true. It's the unlikely start of something enormous…but a single revelation about the past could derail it all.
Suzanne - Lucy Parker's books are like a funny, sweet hug. I fully plan to listen to this one with an iced coffee and a blanket and just bask in the joy of a good story.
Buy a copy: Amazon, Apple Books, Barnes & Noble, Kobo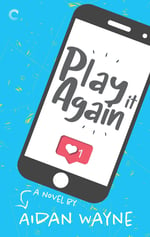 Play it Again, by Aidan Wayne - April 22
The videos are fun.
But it's the host who has him coming back for more…
When Seattle-based blind YouTuber Dovid Rosenstein finds Sam Doyle's Let's Play channel, playitagainsam, he's instantly captivated by the Irish gamer. Everything about Sam is adorable, from his accent to his personality, and Dovid can't get enough of his content.
Dovid's glowing shout-out on Don't Look Now, his own successful channel, sends Sam's subscriber numbers skyrocketing overnight. He has more comments than he can read. And while the sudden surge in popularity is anxiety inducing, Sam decides it's only right to dedicate his next episode to Dovid…which soon leads to a heart-pounding exchange of DMs.
They may have never met in person, but Dovid's never felt this close to anyone before. What they have feels worth exploring—no matter the distance. But is it possible to already be in love with someone who's half a world away?
Alex - After reading author's previous books I'm excited about this one. It even focuses on one of my favourite way to meet people and become friends – internet friendship. As someone who has found many friends that way, I enjoy reading the stories where the same happens to main characters. It also has a disability rep, with the main character, Dovid, being blind.
Buy a copy: Amazon, Apple Books, Barnes & Noble, Kobo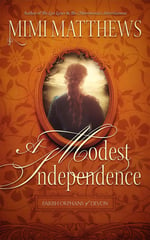 A Modest Independence, by Mimi Mathews - April 23
He Needed Peace...
Solicitor Tom Finchley has spent his life using his devious intellect to solve the problems of others. As for his own problems, they're nothing that a bit of calculated vengeance can't remedy. But that's all over now. He's finally ready to put the past behind him and settle down to a quiet, uncomplicated life. If only he could find an equally uncomplicated woman.
She Wanted Adventure...
Former lady's companion Jenny Holloway has just been given a modest independence. Now, all she wants is a bit of adventure. A chance to see the world and experience life far outside the restrictive limits of Victorian England. If she can discover the fate of the missing Earl of Castleton while she's at it, so much the better.
From the gaslit streets of London to the lush tea gardens of colonial India, Jenny and Tom embark on an epic quest--and an equally epic romance. But even at the farthest edges of the British Empire, the past has a way of catching up with you...
Eva - When I read The Matrimonial Advertisement last month, I had no idea that the second book in the series would be published that soon, but it does make me very happy. Tom and Jenny, who will be the main characters in A Modest Independence, already appeared in the first book and were very likeable. So I had been looking forward to reading more about them. I would even say that Tom might appeal to me more as a romance hero than Justin from Matrimonial Advertisement did. I liked Justin, but he was rather gloomy and Tom seems a bit more cheerful. Additionally, he's quite the schemer and I hope he'll be able to show it because there are few things I enjoy as much as seeing a beautifully orchestrated scheme come together.
Buy a copy: Amazon, Apple Books, Barnes & Noble, Kobo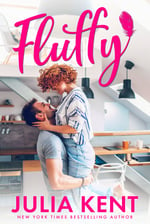 Fluffy, by Julia Kent - April 30
It all started with the wrong Help Wanted ad. Of course it did.
I'm a professional fluffer. It's NOT what you think. I stage homes for a living. Real estate agents love me, and my work stands on its own merits.
Sigh. Get your mind out of the gutter. Go ahead. Laugh. I'll wait.
See? That's the problem. My career has used the term "fluffer" for decades. I didn't even know there was a more... lascivious definition of the term.
Until it was too late.
The ad for a "professional fluffer" on Craigslist seemed like divine intervention. My last unemployment check was in the bank. I was desperate. Rent was due. The ad said cash paid at the end of the day. The perfect job!
Staging homes means showing your best angle. The same principle applies in making a certain kind of movie. Turns out a "fluffer" doesn't arrange decorative pillows on a couch.
They arrange other soft, round-ish objects.
The job isn't hard. Er, I mean, it is -- it's about being hard. Or, well... helping other people to be hard.
Oh, man...
And that's the other problem. A man. No, not one of the stars on the movie set. Will Lotham - my high school crush. The owner of the house where we're filming. Illegally. In a vacation rental.
By the time the cops show up, what I thought was just a great house staging gig turned into a nightmare involving pictures of me with an undressed star, Will rescuing me from an arrest, and a humiliating lesson in my own naivete.
My job turned out to be so much harder than I expected. But you know what's easier than I ever imagined?
Having all my dreams come true.
Andrea - This cover is adorable! And I'm always ready for books with cool jobs! I've heard that this book will make you laugh out loud and also swoon at the perfect book boyfriend happenings, so I'm gonna dive in.
Buy a copy: Amazon, Apple Books, Barnes & Noble, Kobo
What are you looking forward to in April?