Woohoo! Last month of the year! January's absurdly full of new books, so please consider this month a bit of a breather.

And now, for the books we're looking forward to picking up in December!

This post includes affiliate links.

***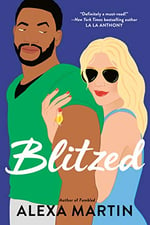 Blitzed, by Alexa Martin - December 3

Maxwell Lewis has to make the play of his life in order to breach the woman of his dream's defenses in this new football romance from the author of Fumbled.
Brynn Larson owes a lot to reality television and professional athletes. Her bar hit new heights of success after becoming a local haunt for the Denver Mustangs players and their WAGs. But although she's grateful, that doesn't mean she's crazy. And that's exactly what she would be to ever consider dating a professional athlete. Even if it's Maxwell Lewis, whose shy smile makes her wonder what going on behind those beautiful brown eyes.
Maxwell knew from the moment he met Brynn that she was going to change his life. It was only a matter of time. But when he finally makes a move, fate conspires against him and everything goes wrong. Now he has to show her that their potential is real. Too bad for him, Brynn isn't fooled by his glamorous NFL life, and when ghosts from both their pasts make a sudden reappearance, she must decide who she can trust. But when the person she's most afraid of is herself, navigating life's tackles is harder than anticipated.

Suzanne

- I already read this! It was good!

Buy a copy: Amazon ◊ Barnes & Noble ◊ Kobo ◊ Apple Books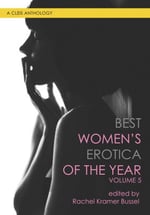 Best Women's Erotica Vol. 5, by edited by Rachel Kramer Bussel - December 10

In Best Women's Erotica of the Year, Volume 5, award-winning editor Rachel Kramer Bussel takes readers on an outrageous journey into the world of female fantasy and desire. These sexy stories offer up wild, hot and steamy tales from today's top authors. You'll be swept away by the sexiest business deal ever, break the rules in a future world where skin on skin contact is forbidden, and discover the art of getting off by phone sex.
From threesomes to mermaid sex, fetishes, sex parties and much more, these authors steam up the pages with tales of trysts, love, and lust where nothing is held back. If you're looking to escape from the everyday and discover what happens when women are ready to get totally outrageous, this book is for you.
With new stories by beloved authors including Joanna Angel, Balli Kaur Jaswal, CD Reiss, Sierra Simone, and Sabrina Sol, along with newcomers to the genre, you'll savor every sizzling page.
Suzanne - This isn't romance! However, I'm always pleasantly surprised by the wide array of stories in these collections. Rachel Kramer Bussel does a great job mixing up the pairings (and more), settings, characters, etc.
Buy a copy: Amazon ◊ Barnes & Noble ◊ Apple Books ◊ Kobo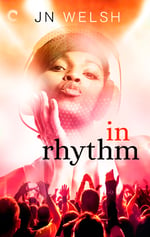 In Rhythm, by JN Welsh - December 9

Superstar or Supernova?
Asha "Velvet" Kendall is this close to achieving her dream of headlining the legendary Temptation Festival as half of the DJ duo Bedazzled Beats. The EDM scene could use a powerful female presence, and Velvet and her bestie Candy are ready for their moment in the spotlight. A chance encounter with sexy-as-sin industry icon Isaak "Zazzle" Van Sandt is the cherry on top.
With a shared passion for music and an intense mutual attraction, the pair should be totally in sync. Instead, Zazzle's reputation for hard partying has Velvet hitting Pause.
Zazzle knows both the high of superstardom and the darker side of the life. But six months after rock bottom, he's got his feet firmly planted on a new, less destructive path. Next stop: wooing the curvaceous and tenacious "one that got away."
But Velvet's been there, done that, and she's wary of risking her heart—not to mention her career—on someone in recovery. Earning her trust won't be easy. If Zazzle can manage it, off-the-charts chemistry might just turn into once-in-a-lifetime love…
Suzanne - It feels like I've been waiting forever for this book! I really enjoyed the first one.
Buy a copy: Amazon ◊ Barnes & Noble ◊ Kobo ◊ Apple Books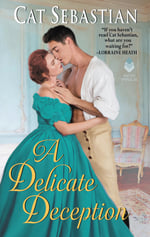 A Delicate Deception, by Cat Sebastian - December 10

When Amelia Allenby escaped a stifling London ballroom for the quiet solitude of the Derbyshire countryside, the very last thing she wanted was an extremely large, if - she grudgingly admits - passably attractive man disturbing her daily walks. Lecturing the surveyor about property rights doesn't work and, somehow, he has soon charmed his way into lemon cakes, long walks, and dangerously heady kisses.
The very last place Sydney wished to be was in the shadow of the ruins of Pelham Hall, the inherited property that stole everything from him. But as he awaits his old friend, the Duke of Hereford, he finds himself increasingly captivated by the maddeningly lovely and exceptionally odd Amelia. He quickly finds that keeping his ownership of Pelham Hall a secret is as impossible as keeping himself from falling in love with her.
But when the Duke of Hereford arrives, Sydney's ruse is revealed and what started out as a delicate deception has become a love too powerful to ignore. Will they let a lifetime of hurt come between them, or can these two lost souls find love and peace in each other?
Ana - Finally? So eager for this.
Buy a copy: Amazon ◊ Barnes & Noble ◊ Kobo ◊ Apple Books
Mangos and Mistletoe, by Adriana Herrera - December 23

Kiskeya Burgos left the tropical beaches of the Dominican Republic with a lot to prove. As a pastry chef on the come up, when she arrives in Scotland, she has one goal in mind: win the Holiday Baking Challenge. Winning is her opportunity to prove to her family, her former boss, and most importantly herself, she can make it in the culinary world. Kiskeya will stop at nothing to win , that is, if she can keep her eyes on the prize and off her infuriating teammate's perfect lips.
Sully Morales, home cooking hustler, and self-proclaimed baking brujita lands in Scotland on a quest to find her purpose after spending years as her family's caregiver. But now, with her home life back on track, it's time for Sully to get reacquainted with her greatest love, baking. Winning the Holiday Baking Challenge is a no brainer if she can convince her grumpy AF baking partner that they make a great team both in and out of the kitchen before an unexpected betrayal ends their chance to attain culinary competition glory.
Suzanne - F/f foodie romance with rival bakers! I cannot.

Buy a copy: Amazon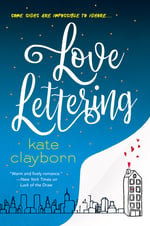 Love Lettering, by Kate Clayborn - December 31

In this warm and witty romance from acclaimed author Kate Clayborn, one little word puts a woman's business—and her heart—in jeopardy . . .
Meg Mackworth's hand-lettering skill has made her famous as the Planner of Park Slope, designing custom journals for her New York City clientele. She has another skill too: reading signs that other people miss. Knowing the upcoming marriage of Reid Sutherland and his polished fiancée was doomed to fail is one thing, but weaving a secret word of warning into their wedding program is another. Meg may have thought no one would spot it, but she hadn't counted on sharp-eyed, pattern-obsessed Reid.
A year later, Reid has tracked Meg down to find out how she knew that his meticulously planned future was about to implode. But with a looming deadline and a bad case of creative block, Meg doesn't have time for Reid's questions—unless he can help her find her missing inspiration. As they gradually open up to each other, both try to ignore a deepening connection between them. But the signs are there—irresistible, indisputable, urging Meg to heed the messages Reid is sending her, before it's too late . . .
Suzanne and Ana are both super excited for this book. Clayborn's writing is gorgeous.
Buy a copy: Amazon ◊ Barnes & Noble ◊ Kobo ◊ Apple Books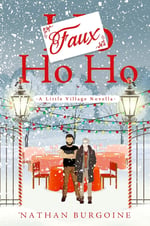 Faux Ho Ho, by Nathan Burgoine - December 10

Silas Waite doesn't want his big-C Conservative Alberta family to know he's barely making rent. They'd see it as yet another sign that he's not living up to the Waite family potential and muscle in on his life. When Silas unexpectedly needs a new roommate, he ends up with the gregarious—and gorgeous—personal trainer Constantino "Dino" Papadimitriou.
Silas's parents try to browbeat him into visiting for Thanksgiving, where they'll put him on display as an example of how they're so tolerant for Silas's brother's political campaign, but Dino pretends to be his boyfriend to get him out of it, citing a prior commitment. The ruse works—until they receive an invitation to Silas's sister's last-minute wedding.
Silas loves his sister, Dino wouldn't mind a chalet Christmas, and together, they could turn a family obligation into something fun. But after nine months of being roommates, then friends, and now "boyfriends," Silas finds being with Dino way too easy, and being the son that his parents barely tolerate too hard. Something has to give, but luckily, it's the season for giving. And maybe what Silas has to give is worth the biggest risk of all.
Andrea - This book has: the MOST festive cover! A super fun title! And the cuuuutest preorder announcement ever!! TBH, the official blurb lost me, but Nathan's tweets sold me! He's giving us a fake relationship between a coder and a personal trainer, with cosplay, Venn diagrams, and a tossed pink jockstrap at a wedding they're accidentally invited to!
Buy a copy: Bold Strokes Books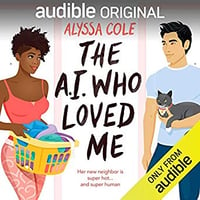 The AI Who Loved Me,

by Alyssa Cole - December 3

Performed by Regina Hall and featuring Mindy Kaling, a captivating romantic comedy with a thrilling sci-fi twist!
Trinity Jordan leads a quiet, normal life: working from home for the Hive, a multifunctional government research center, and recovering from the incident that sent her into a tailspin. But the life she's trying to rebuild is plagued by mishaps when Li Wei, her neighbor's super sexy and super strange nephew, moves in and turns things upside down.
Li Wei's behavior is downright odd - and the attraction building between them is even more so. When an emergency pulls his aunt away from the apartment complex, Trinity decides to keep an eye on him...and slowly discovers that nothing is what it seems. For one thing, Li Wei isn't just the hot guy next door - he's the hot A.I. next door. In fact, he's so advanced that he blurs the line between man and machine. It's up to Trinity to help him achieve his objective of learning to be human, but danger is mounting as they figure out whether he's capable of the most illogical human behavior of all...falling in love.

Ana - Super happy to get some SF from her again!
Suzanne - Me too!
Buy a copy: Audible Original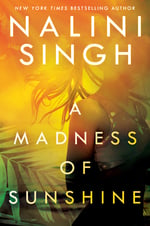 A Madness of Sunshine,

by Nalini Singh - December 3

New York Times bestselling author Nalini Singh welcomes you to a remote town on the edge of the world where even the blinding brightness of the sun can't mask the darkness that lies deep within a killer.…
On the rugged West Coast of New Zealand, Golden Cove is more than just a town where people live. The adults are more than neighbors; the children, more than schoolmates.
That is until one fateful summer—and several vanished bodies—shatters the trust holding Golden Cove together. All that's left are whispers behind closed doors, broken friendships, and a silent agreement to not look back. But they can't run from the past forever.
Eight years later, a beautiful young woman disappears without a trace, and the residents of Golden Cove wonder if their home shelters something far more dangerous than an unforgiving landscape.
It's not long before the dark past collides with the haunting present and deadly secrets come to light.
Ana - I'm intrigued and nervous about Nalini's thriller. I own but haven't read Victoria Helen Stone's thrillers yet. (That's Victoria Dahl's non-romance pen name!)
Buy a copy: Amazon ◊ Barnes & Noble ◊ Kobo ◊ Apple Books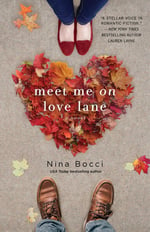 Meet Me on Love Lane, by Nina Bocci - December 10
From the USA TODAY bestselling author of On the Corner of Love and Hate comes a romantic comedy about a woman who grudgingly returns home to small-town Pennsylvania, only to find herself falling in love—not only with the town, but with two of its citizens.
Charlotte Bishop is out of options in New York City. Fired, broke, and blacklisted by her former boss, she's forced to return to her hometown of Hope Lake, PA to lick her wounds. Although she's expecting to find a miserable place with nothing to do, she is pleasantly surprised to discover it is bustling and thriving.
She's only supposed to be in Hope Lake temporarily until she can earn enough money to move back to New York. She's not supposed to reconnect with her childhood friends or her beloved grandmother. She's not supposed to find her dream job running the local florist shop. And she's definitely not supposed to fall for not one but two of Hope Lake's golden boys: one the beloved high school English teacher, the other the charming town doctor.
With a heart torn between two men and two cities, what's a girl to do?
A perfect blend of humor and heart, Meet Me on Love Lane is the second in a new series from USA TODAY bestselling author Nina Bocci that is sure to charm fans of Josie Silver and Sally Thorne.
Suzanne - The first in this series was lovely and I'm actually excited to go back to this small town. Also it's a love triangle. So.
Buy a copy: Amazon ◊ Barnes & Noble ◊ Kobo ◊ Apple Books
What books are you looking forward to this month?