We'll come up with a snappy name for this feature soon. Maybe. Got any suggestions?
Ahem. This is the first in a monthly series in which we will highlight the books we're excited about that release in the coming month. You are super duper welcome to suggest more in the comments. Our communal TBR pile is already so out of control that we may as well add to it!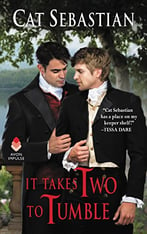 It Takes Two to Tumble, by Cat Sebastian
We've got a review of this one coming soon, but it's essentially The Sound of Music with a gay vicar instead of Maria and half the number of kids. So like, Grantchester x Sound of Music = It Takes Two to Tumble. Cat always adds small animals (there are DUCKLINGS) and pastries and it's such fun, y'all. December 12!
Amazon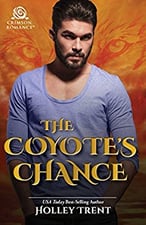 The Coyote's Chance, by Holley Trent
Holley pitches this as "an unfiltered Coyote alpha and a demigoddess band teacher who never, ever swears." Demigoddess. Band. Teacher. Zooming into e-readers on December 18.
Amazon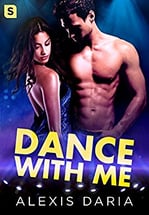 Dance With Me, by Alexis Daria
This is the second in Alexis' duology that's like Dancing with the Stars, but you get to see all the off-camera sexiness and angst. Okay, maybe it's more like Dirty Dancing without the weird power dynamics? Whatever it is, it's dancing romance. Tango-ing into your heart on December 12.
Amazon
Love on the Tracks, by Tamsen Parker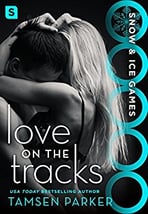 Full disclosure: Tamsen is a friend, so this is a totally biased "looking forward to," but let me give you the pitch before you write it off. Remember when Simone Biles got to meet Zac Efron after the 2016 Olympics? Okay, swap in a lady luger and a boy bander and add in some fake dating. I am here for unconventional sports romance with a powerful female athlete. Better, it's the first in her five-book Snow & Ice Games series, which are perfectly timed to heat up your winter. December 5!
What are you looking forward to?