February is a big month for romance, what with that little holiday in the middle. With all the hearts and roses and chocolates around, is it any surprise that our TBR list is so big this month?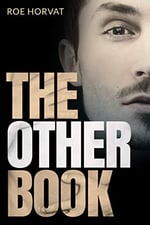 The Other Book, by Roe Horvat - Jan. 30
It was supposed to be just sex... Famous last words.
Tyler doesn't overthink pleasure and avoids complications. He knows it might be stupid to get involved with his closeted boss, but the temptation is too great. At first, the cold and beautiful Joel Sandstrom seems to loathe Tyler's guts.
Except one late night at the office, his reasons become clear...and his control breaks.
Every time they touch, Joel's stony face comes alive, harsh lines smooth out, and for a minute, he looks serene. Happy, even. Just sex - dirty, intense, spectacular sex.
During their covert encounters, Tyler discovers the power he has over the lonesome man, and it's a heady feeling. What if he could set Joel free and give him peace of mind? When Tyler realizes how much Joel needs him, he doesn't regret breaking his own rules.
Alex - This one is different than other books by the author, which is why the title is The Other Book. It's less angsty than other books, but it still has some difficult themes in it (homophobia coming from parent, cancer and death from cancer) but as it is classified as erotica, it lives up to its genre, as well as the name. There's a long author's note in the beginning as well and it explains some reasons for the book in general. [Alex beta-reads for Roe Horvat.]
Buy a copy: Amazon (Also in Kindle Unlimited)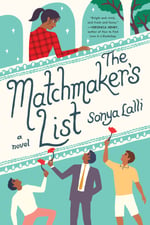 The Matchmaker's List, by Sonya Lalli - Feb. 5
One devoted modern girl + a meddlesome, traditional grandmother = a heartwarming multicultural romantic comedy about finding love where you least expect it
Raina Anand may have finally given in to family pressure and agreed to let her grandmother play matchmaker, but that doesn't mean she has to like it--or that she has to play by the rules. Nani always took Raina's side when she tried to push past the traditional expectations of their tight-knit Indian-immigrant community, but now she's ambushing Raina with a list of suitable bachelors. Is it too much to ask for a little space? Besides, what Nani doesn't know won't hurt her...
As Raina's life spirals into a parade of Nani-approved bachelors and disastrous blind dates, she must find a way out of this modern-day arranged-marriage trap without shattering her beloved grandmother's dreams.
Amy - I am always here for Desi romances because it's the closest I'm going to get to a Sri Lankan romance book. [Editor's Note: the main character pretends to be gay for much of the book in order to avoid the matchmaking process.]
Buy a copy: Amazon, Apple Books, Barnes & Noble, Kobo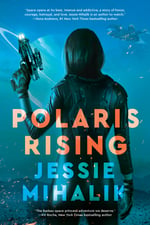 Polaris Rising, by Jessie Mihalik - Feb. 5
A space princess on the run and a notorious outlaw soldier become unlikely allies in this imaginative, sexy space opera adventure—the first in an exciting science fiction trilogy.
In the far distant future, the universe is officially ruled by the Royal Consortium, but the High Councillors, the heads of the three High Houses, wield the true power. As the fifth of six children, Ada von Hasenberg has no authority; her only value to her High House is as a pawn in a political marriage. When her father arranges for her to wed a noble from House Rockhurst, a man she neither wants nor loves, Ada seizes control of her own destiny. The spirited princess flees before the betrothal ceremony and disappears among the stars.
Ada eluded her father's forces for two years, but now her luck has run out. To ensure she cannot escape again, the fiery princess is thrown into a prison cell with Marcus Loch. Known as the Devil of Fornax Zero, Loch is rumored to have killed his entire chain of command during the Fornax Rebellion, and the Consortium wants his head.
When the ship returning them to Earth is attacked by a battle cruiser from rival House Rockhurst, Ada realizes that if her jilted fiancé captures her, she'll become a political prisoner and a liability to her House. Her only hope is to strike a deal with the dangerous fugitive: a fortune if he helps her escape.
But when you make a deal with an irresistibly attractive Devil, you may lose more than you bargained for . . .
Ana - Set in a galaxy far far away from Upstate, NY is Polaris Rising. An heiress from a powerful intergalactic mercantile family is hiding from her parents power-hungry matchmaking and oppressive training by hiding out in small backwater planets, till bounty hunters catch up with her. Thrown in the same cell with a dangerous fugitive, they form a wary alliance as they attempt to shake their pursuers. The book is full of high action, good banters and quirky supporting characters.
Buy a copy: Amazon, Apple Books, Barnes & Noble, Kobo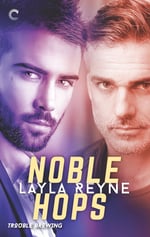 Noble Hops, by Layla Reyne - Feb. 11
Everything Dominic Price has worked hard to uphold is about to come crashing down on everything he holds dear.
So much for the quiet life. Just as assistant US attorney and brewery owner Dominic Price is settling into a comfy new chapter with his partner, FBI agent Cameron Byrne, the sudden death of Nic's father puts their happily-ever-after in jeopardy. Nic immediately suspects foul play, his prime suspect a notorious gangster his father was indebted to—only now the loan shark is out for blood.
Cam has been longing for Nic to finally let him in on this very personal case. But when Nic's belief that he's the sole Price heir is upended, the line between personal and professional starts to blur, leaving Cam unsure of where he stands.
Nic is depending on Cam's kidnap and rescue expertise to save his recently discovered family member before it's too late. But with a dangerous threat closing in, the ghosts from Nic's past cast long shadows. Any relationship could crack under the pressure, but for Nic, finding his family might mean losing the love of his life.
Alex - Supposedly the last book in Trouble Brewing series. I still have to read the first two books (I know, shame on me), but I have heard good things about it. Different from the other books here since it belongs to romantic suspense genre and I haven't tried it yet. However, it seems it's the safest to try with this series as I see a lot of my friends recommend it.
Buy a copy: Amazon, Apple Books, Barnes & Noble, Kobo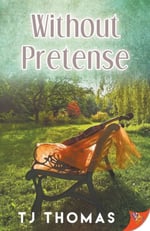 Without Pretense, by TJ Thomas - Feb. 12
The last thing world class violinist Ava Wellington wants is some nosy writer publishing her biography. Unfortunately, her manager is insistent this is the best way to capitalize on her fame. Ava is terrified someone might discover the secret she's kept for nearly twenty years, one that could not only destroy her career, but ruin the lives of those she loves most.
Journalist Bianca Vega has only just recovered from the loss of her wife and isn't prepared to see Ava again, not after the deep connection she felt almost two years ago. When Bianca is hired to write Ava's biography, they're thrust together on a whirlwind music tour and neither can ignore the desire that's simmered between them since that first chance meeting. Will Ava be able to trust Bianca with her darkest secret or will hiding her past destroy their chance at forever?
Eva - I'm not usually big on contemporary romance but this caught my eye anyway. The dynamic of professional musician & biographer promises to be unusual and interesting (and I have a weakness for musician and writer heroes/heroines in general). Admittedly, the reference to a "dark secret" also helped. I always enjoy some mystery with my romance.
Buy a copy: Amazon, Barnes & Noble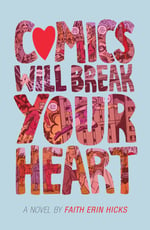 Comics Will Break Your Heart, by Faith Erin Hicks - Feb. 12
A sweet, funny contemporary teen romance for the inner geek in all of us from graphic novelist Faith Erin Hicks.
Miriam's family should be rich. After all, her grandfather was the co-creator of smash-hit comics series The TomorrowMen. But he sold his rights to the series to his co-creator in the 1960s for practically nothing, and now that's what Miriam has: practically nothing. And practically nothing to look forward to either-how can she afford college when her family can barely keep a roof above their heads? As if she didn't have enough to worry about, Miriam's life gets much more complicated when a cute boy shows up in town . . . and turns out to be the grandson of the man who defrauded Miriam's grandfather, and heir to the TomorrowMen fortune.
In her endearing debut novel, cartoonist Faith Erin Hicks pens a sensitive and funny Romeo and Juliet tale about modern romance, geek royalty, and what it takes to heal the long-festering scars of the past (Spoiler Alert: love).
Suzanne - I love Faith Erin Hicks' comics, so I'm super excited to read her first novel, especially since it's set in the world of comics! The enemies to lovers trope is just the cherry on top.
Buy a copy: Amazon, Apple Books, Barnes & Noble, Kobo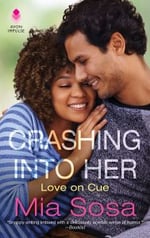 Crashing Into Her, by Mia Sosa - Feb. 19
Relationships are a thing of the past for Eva Montgomery. Her current motto? You can't spell "manipulative" without man. But Eva has needs, and a one-night-stand at her best friend's wedding is the perfect way to kick off her new approach to singledom. Then a job opportunity puts her in the same city with the guy she can't forget . . .
Anthony Castillo is a perpetual bachelor—no strings, just flings—a status he maintains by being honest about his intentions and never looking back. So why is he still thinking about the firecracker of a woman who rocked his world at his cousin's wedding? It's a question he refuses to answer, until she comes crashing back into his life, taking his emotional walls down with her.
When her father doubts her ability to make it in LA, Eva vows to go big and prove him wrong. With her athletic background, she's an ideal candidate for stunt work. But first she'll need training, and the instructor is none other than her former hookup, Anthony Castillo. Except he's not as cocky as she remembers and he's definitely still sexy as sin. The only problem is . . . Anthony doesn't want her anywhere near his stunt school—or his heart.
Andrea - Brown people on the cover! Wooh! Also, I'm a big fan of 'this was supposed to be a sexy one time thing and now it's turning into more ahhh' AND the main character is training to be a Stunt Woman?! Amazing!!!
Buy a copy: Amazon, Apple Books, Barnes & Noble, Kobo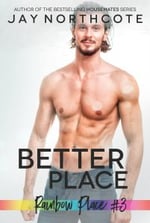 Better Place (Rainbow Place #3), by Jay Northcote - Feb. 22
Joe deserves better. Meeting Dylan helps him see that.
After a recent redundancy, Joe takes a few months off to try and make it as a writer. His partner, Harry, is less than supportive but Joe is used to that after ten years together, just like he's used to Harry's controlling nature and his drinking habit.
Dylan, a server at Rainbow Place, is fascinated by Joe as he sits in the café and works on his laptop. His attempts to flirt are met with awkwardness at first, but gradually Joe opens up. Dylan is disappointed when he learns Joe isn't single. As their friendship develops he begins to worry about the nature of Joe's relationship, especially when he witnesses Harry's behaviourin person. Abuse isn't always physical, and Dylan knows that from experience. His concern helps Joe see his relationship for what it is, and gives him the courage to end things with Harry.
Free to act on their mutual attraction, Joe and Dylan dive headlong into something that becomes serious fast. Joe revels in the passion and intimacy he's been missing out on for so long, but Dylan is worried that Joe is on the rebound. He puts on the brakes, knowing that they need to slow down to make this last. For this new relationship to work, Joe needs to show Dylan that he's ready to move on from the past.
Although this book is part of a series, it can be read as a standalone and has a satisfying happy ending.
Alex - Jay Northcote is one of my favourite authors, and I have adored both books from Rainbow Place series (Rainbow Place and Safe Place) so I am really looking forward to this one. It's part of the series in the sense that it is happening in the same place, and the characters have appeared in the previous books, but it can still be read as a standalone.
Buy Links aren't available yet, but you can add it on Goodreads!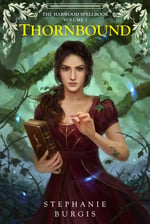 Thornbound, by Stephanie Burgis - Feb. 25
Cassandra Harwood scandalized her nation when she became the first woman magician in Angland. Now, she's ready to teach a whole new generation of bright young women at her radical new school, the Thornfell College of Magic…
Until a sinister fey altar is discovered in the school library, the ruling Boudiccate sends a delegation to shut down Thornfell, and Cassandra's own husband is torn away from her.
As malevolent vines slither in from the forest and ruthless politicians scheme against her, Cassandra must fight the greatest battle of her life to save her love, her school, and the future of the young women of Angland.
Ana - I also hope to read Thornbound, the second full book in Stephanie Burgis's The Harwood Spellbook series. I loved the first book, Snowspelled which was an m/f snowed-in, second chance romance, in a magical fantasy regency setting with a sweet secondary f/f romance.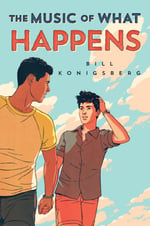 The Music of What Happens, by Bill Konigsberg - Feb. 26
Max: Chill. Sports. Video games. Gay and not a big deal, not to him, not to his mom, not to his buddies. And a secret: An encounter with an older kid that makes it hard to breathe, one that he doesn't want to think about, ever.
Jordan: The opposite of chill. Poetry. His "wives" and the Chandler Mall. Never been kissed and searching for Mr. Right, who probably won't like him anyway. And a secret: A spiraling out of control mother, and the knowledge that he's the only one who can keep the family from falling apart.
Throw in a rickety, 1980s-era food truck called Coq Au Vinny. Add in prickly pears, cloud eggs, and a murky idea of what's considered locally sourced and organic. Place it all in Mesa, Arizona, in June, where the temp regularly hits 114. And top it off with a touch of undeniable chemistry between utter opposites.
Over the course of one summer, two boys will have to face their biggest fears and decide what they're willing to risk -- to get the thing they want the most.
Andrea - This feels like a boys-in-summer love story that's gonna have so much heart and growth and real-life in it, and my favourite part of anticipating this book is an answer on its Goodreads page. Someone asked "Hmmmm, this sounds like Aristotle and Dante Discover the Secrets of the Universe. Does anyone agree?" and brilliant, iconic user 'ellie' replied: I think if we can have multiple books published every summer where the girl meets a boy and her normal, boring life is suddenly incredible because of him, we can have two gay books that focus on boys helping each other through vulnerability in a town set in the Southern United States. [mic drop]

Buy a copy: Amazon, Apple Books, Barnes & Noble, Kobo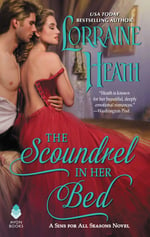 The Scoundrel in Her Bed, by Lorraine Heath - Feb. 26
The bastard son of a nobleman, Finn Trewlove was a shameful secret raised by a stranger. As Finn came of age he had secrets, too--the clandestine nights spent with an earl's daughter. But her promise of forever ended in betrayal.
Driven by a past that haunts her, Lady Lavinia Kent seeks redemption in London's underworld, engaged in a daring cause inspired by the young man to whom she gave her innocence, and who then proved himself a scoundrel by abandoning her.
When their paths cross again, they can't deny the yearning and desire that still burns. As they discover the truth behind the deceptions that tore them apart, Finn and Lavinia must fight to reclaim what they've lost, no matter how dangerous—because love is worth the risk….
Suzanne - This series has been the over-the-top angsty drama that I needed right when I've read it. Plus, the last one was quite lovely.
Buy a copy: Amazon, Apple Books, Barnes & Noble, Kobo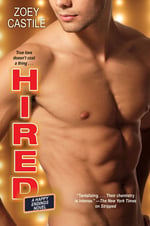 Hired, by Zoey Castile - Feb. 26
For a man who makes his living pleasuring women, what happens when the only pay-out worth having is love?
Faith Abigail Charles has always done the right thing. So when her mother runs for mayor of New Orleans, Faith puts her law career on hold to help her win. But when tensions run high, Faith trades one kind of heat for another—in the arms of a hard-bodied stranger. He's everything a woman dreams of in a lover. So much so that her one-night stand turns into two, then three, then four …
For Aiden Rios, meeting smart, sexy Faith feels like fate. After being ditched by his client in the Big Easy, the high-paid male escort needs a little company himself. Aiden knows he'll have to come clean about his line of work, and he plans to—right after another taste of Faith's sweetness—and another and another … Until a chance meeting with his client leaves Aiden exposed—and Faith shocked and hurt. Now the hired hottie must show Faith that the love they share is bigger than the scandal threatening to destroy them …
Ana - Hired is the second in Castile's Magic Mike XXL inspired series. The first book Stripped was fun, sexy and had interesting hot-mess heroine, and although I wanted a slightly different HEA for them, I am very interested where Castile goes with the books in this series.
Suzanne - This is on my list, too! I read Stripped on audio and plan to do the same with Hired. Castile's writing is funny and angsty at the same time.
Buy a copy: Amazon, Apple Books, Barnes & Noble, Kobo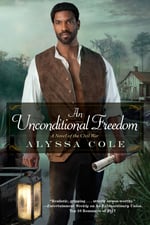 An Unconditional Freedom, by Alyssa Cole - Feb. 26
An assassination plot that could end the Civil War, and a hidden enemy that could destroy a secret league of unsung heroes …
Daniel Cumberland, born free in Massachusetts, studied law with dreams of helping his people—dreams that died the night he was kidnapped and sold into slavery. Daniel is rescued, but he's a changed man. When he's offered entry into the Loyal League, the covert organization of Black spies who helped free him, he seizes the opportunity for vengeance against the Confederacy and those who support it.
When the Union Army occupies the Florida home of Cuban Janeta Sanchez, daughter of an enslaved woman and the plantation owner who married her, her family's wealth does not protect her father from being imprisoned. Under duress and blaming herself for the arrest, Janeta agrees to infiltrate a group called the Loyal League as a double agent—and finds a cause truly worth the sacrifice.
Daniel is aggravated by the headstrong and much too observant new detective he's paired with, and Janeta is intrigued by the broken but honorable man she is tasked with betraying. As they embark on a mission to intercept Jefferson Davis and thwart European meddling, their dual hidden agendas are threatened by the ghosts of their pasts and a growing affection that could strengthen both the Union and their souls—or lead to their downfall.
Ana - I am a huge of fan of Alyssa Cole's books whether she is writing contemporary, science fiction or historicals, so I am looking forward to reading Daniel's story in Unconditional Freedom. Born a free black and raised in the north, he was kidnapped and enslaved before being rescued by the Loyal League. I am very intrigued by the heroine, Janeta, a cuban black woman with a hidden agenda and a complicated family history that is sure to fill the book with compelling conflicts.
Suzanne - I reviewed both An Extraordinary Union and A Hope Divided, and loved them both in different ways. These books are so beautifully written and full of hope and resilience.
Buy a copy: Amazon, Apple Books, Barnes & Noble, Kobo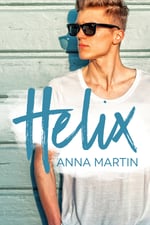 Helix, by Anna Martin - Feb. 26
When high school student James has trouble with his truck, Dylan, who is studying to be a mechanic, comes to the rescue. James thinks he hides his immediate attraction well, but is happy to be wrong when Dylan asks for his number. Since James is new to romance, they take things slowly, and because Dylan is in college, James keeps the budding relationship secret from his overprotective dad.
Across town, Mark, a teacher and single father to James and his sister, Frankie, meets Steve at a bar for what both believe will be a quick hookup. Mark doesn't see any reason to tell his kids about Steve or press Steve for details about Steve's adopted son…. It's just sex between them. Isn't it?
Two very different love stories grow side by side, each hidden from the other. But all of that changes at a family barbecue, when Mark decides it's time for his kids to meet Steve and for him to meet James's boyfriend, who none of them realize is Steve's son, Dylan. The inevitable explosion means the two couples have some explaining to do to soothe the hurt feelings of their families—and lovers.
Alex - I've never read a book by this author before but I've read the blurb and it seems interesting. Both son and father are hiding their relationships and it turns out that the son has been dating son of the man his dad is hooking up with. I am really interested in how this ends up.
Buy a copy: Amazon, Apple Books, Barnes & Noble, Kobo
What books are you excited for this month?