New year, new books! Kick off your 2019 reading with some new romances!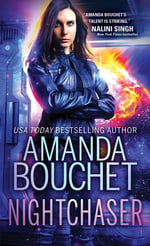 Nightchaser, by Amanda Bouchet - Jan. 1
Tess Bailey: the galaxy's Most Wanted.
Captain Tess Bailey is in deep trouble. She and her crew are on the run, pursued by a tyrant who'll take them dead or alive. Tess's best hope is a tall, dark, and much-too-appealing stranger, Shade Ganavan, who says he can help her. But his motivations are far from clear...
Shade Ganavan: arrogance, charm...and that special something that makes you want to kick him.
With the dreaded Dark Watch closing in, what Tess and Shade don't know about each other might get them killed...unless they can set aside their differences and learn to trust each other before it's too late.
Suzanne - Bouchet's Kingmaker series was like reading epic fantasy with scorching sex scenes, so I'll follow her to sci-fi. Matt's currently reading this for review, but I think a few of us here at Love in Panels plan to read this one.
Buy a copy: Amazon, Apple Books, Barnes & Noble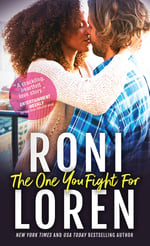 The One You Fight For, by Roni Loren - Jan. 1
How hard would you fight for the one you love?
Taryn Landry was there that awful night fourteen years ago when Long Acre changed from the name of a town to the title of a national tragedy. Everyone knows she lost her younger sister. No one knows it was her fault. Since then, psychology professor Taryn has dedicated her life's work to preventing something like that from ever happening again. Falling in love was never part of the plan...
Shaw Miller has spent more than a decade dealing with the fallout of his brother's horrific actions. After losing everything—his chance at Olympic gold, his family, almost his sanity—he's changed his name, his look, and he's finally starting a new life. As long as he keeps a low profile and his identity secret, everything will be okay, right?
When the world and everyone you know defines you by one catastrophic tragedy...
How do you find your happy ending?
Amy - I've had Roni Loren's The Ones Who Got Away series on my TBR this entire year. Now that I have some time off from work, I plan on zipping through them so I'm ready for The One You Fight For this January. I've found myself more drawn to contemporaries that parallel current events, and this series about school shooting survivors finding love and balance later in life promises to be an emotional roller coaster. Bring on the kleenex and cat snuggles.
Buy a copy: Amazon, Apple Books, Barnes & Noble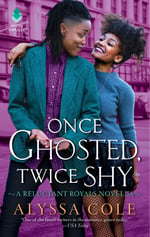 Once Ghosted, Twice Shy by Alyssa Cole - Jan. 8
Alyssa Cole returns with a fun, sexy romance novella in the Reluctant Royals series!
While her boss the prince was busy wooing his betrothed, Likotsi had her own love affair after swiping right on a dating app. But her romance had ended in heartbreak, and now, back in NYC again, she's determined to rediscover her joy—so of course she runs into the woman who broke her heart.
When Likotsi and Fabiola meet again on a stalled subway train months later, Fab asks for just one cup of tea. Likotsi, hoping to know why she was unceremoniously dumped, agrees. Tea and food soon leads to them exploring the city together, and their past, with Fab slowly revealing why she let Likotsi go, and both of them wondering if they can turn this second chance into a happily ever after.
Suzanne - AHHHHHH! I loved Likotsi in A Princess in Theory and I cannot wait for her to get her HEA. Plus, the models on the cover are a real life couple which has me shipping so hard. *swooooon* I kid you not, this cover is the background on my computer.
Buy a copy: Amazon, Barnes & Noble, Apple Books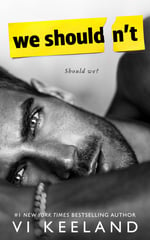 We Shouldn't, by Vi Keeland - Jan. 21
Bennett Fox walked into my life on one hell of a crappy Monday morning.
I was late for the first day at my new job—a job I'd now have to compete for even though I'd already worked eight years to earn it, because of an unexpected merger.
While I lugged my belongings up to my new office, a meter maid wrote me a parking summons.
She'd ticketed a long line of cars—except for the Audi parked in front of me, which happened to be the same make and model as mine.
Annoyed, I decided to regift my ticket to the car that had evaded a fine. Chances were, the owner would pay it and be none the wiser.
Except, I accidentally broke the windshield wiper while slipping the ticket onto the car's window.
Seriously, my day couldn't get any worse.
Things started to perk up when I ran into a gorgeous man in the elevator. We had one of those brief moments that only happened in movies.
You know the deal...your body lights up, fireworks go off, and the air around you crackles with electricity.
His heated stare left me flush when I stepped off the elevator.
Maybe things here wouldn't be so bad after all.
Or so I thought.
Until I walked into my new boss's office and met my competition.
The gorgeous man from the elevator was now my nemesis. His heated stare wasn't because of any mutual attraction. It was because he'd seen me vandalize his car. And now he couldn't wait to annihilate his rival.
There's a fine line between love and hate—and we shouldn't cross it.
We shouldn't—but straddling that line could be so much fun.
Andrea - By the time this book comes out, summer holidays will be over for me and I'll be back at the office. I absolutely will need to come home from my can't-believe-this-day of office drama into a can't-believe-this-day story of enemies-to-lovers and office antagonism.
Buy a copy: Amazon, Apple Books, Barnes & Noble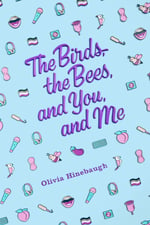 The Birds, The Bees, and You and Me, by Olivia Hinebaugh - Jan. 22
A teen who's never even been kissed becomes her school's unofficial sex expert in Olivia Hinebaugh's fun, voice-y contemporary YA romance debut.
Seventeen-year-old Lacey Burke feels like the last person on the planet who should be doling out sex advice. For starters, she's never even kissed anyone, and she hates breaking the rules. Up until now, she's been a straight-A music geek that no one even notices. All she cares about is jamming out with her best friends, Theo and Evita.
But then everything changes.
When Lacey sees first-hand how much damage the abstinence-only sex-ed curriculum of her school can do, she decides to take a stand and starts doling out wisdom and contraception to anyone who seeks her out in the girls' restroom. Meanwhile, things with Theo have become complicated, and soon Lacey is not just keeping everyone else's secrets, but her own as well.
Andrea - Yes to sex-positivity from girls who aren't super experienced, and a big yes to crashing the abstinence-only Sex Ed curriculum! This girl simultaneously sounds like who I was in high school, who I wished I was in high school and who I would be if I was in high school now, and I can't wait to meet all the other sides to her. Also the cover reminds me of those books you'd get free in Teen magazine! It kinda makes me wanna buy strawberry-scented lipgloss.
Buy a copy: Amazon, Apple Books, Barnes & Noble, Kobo
99% Mine, by Sally Thorne - Jan. 29
Readers and critics alike raved over USA Today bestselling author Sally Thorne's smash hit debut, The Hating Game, which has sold in over 20 countries. Now she's back with an unforgettable romantic comedy about a woman who finally has a shot at her long time crush—if she dares.
Crush (n.): a strong and often short-lived infatuation, particularly for someone beyond your reach…
Darcy Barrett has undertaken a global survey of men. She's travelled the world, and can categorically say that no one measures up to Tom Valeska, whose only flaw is that Darcy's twin brother Jamie saw him first and claimed him forever as his best friend. Despite Darcy's best efforts, Tom's off limits and loyal to her brother, 99%. That's the problem with finding her dream man at age eight and peaking in her photography career at age twenty—ever since, she's had to learn to settle for good enough.
When Darcy and Jamie inherit a tumble-down cottage from their grandmother, they're left with strict instructions to bring it back to its former glory and sell the property. Darcy plans to be in an aisle seat halfway across the ocean as soon as the renovations start, but before she can cut and run, she finds a familiar face on her porch: house-flipper extraordinaire Tom's arrived, he's bearing power tools, and he's single for the first time in almost a decade.
Suddenly Darcy's considering sticking around to make sure her twin doesn't ruin the cottage's inherent magic with his penchant for grey and chrome. She's definitely not staying because of her new business partner's tight t-shirts, or that perfect face that's inspiring her to pick up her camera again. Soon sparks are flying—and it's not the faulty wiring. It turns out one percent of Tom's heart might not be enough for Darcy anymore. This time around, she's switching things up. She's going to make Tom Valeska 99 percent hers.
This next hilarious romance includes a special PS section with two Happily Ever Afters—one for this novel featuring Darcy and Tom and the other, an epilogue featuring fan favorites Lucy Hutton and Josh Templeman from The Hating Game!
Suzanne - I know The Hating Game was a polarizing book, but I'm one of the people who ended up on the "love it" side, despite its fat-shaming and bits of unrealistic plot. It will be interesting to see how this second novel works for me, since it's been a couple of years.
Buy a copy: Amazon, Apple Books, Barnes & Noble, Kobo
Any Old Diamonds, by KJ Charles - Jan. 30
Lord Alexander Pyne-ffoulkes is the younger son of the Duke of Ilvar, with a bitter grudge against his wealthy father. The Duke intends to give his Duchess a priceless diamond parure on their wedding anniversary—so Alec hires a pair of jewel thieves to steal it.
The Duke's remote castle is a difficult target, and Alec needs a way to get the thieves in. Soldier-turned-criminal Jerry Crozier has the answer: he'll pose as a Society gentleman and become Alec's new best friend.
But Jerry is a dangerous man: controlling, remote, and devastating. He effortlessly teases out the lonely young nobleman's most secret desires, and soon he's got Alec in his bed—and the palm of his hand.
Or maybe not. Because as the plot thickens, betrayals, secrets, new loves, and old evils come to light. Now the jewel thief and the aristocrat must keep up the pretence, find their way through a maze of privilege and deceit, and confront the truth of what's between them...all without getting caught.
Eva - I am, unsurprisingly, looking forward to KJ Charles' Any Old Diamonds. I do love a good traditional mystery where the blackmailer/thief/murderer gets caught at the end. But when done well, a story about clever thieves robbing a horrible rich person can be just as much fun. And so far, I have never been disappointed by KJ Charles, so I think I can trust her to do it well. Besides, she said that some of the characters of her Sins of the City books would appear in Any Old Diamonds and since I did enjoy that series I'm really looking forward to meeting some of them again.
Buy a copy: Amazon, Apple Books, Barnes & Noble
What books are you excited for?