What follows is a guest post from historical romance author Eve Pendle and four others who are releasing a Christmas romance anthology to benefit Planned Parenthood this year. The anthology releases on November 1st and you can buy a copy for just $0.99 for a limited time!
Love Rekindled at Christmas
Christmas is a time for rekindling love in five new historical romance novellas.
These couples will be sheltering from blizzards and hiding in wardrobes, reuniting with old flames, stealing mistletoe kisses, and falling in love. Passions are reignited by Snapdragon, a fiery Regency party game, but who will receive the best Christmas present of all—a happy ending?
Immerse yourself in the romance, snow-covered landscapes, and blazing hearths of a heart-warming, sensual, Regency Christmas.
This is feel-good reading at its best: happily ever after for you and help for women in need. All 2018 proceeds to Planned Parenthood.
All Your Favorite Christmas Tropes
Second chance
Childhood sweethearts
Compromised
Makeover
Friends-to-lovers

Snowed-in

Hot fires
Mistletoe kisses
Scandal
Road-trip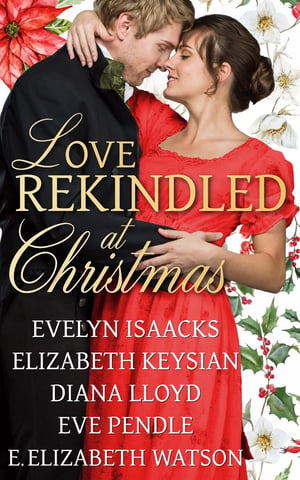 You can pre-order or pick up a copy at Amazon, Apple Books, Barnes & Noble, and Kobo.
One last note before we get into the actual guest post - if you want more information about Planned Parenthood, I urge you to check out their website at www.plannedparenthood.org. There, you can donate directly, find ways to take action beyond donating, learn about your body, get ideas on how to talk to your kids about their sexual health, and much more. I (Suzanne) have a monthly recurring donation set up and I used to work for the organization, so if you have questions, please feel free to ask!
*****
Love Rekindled at Christmas was born of the need to rekindle hope. In 2017 I (Eve) was feeling desperate. I felt I needed to do something, not just give money, or tweet, but something visible and meaningful. Authors often are advised to avoid politics. But on the other hand, romance seems to me an inherently political act, being as it is centred around women and their happiness. I had the idea of a charity Christmas anthology - conceived and written to help a cause as radical as romance itself. I asked around and was delighted (and more than a bit surprised) to find four fabulous authors willing to write a novella to openly support one of the most controversial and important charities in America today: Planned Parenthood.
When it turned out we'd have to wait until 2018 to publish, I consoled my impatient self that Planned Parenthood would probably still need support in another year's time. How prophetic that was...
Here, we five authors talk openly what Planned Parenthood means to us and how it relates to the historical romance we love to write and read.
Evelyn Isaacks
In romance, sex almost always leads to good things like pleasure, love and that eventual happy ending, not to mention orgasms galore. We read romance because we want to feel safe and loved and that problems will get resolved in a way that leaves everyone satisfied. We read romance because in real life things don't always end as neatly, and sex doesn't always go as expected. When it doesn't, we often feel helpless, afraid and ashamed.
That feeling of helplessness and shame about sex is what drives the conflict at the beginning of my story, A Captain for Christmas. Two young lovers are torn apart because they were found in bed together during the Regency era, a time when women's virginity before marriage was demanded. My heroine, Georgiana, is forced into a marriage with an older man to save face, and my hero, Alexander Forrester, lives in fear that his illegitimate birth will be discovered, and he will become a social outcast. For each of them, sex has played an important role in shaping their futures, just like it does for many of us today.
That's why Planned Parenthood is so important. We live in a country where women don't always have access to sound medical advice, screenings, or contraception for those times when sex doesn't end with an HEA. We live in a time where these life-saving services are under attack from people who believe that sex is wrong, and the women who have it should be punished.
They ignore all of the other things Planned Parenthood offers and focus on the services they find most offensive, never mind that abortion is legal, and that safe abortion saves lives. They ignore the reasons people have for getting abortions in favor of ranting about something that should be personal and private.
Planned Parenthood is one of the few places I have been where sex was treated with a scientific nonchalance that was reassuring and comforting when I was confused and upset. Women's bodies weren't a mystery to be poked at, or frowned upon, or shamed. I knew I could get the answers I needed there, without any judgement. As a young woman who had grown up in a sheltered, conservative household that was incredibly important to me. When I was in college I was able to get tested and access Plan B. As a newlywed without insurance I could buy affordable birth control and get regular check-ups there. Friends and family members have also benefited from their services, and some have had abortions there, or gotten help with adoption decisions. It can be a scary, overwhelming thing to be faced with worry about your reproductive health, and when good answers are hard to find, those fears increase. These problems are true for everyone, but because Planned Parenthood takes everyone, regardless of insurance, the closing of clinics exacerbates a lack of access for the most vulnerable populations in our country.
I believe that everyone should have the right to make decisions about their own life and their body. Getting accurate, judgement-free answers and solutions is vital to this. I'm proud to be a romance writer, and I'm proud that my little story, about two young people finding their way to each other again, can help support Planned Parenthood.
Elizabeth Keysian
When you get to my age- yes, I'll admit it, I'm over 50- that's when many things start to go wrong in your body. Not only do you have the discomforts and embarrassments of menopause but, as a woman, you also have to worry about cervical and breast cancers, urinary tract infections and various other nasties. For men of my age, testicular and prostate cancer are big fears, so access to affordable health care is essential.
As is looking after all aspects of your reproductive health, which is where the charity Planned Parenthood comes in. It's not all about birth control, pregnancy care and sexually transmitted diseases. It can help both men and women with just about any issue they might have with their reproductive systems. The clinics don't just offer advice, but educate and raise awareness of such issues before they even get to the stage of needing medical treatment.
You can help Planned Parenthood by donating, or you can let them help you with problems you just don't want to discuss with anyone else because they're simply too personal.
The world needs charities like this one, which are not afraid to tackle awkward problems head-on. In my opinion, they need all the support they can get.
Eve Pendle
We learn from reading romance. When I was in my teens, I read a romance that boggled my mind. It was a big city American romance. The heroine was a social worker, I think, and the hero a doctor who treated opioid addicts for free. The heroine mused that she couldn't believe America relied on charities for people who couldn't afford health insurance. Neither could I. Brought up in Britain, the national health service was as obvious to me as breathing air or saying thank you.
Every woman in my family has needed one or more of the services offered by Planned Parenthood at some point. Contraceptives, cancer screening and care, pregnancy and birth help, STD checks. And yes, abortion. Because I'm lucky enough to live in a country with a national health service, we didn't have to pay for these essential services. But all women, rich or poor, wherever they are, need these things.
One of the difficult aspects of writing romance set in the past is that women wouldn't have had access to the sexual health care they needed. Abortions were illegal and done in dangerous conditions. Childbirth was a huge risk. In my novella, the hero's first wife died in childbirth and because of the lack of reliable contraceptives, he decides he will be celibate for the rest of his life.
But unlike in Regency England, there is no reason childbirth or abortion or many of the things that killed women in the past should be fatal now. I want all women to be able to have the healthcare they need. That's why I suggested we support Planned Parenthood with this anthology.
We crafted stories about second chances. We wrote about finding happiness when you'd given up all hope. That's what Planned Parenthood can give: hope.
E. Elizabeth Watson
I love studying the human past, which is why I became an archaeologist. Often, I lament that I was born in the wrong century due to my fondness for antiquity. But life wasn't easy before the advent of vaccinations and modern medicine. I remember my father describing how as a child, he and the other children received mass polio inoculations. The desperation for a cure was so strong, that children were lined up at school to be vaccinated. Today, such vaccines are routine. Thanks to modern healthcare, I am grateful I was born today and not 200 years ago! But it isn't just our understanding of medicine that has evolved. Though much work remains to be done, we've evolved in areas of gender equality, too.
One of my favorite classics is Oliver Twist. I love the boy who overcomes both his orphanhood and the antagonists who control him. In a world where children didn't have the legal protections they have today, they faced many challenges, including injury and death in unsafe conditions. However, it was the plight of Nancy, a tragic character in Dickens' beloved story, that impacted me more than Oliver's. Nancy, a prostitute, defies her abusive lover to help Oliver, and is murdered for it. We see Nancy's murderer reap his just reward, but at the price of her life. The idea saddened me, that women could be so undervalued without recourse to escape their circumstances and seek justice.
My novella Christmas Wore Plaid takes place around the time that Dickens was writing Oliver Twist. But because I usually write in the medieval period, I've been told I write 21st century heroines in the 12th. I suppose that's true. I love to give women a voice when they didn't have one. Characters like Nancy's influence how I give my heroines autonomy and courage. In romance, happy endings are pleasurable and expected, but in reality, poorer women were sometimes treated like Nancy, and noblewomen's virginity was a prized bargaining chip—sexual freedom didn't exist for either. Women could expect pregnancy from sexual encounters, whether consensual or forced, and with few ways for preventing it or seeking justice if wronged, women were often doomed to a fallen reputation, limited employability, higher rates of poverty, and children they couldn't afford.
This theme of orphanhood is part of Christmas Wore Plaid. My heroine has experienced great loss. Medical treatment wasn't advanced enough to understand her loved ones' ailments. And though she's an orphan, her privileged life contrasts with that of the orphan begging alms at the story's beginning. Not only that, but the story's hero is on a mission to discover a child born to one of his tenants who'd turned to prostitution and died in childbirth. The truth is, pregnancy and childbirth carried greater rates of infant mortality. Death in childbirth was a common fear for women. And morality surrounding female chastity was damaging and prevented aid from reaching those who needed it.
As an archaeologist, I am moved by the difficulties women have overcome. Modern medicine, reproductive healthcare, and equality, are invaluable when contrasted with the lack of them in the past. Organizations like Planned Parenthood, make essential medical care affordable for both men and women, and provide compassion during someone's most difficult choices. As a woman, I support all women's rights to bodily autonomy. As a mother, I value everyone's right to choose when, or if, they want to start a family. As a human, I advocate for affordable healthcare. As a writer, I love to give my heroines a happily-ever-after, and will always employ these values of empowering women into the themes of each story I write.
Diana Lloyd
Women's health rights are human rights. Reproductive healthcare needs to be readily available for an informed, healthy population. The Maternal Mortality Rate of the United States at nearly 24 deaths per 100,000 births ranks among the highest compared to other industrialized nations (Journal of Obstetrics & Gynecology, 2016). As this number continues to rise (+27% from 2000-2014) we must ensure that the care provided by Planned Parenthood continues to be available for all women.
*****
You can pre-order or pick up a copy at Amazon, Apple Books, Barnes & Noble, and Kobo.