June mini-reviews are here! A really mixed bag this time, with a contemporary, a fantasy/comic book/superhero mashup, and a historical.
Rating refresher! Categories are based on whether or not we recommend them to fellow readers - DNF (Did Not Finish), Pass, YMMV (Your Mileage May Vary), Read it Eventually, Read it Soon.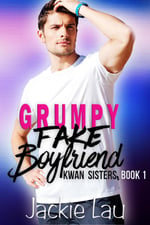 Grumpy Fake Boyfriend, by Jackie Lau
Suzanne says: Read it Soon
Amazon, iBooks, Barnes & Noble
Besides having the best title ever, Grumpy Fake Boyfriend is a lot of fun to read and totally validating for introverts like me. I don't usually insert myself into a book, but I am totally the hero, Will. He's a sci-fi writer and needs a few hours to himself each day to stay happy. He's also convinced he's never going to find a partner who doesn't want to change him. Naomi, his best friend's little sister, is used to this from her sister (who gets a book next!), and they're basically the cutest together.
Grumpy Fake Boyfriend is a low-angst, high-cute rom-com that I adored. It was the happy, sweet, dirty book I needed this week. A couple of things that may turn off readers - the book is told in first-person present-tense, which didn't bother me at all, and the heroine's ex and ex's girlfriend are pretty gross. I didn't feel that it crossed into "evil other woman" territory, but your mileage may vary. This was also one of those books where I think the foreplay was hotter than the actual sex, which was a little too step-by-step for me.
Overall, I loved it and can't wait for the second, Mr. Hotshot CEO.
Review copy provided by the author in exchange for an honest review.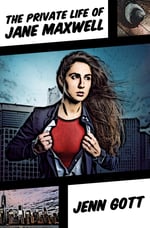 The Private Life of Jane Maxwell, by Jenn Gott
Amy says: Read it Eventually, YMMV
Amazon, iBooks, Barnes & Noble, Kobo
The Private Life of Jane Maxwell is my dream situation - who doesn't want to have superpowers and live in a comic book reality? Jane is a successful comic book creator on Earth, who finds out that her series The Heroes of Hope is real. The Heroes bring Jane to their alternate dimension, where she manifests superpowers and joins the heroes to defeat the supervillain Ultraviolet. The excitement of this alternate world is a welcome distraction to Jane, as not only was she just let go from her job at a comic book publisher but she's also still mourning the death of her wife, Clair. And in this other dimension, there just so happens to be an alternate version of Clair named Amy.
Gott does a great job of handling Jane's introduction to her fictitious world and gives us her hero's journey towards becoming Captain Lumen, the leader of the Heroes. But I did have some issues with the romance presented here. It's clear that Jane has feelings for Amy, her wife's doppelganger. But Amy is not Clair. They may look and act the same, but they have had different upbringings, different backgrounds. And of course, Amy has empathic superpowers. This romance became more problematic for me as Jane and Amy get closer. Jane is almost replacing Clair with Amy, and Amy is pushing her feelings for her reality's Jane onto Earth Jane. In my opinion, they're falling in love for unhealthy reasons and the ending had me heavy sighing at my Kindle. Still, I did enjoy the parts about Jane and Clair's background (gosh they are heart-wrenching), and the superhero storyline reads like an episode of Arrow (one of Gott's inspirations) or an excellent superhero team comic, though these sometimes feel like two separate books.
Review copy provided by the author in exchange for an honest review.
CW: death of a spouse, fantasy violence, closeted sexuality, fired from a job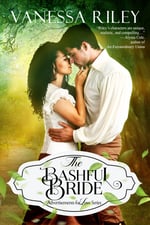 The Bashful Bride, by Vanessa Riley
Margrethe Says: DNF, YMMV
Amazon, iBooks, Barnes & Noble
THE BASHFUL BRIDE is a marriage of convenience and road trip romance filled with intricate historical details and set against the backdrop of the abolitionist movement. Ester Croome is a shy heiress about to be engaged to a man she hates when she accompanies her friend to an inn to meet her friend's marriage advertisement correspondent. Except Ester wanders into a small abolitionist rally in the inn's cellar led by her favorite actor, Arthur Bex. After she attempts to participate, Arthur rescues her and escorts her upstairs, then mistakes her for her friend with whom he has been corresponding. Ester's friend immediately steps aside and directs Arthur's attention to Ester. After a brief conversation, Ester suggests eloping to save her from marrying the man she hates and to provide Arthur with the scandal-free wife he needs for his political aspirations.
I really wanted to love this book. It has so much that I should love, but this is one of those situations where you can all the right stuff, but it just doesn't capture your attention. It's fair to say that the writing felt stilted and when it comes to something like humor, we are told more than shown. The hardest thing for me to say here is that I didn't really like Ester. She is so starstruck by the idea of meeting and marrying the man she has a crush on that there's barely any logic to her except that she would be miserable with the man her father has chosen for her. And maybe she comes to realize this along the way, but I stopped reading at 30% because it just wasn't working for me. Then, there's the marriage of convenience which has Arthur hiding something major from Ester and overtly planning to use her for his cause. I think it's the fact that Arthur plans on using Ester's goodness to protect himself that turned me against him.
However, there are some absolutely lovely details that you never see in traditionally published Regency romances. Ester is black and lives in a part of London that is is not Mayfair (hurray for the old Huguenot section!) and we get to see a thriving black community. And instead of a hero sitting on a fortune made off of slave labor (and never facing that reality), Arthur is middle class and speaking out against the slavery still practiced in the colonies. In the end, I just wish the writing had felt less stilted.
Review copy received via NetGalley in exchange for an honest review.