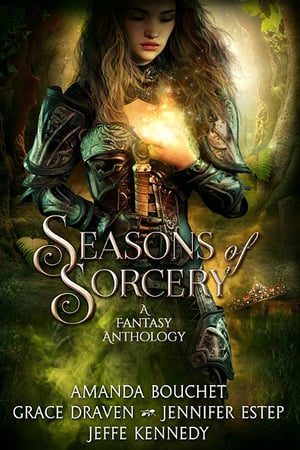 Anthologies always have a theme, whether it's a setting, a trope, or a cause. By giving each author a different season, the theme of the upcoming Seasons of Sorcery anthology allows four talented fantasy authors to pool their talents but retain some of the signature elements of the worlds their readers love.
We asked the authors what they like most about the seasons they chose. But first - a bit about the book!
The four stories are as follows:
Winter's Web, by Jennifer Estep
An assassin at a renaissance faire. What could possibly go wrong? Everything, if you're Gin Blanco. This Spider is trapped in someone else's icy web—and it seems like they don't want her to leave the faire alive . . .
A Curse for Spring Amanda Bouchet
A malevolent spell strangles the kingdom of Leathen in catastrophic drought. Prince Daric must break the curse before his people starve. A once-mighty goddess trapped in a human body might be the key—but saving his kingdom could mean losing all that he loves.
The Dragons of Summer, by Jeffe Kennedy
As unofficial consort to the High Queen, former mercenary Harlan Konyngrr faces a challenge worse than looming war and fearsome dragons. His long-held secrets threaten what he loves most—and he must make a choice between vows to two women.
A Wilderness of Glass, by Grace Draven
The stretch of sea known as The Gray rules the lives of those in the village of Ancilar, including widow Brida Gazi. In the aftermath of an autumn storm, Brida discovers one of the sea's secrets cast onto the shore—a discovery that will change her world, mend her soul, and put her in the greatest danger she's ever faced.
Coming November 13, 2018
Pre-order the book: Kobo, Barnes & Noble, Amazon
***
What is your favorite thing about the season your story is set in?
Jennifer Estep:
My novella is Winter's Web, and my favorite thing about winter is definitely snow.
I *love* snow. There is just something so whimsical and magical about it, how all these little tiny flakes can drift down from the sky and completely change the landscape from a dull, dreary brown to something sparkling, white, and wonderful. I just love the cold, clean beauty of it. And there is this amazing silence as the snow is falling, a sort of hush that falls over everything.
Here's hoping we get lots of snow this year. Happy reading, everyone!
Amanda Bouchet:
My novella is called A Curse for Spring, and one of the things I love most about springtime is that first real thaw when there's no mistaking that the world around me is on the cusp of a huge change. I've always lived in northern climates with four distinct seasons. After a long, dark, and often gloomy winter, I love the day when the air suddenly smells so different, distinctly warmer and somehow softer, carrying the earthy scents of soil and vegetation waking up again. It makes me feel hopeful and renewed—and always sets me to spring cleaning!
Jeffe Kennedy:
My favorite thing about summer is how much I get to be outside—or invite the outdoors inside. I can have breakfast and lunch under the front portal, and eat dinner in the gloaming of my secret garden under the grape arbor. Every day brings some new surprise—unusual birdsong in the mornings, fresh blossoms blooming, perhaps a bobcat crossing the porch at dusk, and the song of coyotes at night. In the summer I can have all the windows open, all the time. At night, the crickets sing me to sleep, or maybe summer storms send thunderclouds stalking across the valley on lightning legs. So much to love!
Grace Draven:
A break from the summer heat. My season for the anthology is autumn. I live on the Texas Gulf Coast where we're hot 10 months out of the year, and it isn't unusual for Christmas Day to be in the low 80's. So autumn, with its cooling temperatures, more frequent rainfall and a blue sky no longer bleached out by the summer sun, is my favorite time of year here. We can open windows, sit outside and enjoy a coffee without withering in the suffocating heat, and if we're lucky enough to have pecan trees, harvest pecans in our yards.
***
Autumn is my favorite season as well, but my weather is much different than Grace Draven's. In the Northeastern United States, I love the smell of leaves when I rake them into a pile for the dog and kids. I love taking hikes and watching the leaves drift down from trees around me. I love setting that first fire in the woodstove. I love apples and hearty soups and long rainy days that give me an excuse to sit inside and read. My birthday also happens to be in the autumn, so well... I like presents and cheesecake, too. ;)
What's your favorite season? Why?