February: the shortest month of the year that always feels like the longest because hot takes on the romance genre - AMIRITE Y'ALL?! I've been neck deep in contest judging which has meant less time online (and aggravated), but that doesn't mean I haven't been scouring around for unusual historicals. Wild horses couldn't keep me away from that. Here's what looks enticing for February: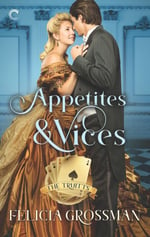 Appetites & Vices, by Felicia Grossman
He's her ticket into high society…
Banking heiress Ursula Nunes has lived her life on the fringes of Philadelphia's upper class. Her Jewish heritage means she's never quite been welcomed by society's elite…and her quick temper has never helped, either.
A faux engagement to the scion of the mid-Atlantic's most storied family might work to repair her rumpled reputation and gain her entrée to the life she thinks she wants…if she can ignore the way her "betrothed" makes her feel warm all over and stay focused on her goal.
She's his ticket out…
Former libertine John Thaddeus "Jay" Truitt is hardly the man to teach innocent women about propriety. Luckily, high society has little to do with being proper and everything to do with identifying your foe's temptation—an art form Jay mastered long ago. A broken engagement will give him the perfect excuse to run off to Europe and a life of indulgence.
But when the game turns too personal, all bets are off…
Carina publishes a historical romance once every six months (yes, this is me being snotty about it…) and frankly that's enough for me to beg everyone to one-click the heck out of Grossman's debut. But it's also a fake engagement trope (squee!) between two messy characters set in 1840s Philadelphia. If I can't convince you, go read Margrethe's recent review.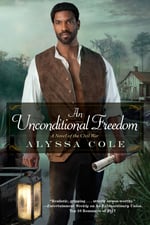 An Unconditional Freedom, by Alyssa Cole
Pick Up a Copy: Amazon, Apple Books, Barnes & Noble, Kobo
An assassination plot that could end the Civil War, and a hidden enemy that could destroy a secret league of unsung heroes …
Daniel Cumberland, born free in Massachusetts, studied law with dreams of helping his people—dreams that died the night he was kidnapped and sold into slavery. Daniel is rescued, but he's a changed man. When he's offered entry into the Loyal League, the covert organization of Black spies who helped free him, he seizes the opportunity for vengeance against the Confederacy and those who support it.
When the Union Army occupies the Florida home of Cuban Janeta Sanchez, daughter of an enslaved woman and the plantation owner who married her, her family's wealth does not protect her father from being imprisoned. Under duress and blaming herself for the arrest, Janeta agrees to infiltrate a group called the Loyal League as a double agent—and finds a cause truly worth the sacrifice.
Daniel is aggravated by the headstrong and much too observant new detective he's paired with, and Janeta is intrigued by the broken but honorable man she is tasked with betraying. As they embark on a mission to intercept Jefferson Davis and thwart European meddling, their dual hidden agendas are threatened by the ghosts of their pasts and a growing affection that could strengthen both the Union and their souls—or lead to their downfall.
Cole continues her Loyal League series with a romance between a haunted man and a heroine working as a double agent to protect her family. I loved the high stakes conflict in An Extraordinary Union and really need to read A Hope Divided so I can catch up on this series!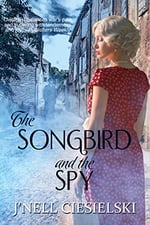 The Songbird and the Spy, by J'nell Ciesielski
Pick Up a Copy: Amazon (and in Kindle Unlimited)
As shells explode over Nazi-occupied France, American music student Claire Baudin is trapped behind enemy lines, struggling to protect her identity. Singing as a barmaid while she plans her escape, a handsome Third Reich captain threatens everything she knows to be true about the enemy.
Nazi Captain Michael Reiner isn't who he claims to be. A British language expert turned spy, he discovers the truth about Claire, but he knows the importance of a secret. Struggling to resist his attraction to the songbird, he's determined to complete his assignment, no matter the cost. His cover is threatened when a ruthless female Gestapo officer arrives, hunting Resistance fighters. The raid forces Michael's hand: complete the mission or save Claire.
As the war threatens to tear them apart, they must rely on each other for survival. Is there hope—and a future—for an American songbird and a British spy?
A British spy hero posing as a Nazi officer and an American heroine stuck behind enemy lines. I stumbled across a glowing Publisher's Weekly review at work and that was enough to entice me to preorder this baby. Note: the Amazon blurb indicates this is light on s-e-x and "may also contain content of an inspirational nature."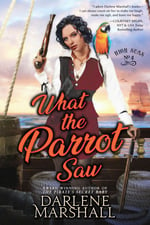 What the Parrot Saw, by Darlene Marshall
Pick Up a Copy: Amazon, Apple Books, Kobo, Barnes & Noble
Hijacking an Englishman from a brothel is all in a day's work for Captain Mattie St. Armand. She needs protective coloration, and a naïve (and expendable) white man will keep the eyes of the authorities off her as she smuggles slaves from the Florida Territory to freedom in the Bahamas.
Oliver Woodruff wanted a spot of travel in the Caribbean before he settled down, but he never expected "Marauding Mattie." He'll help her, but he knows there's no place in his world for the bastard daughter of a pirate and a freedwoman.
As Mattie trains him for their ruse, she comes to realize he's a man she can turn to for support and companionship, and Oliver grows to love the commanding and daring woman who refuses to fit society's mold… but both are sure their relationship is doomed by society's taboos.
It will take danger and adventure (and Roscoe the parrot) to convince them that the passion between them is more than an island fantasy.
Two words: Lady. Pirate. Also, I feel like I have to give any book a shot that has "a naïve (and expendable) white man" written right in the back cover blurb.
What Unusual Historicals are you looking forward to?