March seems to be roaring in like a lion for most of us in North America and having once lived in an area prone to 70 degrees one day, blizzard the next, I know the importance of having warm blankets, emergency lighting, and plenty of books at the ready - you know, just in case. This month's highlights in Unusual Historicals features a lot of variety, including two of my personal favorites - the 1920s and a new western!
All That Jazz!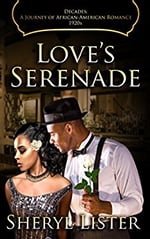 Love's Serenade, by Sheryl Lister
Pick Up a Copy: Amazon, iBooks, Kobo
Escaping an arranged marriage, Leigh Jones flees her southern hometown for Harlem's vibrant jazz scene to pursue her dream of becoming a singer. She finds more than she expected, namely Miles Cooper. The smooth-talking musician walked out on her three years ago, taking her music and her heart with him. Leigh has no intentions of falling for Miles or his charms again, until he tempts her with the one thing she can't resist: a recording contract. But when her past comes calling, she realizes Miles is the one person who can save her from a man who won't take no for an answer.
Miles isn't one for putting down roots or staying in one place for longer than a season. Yet, memories of Leigh's sultry voice, beauty and sass make him long for the life and love he forfeited. Having walked away once, but never again, Miles sets out to prove he's a changed man willing to go to any lengths to protect his woman. He's determined to show Leigh, one passionate note at a time that the music they make together will last a lifetime.
I adore the 1920s as a setting for historical romance because it's such a fascinating time period in women's history. As if that catnip weren't enough, I love musical backdrops and reunited lovers (where one of those lovers needs his comeuppance). This appears to be Lister's first published historical, and I'm curious to see how she handles the time period.
From Russia, With Love!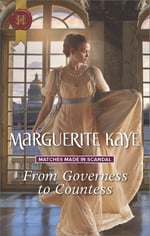 From Governess to Countess, by Marguerite Kaye
Pick Up a Copy: Amazon, iBooks, Kobo
The scandalous truth about the count's new mistress!
Count Aleksei Derevenko has hired governess Allison Galbraith for her skills as a herbalist, not a mistress! But when rumors spread, Allison is more shocked by her wanton reaction to Aleksei—inscrutable and impossibly handsome, his icy blue eyes promise white-hot nights of sin. She knows too well how fragile her reputation is, but will the price of their passion be worth paying?
Kaye is one of my favorites in the Harlequin Historical stable, and this kicks off her new series, Matches Made in Scandal. This story is set in St. Petersburg and features a down-on-her-luck herbalist heroine masquerading as a governess. There's also a murder mystery afoot! I'm really excited to dive into this one!
Smuggler!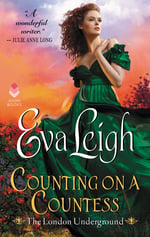 Counting on a Countess, by Eva Leigh
Pick Up a Copy: Amazon, iBooks, Kobo
For a shameless libertine and a wily smuggler in the London Underground, marriage is more than convenience—it's strategy . . .
Christopher "Kit" Ellingsworth, war veteran and newly minted Earl of Blakemere, buries his demons under every sort of pleasure and vice. His scandalous ways have all but emptied his coffers . . . until a wealthy mentor leaves him a sizeable fortune. The only stipulation? He must marry within one month to inherit the money. Kit needs a bride and the bold, mysterious Miss Tamsyn Pearce seems perfect.
Husband hunting isn't Tamsyn's top priority—she's in London to sell her new shipment of illicit goods—but she's desperate for funds to keep her smuggling operation afloat. When a handsome earl offers to wed her and send her back to Cornwall with a hefty allowance, Tamsyn agrees. After all, her secrets could land her in prison and an attentive, love-struck spouse could destroy everything.
But when an unexpected proviso in the will grants Tamsyn control of the inheritance, their arrangement becomes anything but convenient. Now, Kit's counting on his countess to make his wildest dreams a reality and he plans to convince her, one pleasurable seduction at a time.
I have complicated feelings about Avon's cover art - which is to say I hate their historical romance covers roughly 90% of the time. But this cover? It has haunted me since the moment I laid eyes on it. I love it. The wind-swept heroine, the jewel tones, and did I mention green is my favorite color? Anyway, I also love that the heroine is the smuggler in this story! OMG, where has this role reversal been all my life? Leigh writes interesting historicals and I always appreciate her lighter touch while not throwing out the history with the baby's bathwater.
Western!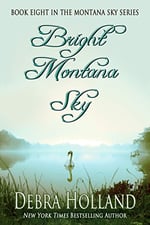 Bright Montana Sky, by Debra Holland
Pick Up a Copy: Amazon
Sweetwater Springs, Montana 1896
Jilted seamstress Constance Taylor travels to Sweetwater Springs to live with her estranged father, the livery stable owner. She plans to open a dressmaking shop and bring sophisticated clothing styles to the frontier town.
Doctor Angus Cameron is bitter and discouraged from his work with upper class Londoners and the wretched poor in the East End slums. He arrives in Sweetwater Springs to join the medical practice of his brother, the town doctor.
Sparks fly when Constance and Angus clash over her fashionable creations, which he believes are unhealthy. Every encounter worsens their relationship, and the pair fights their ill-suited attraction. For love to grow, two stubborn souls must call a truce to their battle of wills.
As always, Debra Holland enchants readers with her warm, uplifting portrayal of life and love in a small town.
I recently read a prequel novella to this series and really enjoyed it, so I'm definitely curious to read more Holland. The series seems to fall into the "cute western small town" mode, as opposed to the "will we survive the winter or get murdered by outlaws" mode, and I love the premise of this one. For Kindle Unlimited users, this entire series is available to make all your binge-reading dreams come true.
Bonus Story!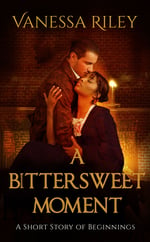 A Bittersweet Moment, by Vanessa Riley
Pick Up a Copy: Amazon, iBooks
A second son must find his place in the world, but can he trust his heart and not the heavy-handed antics of his father, the Earl of Crisdon.
Ewan Fitzwilliam needs his life to change. Unwilling to follow in the footsteps of his abusive father, he gathered the strength to break free. Saving a young flower picker from troubles upon his father's estate may prove the opportunity he needs to become a man of honor.
Theodosia wants a better life, and she intends to build a flower business that caters to the perfumers in Town, but can she trust a rich man's son to teach her better diction to impress potential clients? Or will she learn a different lesson, succumbing to the dangerous attraction she feels for the tortured playwright?
If you couldn't get enough of Riley's The Bittersweet Bride, featured in February's column, you'll be happy to see that there's now a short story prequel featuring the same couple! This looks to give more insight into the reunited couple's backstory and provide a glimpse into the heroine's life prior to her inheriting an estate.
What Unusual Historicals are you looking forward to this month?