Spring has sprung and May is an embarrassing bouquet of riches for fans of unusual historicals! Rule of thumb, I try to keep my Top Picks shopping list to around 4 or 5 titles. This month, well it's seven. Some of these are fairly big releases that you may already know about, but I think you'll find a few surprises on this list as well. Let's dive in!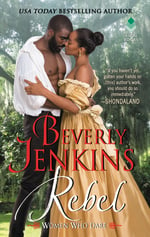 Rebel, by Beverly Jenkins

The first novel in USA Today Bestselling Author Beverly Jenkins's compelling new series follows a Northern woman south in the chaotic aftermath of the Civil War . . .
Valinda Lacy's mission in the steamy heart of New Orleans is to help the newly emancipated community survive and flourish. But soon she discovers that here, freedom can also mean danger. When thugs destroy the school she has set up and then target her, Valinda runs for her life—and straight into the arms of Captain Drake LeVeq.
As an architect from an old New Orleans family, Drake has a deeply personal interest in rebuilding the city. Raised by strong women, he recognizes Valinda's determination. And he can't stop admiring—or wanting—her. But when Valinda's father demands she return home to marry a man she doesn't love, her daring rebellion draws Drake into an irresistible intrigue.
It's Beverly Jenkins, it's the start of a new series, it's set in New Orleans (squee!) and fans see the return of the LeVeqs. Frankly, this sells itself. Just go buy it.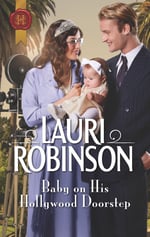 Baby on His Hollywood Doorstep, by Lauri Robinson

Pick Up a Copy: Amazon, Apple Books, Barnes & Noble, Kobo

A roaring twenties runaway…
A baby who needs a daddy!
With the Chicago mob hot on her heels and her late best friend's baby in her arms, Helen Hathaway hightails it to Hollywood. There she finds little Grace's uncle, charismatic film producer Jack McCarney. She knows she should keep him—and Grace—at arm's length; after all, they could be wrenched apart by Grace's father's return. But instead she's falling for Jack, bonded by the baby who needs them both…
A heroine on the run with her best friend's baby because, wouldn't you know it?, the best friend got in way over her head. Early Hollywood! A film producer hero! The Chicago mob! I broke a nail one-clicking this.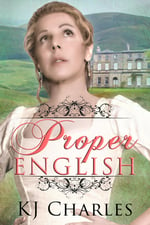 Proper English, by KJ Charles

Pick Up a Copy: Amazon, Apple Books, Barnes & Noble, Kobo
A shooting party at the Earl of Witton's remote country house is a high treat for champion shot Patricia Merton—until unexpected guests turn the social atmosphere dangerously sour.
That's not Pat's biggest problem. She's visiting her old friend, the Earl's heir Jimmy Yoxall—but she wants to spend a lot more time with Jimmy's fiancée. The irrepressible Miss Fenella Carruth, with her laughing eyes and lush curves, is the most glorious woman Pat's ever met, and it quickly becomes impossible to remember why she needs to stay at arm's length.
But while the women's attraction grows, the tensions at Rodington Court get worse. Affairs, secrets, betrayals, and blackmail come to light. And when a body is discovered with a knife between the shoulderblades, it's going to take Pat and Fen's combined talents to prevent the murderer destroying all their lives.
Mystery solving lesbians at a country house party. If that somehow isn't enough to convince you, check out Ana's swoony Love in Panels review.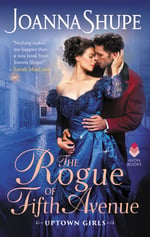 The Rogue of Fifth Avenue, by Joanna Shupe

Pick Up a Copy: Amazon, Apple Books, Kobo, Barnes & Noble
Silver-tongued lawyer.
Keeper of secrets.
Breaker of hearts.
He can solve any problem . . .
In serving the wealthy power brokers of New York society, Frank Tripp has finally gained the respectability and security his own upbringing lacked. There's no issue he cannot fix . . . except for one: the beautiful and reckless daughter of an important client who doesn't seem to understand the word danger.
She's not looking for a hero . . .
Excitement lies just below Forty-Second Street and Mamie Greene is determined to explore all of it—while playing a modern-day Robin Hood along the way. What she doesn't need is her father's lawyer dogging her every step and threatening her efforts to help struggling families in the tenements.
However, she doesn't count on Frank's persistence . . . or the sparks that fly between them. When fate upends all her plans, Mamie must decide if she's willing to risk it all on a rogue . . .
The heroine's name is Mamie. My grandmother, rest her soul, was born in 1909 and her name was Mamie. Oh sure, Gilded Age, lawyer hero blah, blah, blah - DID I MENTION THE HEROINE'S NAME IS MAMIE?!?!?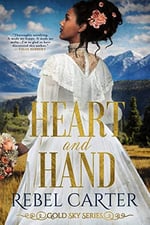 Heart and Hand, by Rebel Carter

Pick Up a Copy:
Amazon
(Also in Kindle Unlimited)
Can a Mail Order bride find love with two husbands?
It doesn't take long for Julie Baptiste to realize she yearns for more than the non-stop engagements and niceties dictated by New York high society. So, she decides to do something bold and answers an advertisement for a mail-order bride in Gold Sky, Montana.
Ex-Union soldiers Forrest Wickes and William Barnes have been inseparable since the War. They share everything, including the desire to find a wife. A woman who is willing to marry them both and provide the isolated town with a much needed teacher.
When Julie arrives in Montana the three of them must figure out how to navigate the boundaries of their new lives. Can Forrest and Will come together to provide what Julie needs and protect the heart of the woman who's made her way intimately into theirs?
And how will a debutante-turned-teacher manage frontier life with two husbands?
Erotic romance has always existed, but I'm old enough to remember when it began to be treated as a sub genre and it was historicals that paved the way. So it's kind of sad we don't see nearly as much erotic historical romance these days. This interracial MMF romance is the first book in Carter's Golden Sky series and it's free for Kindle Unlimited folks.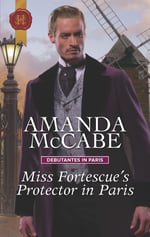 Miss Fortescue's Protector in Paris, by Amanda McCabe

Pick Up a Copy: Amazon, Apple Books, Barnes & Noble, Kobo
Second chance…
With the scoundrel spy!
A Debutantes in Paris story. Running her father's mercantile empire and campaigning for women's rights means unconventional Emily Fortescue has no time for romance. But when her politics land her in trouble, old friend Christopher Blakely comes to her rescue. They grew up arguing, sparring…even kissing, until he withdrew into his mysterious work. Now she's torn between safeguarding her bruised heart, and the lure of their spark reigniting…
McCabe tends to be a wonderfully consistent writer for me and this is the third book in her Debutantes in Paris series. It's a late Victorian (LOVE!) with a working suffragette heroine and adversarial tension romance. I'm here for this all day long.a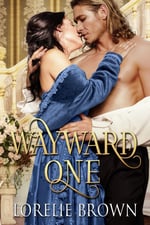 Wayward One, by Lorelie Brown

Pick Up a Copy: Amazon, Apple Books, Barnes & Noble, Kobo
He'll protect her with every vicious bone in his body.
During her ten years at the prestigious Waywroth Academy, Sera Miller clung to a strict code of propriety to shield herself from rumors that she isn't an orphan at all. She's a bastard. Now she wishes she had never allowed her friends to talk her into snooping into the mysterious source of her tuition.
Her benefactor isn't the unknown father she dreamed of one day meeting, but Fletcher Thomas—underworld tycoon, gambling den owner, and a man so dangerously mesmerizing that he could spark the scandal Sera has worked so hard to avoid.
Fletcher is only two steps away from leaving the life of crime he inherited from his father. First he plans to join an above-board railroad consortium, then claim the one thing his ill-gotten gains have kept safe all these years—Sera.
With every wicked caress, Sera fights harder to remember society's rules and reject the painful memories his touch resurrects. Accepting Fletcher's love means accepting her past—a risk too great for a woman who has always lived in the shadows. No matter how safe she feels in his arms.
Originally published by Samhain, Brown's Wayworth Academy series is getting the reprint treatment. I've enjoyed Brown's more recent F/F contemporary romances with Carina, and the back cover blurb of this first book in the series ticks a lot of boxes for me. The Book Pushers review from 2013 is thorough without being spoilery if you're on the fence.
What Unusual Historicals are you looking forward to?