Here we are, in October. When I'm dodging all sorts of tasty, sugary temptations (it's a good thing I don't have kids - I'd steal all their candy spoils from trick-or-treating and likely drive them into therapy that much sooner…) and I look to distract myself with just about any healthy alternative - like, say, books! Here are some of the October unusual historicals catching my eye this month:
This post contains affiliate links.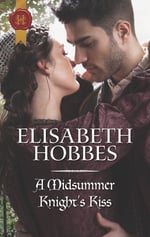 A Midsummer Knight's Kiss, by Elisabeth Hobbes

A stolen moment…
…to reunite them!
Since her mischief-making childhood with Robbie Danby, Rowenna has curbed her impetuous nature and become a lady. When she meets Robbie again in York, he's close to claiming his knighthood. Their newly awakened affection inspires in Rowenna a new—decidedly adult—impulsiveness! Yet Robbie's heart appears to belong to another—unless a midsummer kiss could change everything…?
I enjoyed the two books in Hobbes' duet about the Danby brothers, so it's a welcome surprise to discover she's back mining that world for a third book. Robbie, the heroine's bastard son from Redeeming the Rogue Knight, is on the verge of knighthood when his head is turned by the daughter (his not-blood related cousin) of the couple from The Blacksmith's Wife. Considering the history between their respective parents (Robbie's adoptive father is a reformed cad who Rowenna's mother once fancied herself in love with…) this could make holiday gatherings quite interesting.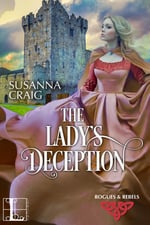 The Lady's Deception, by Susanna Craig

Pick Up a Copy: Amazon, Barnes & Noble, Apple Books, Kobo
Can a runaway English bride find love with a haunted Irish rebel?
Paris Burke, Dublin's most charismatic barrister, has enough on his mind without the worries of looking after his two youngest sisters. The aftermath of a failed rebellion weighs on his conscience, so when the young English gentlewoman with an unwavering gaze arrives, he asks far too few questions before hiring her on as governess. But her quick wit and mysterious past prove an unexpected temptation.
Rosamund Gorse knows she should not have let Mr. Burke think her the candidate from the employment bureau. But after her midnight escape from a brother bent on marrying her off to a scoundrel, honesty is a luxury she can no longer afford. With his clever mind and persuasive skill, Paris could soon have her spilling her secrets freely just to lift the sorrow from his face. And if words won't work, perhaps kisses would be better?
Hiding under her brother's nose, Rosamund knows she shouldn't take risks. If Paris learns the truth, she might lose her freedom for good. But if she can learn to trust him with her heart, she might discover just the champion she desires . . .
I have never understood why there aren't more historical romances set in Ireland (yes, the country's history is fraught but darn never every country's history is fraught…) and this one has the added bonus of a runaway bride and a barrister hero. Craig is a new-to-me-author, but I'm going to give this one a whirl.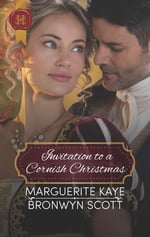 Invitation to a Cornish Christmas, by Marguerite Kaye and Bronwyn Scott

Pick Up a Copy: Amazon, Barnes & Noble, Apple Books, Kobo
Welcome to a Regency Christmas…
…in these two festive short stories!
Captain Treeve Penhaligon must return to Cornwall when he inherits his family's grand estate. But could his meeting with Emily Faulkner on the wild beaches be even more life changing? Find out in Marguerite Kaye's The Captain's Christmas Proposal. Then, discover what happens when Treeve invites composer Cador Kitto to complete the celebrations, and Cade clashes with local girl Rosenwyn Treleven in Unwrapping His Festive Temptation by Bronwyn Scott…
It's that time of year when Harlequin starts churning out the Christmas books and my wallet begins to weep quietly. Having read, and enjoyed, books by both authors, I'm a sucker for a Regency military man and the premise of Scott's story features all the Wendy catnip ("local girl" and "composer" - I can't say no to either).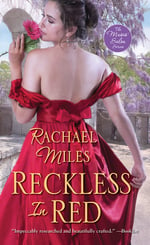 Reckless in Red, by Rachael Miles

Pick Up a Copy: Amazon, Barnes & Noble, Apple Books, Kobo
Lena Frost is a force to be reckoned with. A woman who has made her way in society without family or fortune, she's about to realize her first big success as an artist. . . . Until her business partner makes off with her money, leaving her with little more than her hopes—and a dead body in her studio. Now Lena is at the mercy of a strikingly handsome stranger demanding answers she dare not reveal . . .
Is it her seductive eyes, or his suspicion that she's up to no good that have Clive Somerville shadowing Lena's every move? Either way, his secret investigation for the Home Office has him determined to uncover Lena's hidden agenda. But the closer he gets to her, the more he longs to be her protector. Is she a victim of circumstance? Or a dark force in a conspiracy that could destroy everything Clive holds dear? Discovering the truth could have dire consequences, not only for Lena, but for his heart . . .
Kirkus says this fourth book in the Muses' Salon series has "A unique storyline, a dose of suspense, and a circle of intelligent female friends enhance a successful romance." I cannot say no to any of that, and add in a self-made heroine who "has made her way in society without family or fortune," and I'm sunk. I've never read Miles before, and I'm going to start here.
What Unusual Historicals are you looking forward to reading?