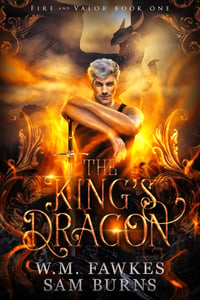 Today we're happy to share a guest post from W.M. Fawkes, co-author of the brand new m/m fantasy romance, The King's Dragon. More about the book at the end!
***
Sometimes, the characters we love the most aren't the ones who saved the kitten—they're the jerks at the bottom of the tree snickering while the good guy slips on a branch.
Before I knew what shipping was, I was head over heels for Draco Malfoy—an arrogant, entitled ass with just enough existential angst to make my heart bleed. Even better? His dad. (Come on, you know Jason Isaac's sneer is magic.) And who doesn't love Loki, the slippery disaster god who takes what's his with a trick and a smirk?
In the real world, these characters would be infuriating and impossible to deal with, but books give us a chance to redeem the irredeemable. Characters can grow like real people often don't want to. They can overcome mistaken beliefs and past trauma to grow in ways that we can all aspire to.
Anyway, who doesn't love their heroes with a bite? In recent years, we've gotten an influx of prickly, grumpy, and dangerous heroes in queer fantasy & romance—Laurent in C.S. Pascat's The Captive Prince, Baz in Rainbow Rowell's Carry On, Patrick in Hailey Turner's Soulbound series, and Hudson in Jenn Burke's Not Dead Yet, just to name a few. These are characters that demand our attention. Out of stubbornness or pride, they often make things harder for themselves and everyone around them. We want to shake them when they make bad choices, and wrap them in a blanket with a hot cocoa when things don't go their way.
In The King's Dragon, Sam and I knew we were writing a different kind of book. Bet Kyston is an assassin who, well, assassinates people. Rhiannon gan Derys is a dragon who does things her way without much consideration for anyone around her, putting people at risk in the process. These characters weren't going to let us take the easy way out of things. They're messy, they're prickly, they're pointy and problematic, and let's be honest: there's a reason The King's Dragon is part of a series. They're going to need some time to earn their happy endings.
These are the kinds of characters we root for, who mess up and figure things out and have to work for what they want. But when they get it, it'll be that much sweeter for the wait.
****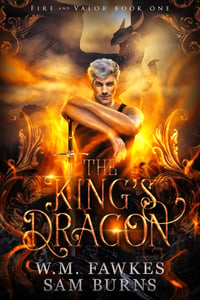 The King's Dragon, by W.M. Fawkes and Sam Burns, is out on September 26th in Kindle Unlimited.
Lord Tristram Radcliffe has a secret—he is the only dragon at the king's court in Llangard. It's a secret he's kept from the knights he's fought beside, from the ladies who bat their lashes at him, and from his closest companion, Prince Reynold. If it were to get out, he'd be banished to the Mawrcraig Mountains along with the rest of his kind, but the kingdom of men is the only one he's ever known, and his heart lives in the stone halls of those who'd count him an enemy.
When the old king dies and Prince Reynold takes the throne, two visitors from the north throw Tristram into the middle of the ancient conflict between dragons and men. They put him on a collision course with the king's shadow, Bet Kyston, a dangerous assassin who may want him dead or may want more of Tristram that he'd ever thought to give.
With the eyes of dragons upon him and a threat from the north creeping toward the home he loves, Tristram must weigh his allegiances before his dual legacies tear him apart.
Find W.M. Fawkes: website, Twitter, newsletter
and Sam Burns: website, Twitter, newsletter