It's gonna be May! Here's your obligatory GIF of Justin Timberlake. I'm not even a little bit sorry.
Now that that's done, let's talk about some of the May books we're excited to read! And by read, I mean be injured while trying to carry them around because WOW is May full of books. SO MANY.
This post includes affiliate links.
***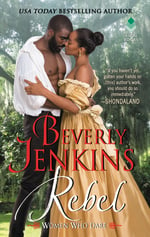 Rebel, by Beverly Jenkins - May 28
The first novel in USA Today Bestselling Author Beverly Jenkins's compelling new series follows a Northern woman south in the chaotic aftermath of the Civil War . . .
Valinda Lacey's mission in the steamy heart of New Orleans is to help the newly emancipated community survive and flourish. But soon she discovers that here, freedom can also mean danger. When thugs destroy the school she has set up and then target her, Valinda runs for her life—and straight into the arms of Captain Drake LeVeq.
As an architect from an old New Orleans family, Drake has a deeply personal interest in rebuilding the city. Raised by strong women, he recognizes Valinda's determination. And he can't stop admiring—or wanting—her. But when Valinda's father demands she return home to marry a man she doesn't love, her daring rebellion draws Drake into an irresistible intrigue.
Amy - I'M READY TO BE EMOTIONAL
Ana - M/f, Historical Romance, in post Civil War New Orleans. The only thing that kept me from pouncing on this in ARC form is that I love listening to Beverly Jenkins novels in audio. So pre-ordered this book and I can't wait till I am listening to to Valinda and Drake's story.
Suzanne - NEW SERIES. COVER. SWOON. I also listen to Ms. Bev on audio... but I have a collection, so I pre-ordered in paperback too.
Dylan - I'm really looking forward to this for a variety of reasons but mostly because it's A) Ms. Bev and B) I'm trying to read more historical romances this year because I've been woefully neglectful of the genre and C) Valinda sounds like a the type of female character I love -strong, independent, with her own sense of purpose. I am already living for her.
Buy a copy: Amazon, Apple Books, Barnes & Noble, Kobo, Downpour (Audio)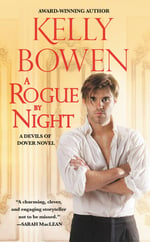 A Rogue by Night, by Kelly Bowen - May 28
Baron. Physician. Smuggler**.** Harland Hayward is living a double life as an aristocrat by day and a criminal by night. As a doctor, Harland has the perfect cover to appear in odd places at all hours, a cover he uses to his advantage. He's chosen this life to save his family from financial ruin, but he draws the line at taking advantage of the honest and trustworthy Katherine Wright.
Katherine thought she was done smuggling. Having finally convinced her ailing father and injured brother to abandon their criminal pursuits, she's returned to England to help them escape to a new life--once she helps them fulfill their last contract. And that means working with Hayward, even when her instincts tell her that becoming his ally may be a risk to her heart - as well as her life.
Suzanne - This hero looks SO GRUMPY. I've loved the doctor character in the first two books, so I'm excited to read his romance. And with a smuggler heroine!
Buy a copy: Amazon, Apple Books, Barnes & Noble, Kobo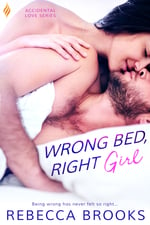 Wrong Bed, Right Girl, by Rebecca Brooks - May 13
Falling head-first into the wrong woman's bed was not how Reed Bishop's night was supposed to go. Now a gorgeous, half-naked ballet dancer was threatening his manhood…with a book. He can't blame her.
It wasn't how it seemed—he was just doing his job, tracking down his lead informant, who, unfortunately, took off, leaving him to figure out what to do with her friend. Staying in her apartment was no longer safe.
And that's how he got himself into this mess.
Now she's sleeping in his bed while he tosses and turns on the couch.
There are pink tights in his bathroom.
Pointe shoes next to his boots.
He swears he won't touch her like that…but he can't ignore his fantasies.
As a tattooed, muscled DEA Agent, Reed's seen some things. Drug dealers, murderers…He can't let Talia get close. Even though she's made it clear they're both fighting the same hunger. And he definitely can't use his handcuffs on her…no matter how much she begs.
Suzanne - I've been promised handcuff sex on a roof. Also, I LOVED the last one in this series.
Buy a copy: Amazon, Apple Books, Barnes & Noble, Kobo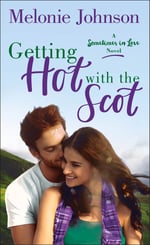 Getting Hot With the Scot AND Smitten by the Brit, by Melonie Johnson - April 30 and May 28
Getting Hot With the Scot
IT'S TIME TO FLIRT WITH A MAN IN A KILT
Cassie Crow, a pop-culture reporter for a TV talk show, is focused on becoming a "serious" journalist. But when she stumbles into a kilted Highlander with a killer accent, Cassie decides that taking one night off from work and spending it with a sexy Scot couldn't hurt. . .
Logan Reid has built a career on his charm, hosting a series of off-the-wall hijinks on the Web. But when the Scottish prankster meets the all-American, equal parts intelligent and irresistible Cassie, Logan realizes that one night of fun won't be enough. Could it be that this career-focused, commitment-phobic couple is finally ready to take a chance at true and lasting love?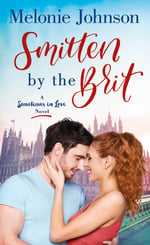 Smitten by the Brit
DEFINITELY, MAYBE...OR LOVE, ACTUALLY?
English professor Bonnie Blythe expects her life to play out like her favorite novels, especially now that her long-term boyfriend has finally proposed. So when a shocking discovery leads Bonnie to end her engagement, she decides to close the book on love. But the plot thickens when a brand-new character enters the scene—and quickens Bonnie's heart.
With his brilliant blue eyes, sexy accent, and irresistible charm, Theo Wharton is like a romantic hero straight out of a Jane Austen novel. When fate places Bonnie in England for a summer—conveniently close to Theo—she realizes a hot friends-with-benefits fling is exactly what she needs to start a fresh chapter. Just as Bonnie begins to believe she's falling in love, an eye-opening revelation into Theo's life makes Bonnie feel like she's wandered into one of her favorite books. Will Bonnie have the courage to risk her heart and turn the page with the dashing Brit to find her true happy ending after all?
Suzanne - St. Martin's Press decided to put these books out one after another, with the third coming late June. This is fine, because the first one is so charming, funny, and sexy that I'll happily binge all three. If you're waiting for a review, I'm covering all three. Getting Hot With the Scot is here, the other two coming soon!
Buy Getting Hot with the Scot: Amazon, Apple Books, Barnes & Noble, Kobo, Downpour (Audio)
Buy Smitten by the Brit: Amazon, Apple Books, Barnes & Noble, Kobo, Downpour (Audio)
Red, White & Royal Blue, by Casey McQuiston - May 14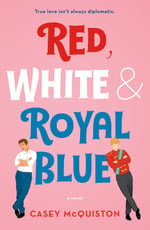 What happens when America's First Son falls in love with the Prince of Wales?
When his mother became President, Alex Claremont-Diaz was promptly cast as the American equivalent of a young royal. Handsome, charismatic, genius—his image is pure millennial-marketing gold for the White House. There's only one problem: Alex has a beef with the actual prince, Henry, across the pond. And when the tabloids get hold of a photo involving an Alex-Henry altercation, U.S./British relations take a turn for the worse.
Heads of family, state, and other handlers devise a plan for damage control: staging a truce between the two rivals. What at first begins as a fake, Instragramable friendship grows deeper, and more dangerous, than either Alex or Henry could have imagined. Soon Alex finds himself hurtling into a secret romance with a surprisingly unstuffy Henry that could derail the campaign and upend two nations and begs the question: Can love save the world after all? Where do we find the courage, and the power, to be the people we are meant to be? And how can we learn to let our true colors shine through? Casey McQuiston's Red, White & Royal Blue proves: true love isn't always diplomatic.
Amy - I kind of feel like I'm ready for a laugh, and I'm crossing my fingers that this book delivers.
Alex - This diverse story is coming out soon and it's just… there's a trans woman as a bodyguard, POCs in the White House…It's basically everything that current politics lacks, except the bad guys. This book is a kind of a balm, it's a nice thing to read after an exhausting day of hearing bad news online or on TV.
Andrea - To be quite honest, I did not make it past "in which the First Son falls in love with the Prince of Wales after an incident of international pr---" because my heart went WOOOH! and could not compute any further. I just really need this book right now, for my health please.
Suzanne - I preordered this a while back and I'm hoping this is the book that I want it to be.
Buy a copy: Amazon, Apple Books, Barnes & Noble, Kobo, Downpour (Audio)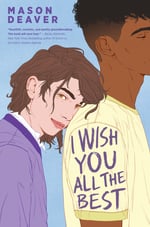 I Wish You All the Best, by Mason Deaver - May 14
When Ben De Backer comes out to their parents as nonbinary, they're thrown out of their house and forced to move in with their estranged older sister, Hannah, and her husband, Thomas, whom Ben has never even met. Struggling with an anxiety disorder compounded by their parents' rejection, they come out only to Hannah, Thomas, and their therapist and try to keep a low profile in a new school.
But Ben's attempts to survive the last half of senior year unnoticed are thwarted when Nathan Allan, a funny and charismatic student, decides to take Ben under his wing. As Ben and Nathan's friendship grows, their feelings for each other begin to change, and what started as a disastrous turn of events looks like it might just be a chance to start a happier new life.
At turns heartbreaking and joyous, I Wish You All the Best is both a celebration of life, friendship, and love, and a shining example of hope in the face of adversity.
Andrea - I'm pretty sure the book is going to make me feel as proud and warm and glowy inside as looking at this incredible lovely cover does.
Buy a copy: Amazon, Apple Books, Barnes & Noble, Kobo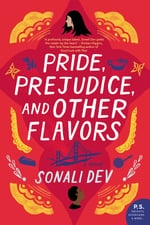 Pride, Prejudice and Other Flavors, by Sonali Dev - May
Award-winning author Sonali Dev launches a new series about the Rajes, an immigrant Indian family descended from royalty, who have built their lives in San Francisco...
It is a truth universally acknowledged that only in an overachieving Indian American family can a genius daughter be considered a black sheep.
Dr. Trisha Raje is San Francisco's most acclaimed neurosurgeon. But that's not enough for the Rajes, her influential immigrant family who's achieved power by making its own non-negotiable rules:
· Never trust an outsider
· Never do anything to jeopardize your brother's political aspirations
· And never, ever, defy your family
Trisha is guilty of breaking all three rules. But now she has a chance to redeem herself. So long as she doesn't repeat old mistakes.
Up-and-coming chef DJ Caine has known people like Trisha before, people who judge him by his rough beginnings and place pedigree above character. He needs the lucrative job the Rajes offer, but he values his pride too much to indulge Trisha's arrogance. And then he discovers that she's the only surgeon who can save his sister's life.
As the two clash, their assumptions crumble like the spun sugar on one of DJ's stunning desserts. But before a future can be savored there's a past to be reckoned with...
A family trying to build home in a new land.
A man who has never felt at home anywhere.
And a choice to be made between the two.
Ana - Dev is moving in to the Women's fiction/Family saga market with this series, but I am intrigued by the blurb. I loved reading her multi-generational immigrant families in her romances, so I am sure their story will be engrossing.
Buy a copy: Amazon, Apple Books, Barnes & Noble, Kobo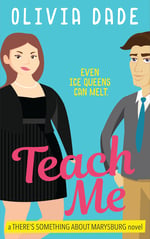 Teach Me, by Olivia Dade - May 30
Their lesson plans didn't include love. But that's about to change...
When Martin Krause arrives at Rose Owens's high school, she's determined to remain chilly with her new colleague. Unfriendly? Maybe. Understandable? Yes, since a loathsome administrator gave Rose's beloved world history classes to Martin, knowing it would hurt her.
But keeping her distance from a man as warm and kind as Martin will prove challenging, even for a stubborn, guarded ice queen. Especially when she begins to see him for what he truly is: a man who's never been taught his own value. Martin could use a good teacher--and luckily, Rose is the best.
Rose has her own lessons--about trust, about vulnerability, about her past--to learn. And over the course of a single school year, the two of them will find out just how hot it can get when an ice queen melts.
Ana - I love Dade's humor and heart and I am eager to read this Ice Queen -- Cinnamon Roll pairing. Dade is a former HS teacher so I am confident she will get the school details right.
Buy a copy: Amazon (Kindle), Amazon (Paperback) - Available right now!, Apple Books, Barnes & Noble, Kobo, Google Play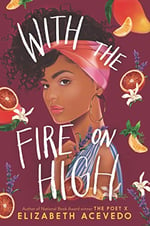 More Books We'll Be Reading...
Seriously, May is too much and sometimes I (Suzanne) need to sleep instead of making this post. The title for each is an Amazon link.
Suzanne
- Not romance, but Acevedo is so gifted. I adored first novel in verse.
Amy
- I still haven't read the Kiss Quotient because I'm a terrible librarian BUT I SWEAR IT'S HAPPENING IN MAY.
Andrea
-
I'm imagining this exactly like the timeless classic Emma Roberts film, Wild Child, but with royalty!
Suzanne
- I'll read anything they write. I don't love this premise but whatever, I'm sure I'll love the book.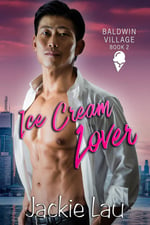 Ice Cream Lover
, by Jackie Lau - May 21
Suzanne
- For starters, it's about a man who doesn't like ice cream. For second, it's Jackie Lau.
Suzanne
- I loved the first two books, and though I'm wary of the fat-shaming mom in this one, I trust the author to make me happy by the end.
We'll have a review of this one! But in case you want to know why at least 4 of us are excited... here's Ana's review of
American Dreamer
.
Dylan
- My body and my Kindle are ready. I am a sucker for the billionaire trope and I am beyond excited to read Milo's story so I'm super excited about this one.
Alex
- This the third book in Twisted Wishes series, featuring Mish and David, the security guard. We have gotten to know all the other band members and now, finally, we get to see the life and the band/family through Mish's eyes.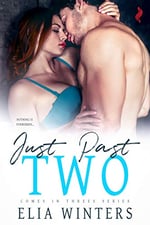 Just Past Two
, by Elia Winters - May 20
Suzanne
- This is an angsty f/f romance that's possibly a little darker than I'm used to, but that's why I'm ready to dig in. (CW for lots of talk about cancer.)
Storm Cursed, by Patricia Briggs - May 7
Ana - Mercy Thompson is another series I read in audio. I really love the narrator, Lorelei King. Each book raises the stakes and in this one it seems the gauntlet thrown down by the Columbia Basin pack is about to be picked up in a major way. It wouldn't be a Mercy Thompson book if she wasn't majorly outgunned and facing long odds, and I will love every minute of it, when my heart isn't breaking..
Ana
- So, I don't usually refer to romance novels as guilty pleasures. I tend to just love them. But Wylde's novels do make me feel just a little bit guilty. I love some of them to pieces and others I've read simply for the sake of the heroine, going so far as to skip every chapter with the hero's POV. She has some great heroines, and I want to read Peaches story. I just hope I don't hate the hero the whole way through.
What are you looking forward to in May?