About the Conference
April 13-14, 2019
1:00 pm - 6:00 pm EST each day
Entirely virtual - join from the comfort of your own home!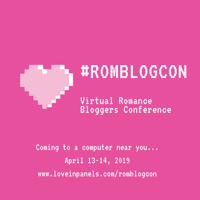 Why this conference?
Blogging is changing and it's getting kind of scary out there, with the big blogs closing and traffic down at blogs of all sizes. Whether it's how we reach readers, how we talk about books, or the ways we make (or don't make) money, it's clear that bloggers need to adapt. The goal of this event is to get us talking to each other and sharing information about what's working and what isn't.
We'll be recording as much of the event as possible for participants, and expect to have several handouts that you can refer back to afterward.
Participants will end the weekend with the following:
A group of fellow bloggers to continue to discussion, plan multi-blog events/posts, and complain/celebrate with
A list of tips and tools to make our work easier or more effective
Strategies to avoid burnout
Agenda
New! Access and download the final agenda here (PDF).
Saturday, April 13th
1:00 PM

Panel with publicists - Q&A

Panelists:

Estelle Hallick, Forever

Gloria Bairos, Harlequin

Stefani Sloma, Sourcebooks

2:30 PM
Blogging Resources
3:45 PM
Platforms - Social media, Video, Retailer Sites (ie The Ripped Bodice, guest posts for B&N, etc)
5:00 PM

The Future of Romance Blogging = ?

With guests Stefani Sloma and JenReadsRomance
Sunday, April 14th
1:00 PM
What's Working?
2:30 PM
Strategies to Avoid Burnout
3:45 PM
Building, Joining, and/or retaining a Team vs. independent blogging
5:00 PM

Monetization

Guest Speaker: Thien-Kim Lam of Bawdy Bookworms
Registration
Registration closes at 4:00 pm on Friday, April 12.
Fees are waived for presenters/moderators. If you're interested in presenting or moderating a session, please contact Suzanne ASAP. (suzanne@loveinpanels.com)