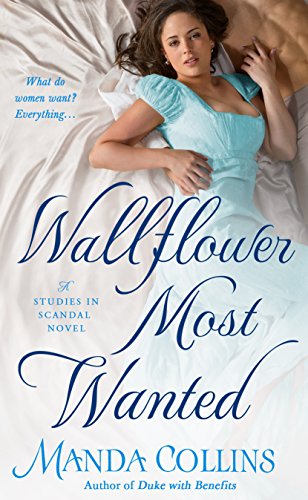 Synopsis from the Creator
:
THE PICTURE OF ROMANCE
A dedicated painter, Miss Sophia Hastings is far more concerned with finding the right slant of light than in finding Mr. Right. But when an overheard conversation hints at danger for another local artist, Sophia is determined to get involved. Even if it means accepting help from an impossibly good-looking vicar who insists on joining her investigation―and threatens to capture her heart…
Reverend Lord Benedick Lisle knows that Sophia is no damsel in distress. But he won't allow her to venture into peril alone, either. . .especially since he finds Sophia's curious, free-spirited nature so alluring. But protecting her from harm is becoming more difficult than the vicar could have expected as he and Sophia confront their fiery mutual passion. Who could have known that the art of love would prove so irresistible?
Wallflower Most Wanted by Manda Collins is a page-turning Regency romance and part of the Studies in Scandal series.