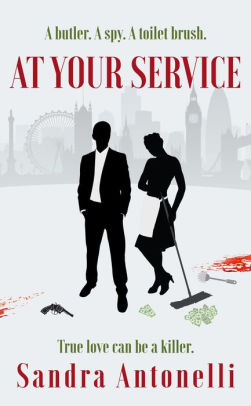 Synopsis from the Creator
:
A butler. A spy. A toilet brush. A romantic suspense cosy spy-thriller-mystery with a dash of grittiness and humour. It's Charade meets Remains of the Day.

After three years in the employ of a former British army officer turned Risk Assessment Specialist, widowed butler Mae Valentine is familiar with Major Kitt's taste for scrambled eggs, bourbon, and brawling. Kitt knows of Mae's fondness for order, her beloved dead husband, and the millions the man left her in trust. Their easy bond is tested the day Mae kills the man sent to murder her and the trust fund vanishes.

Soon, a volcano, a hand roasting in an oven, and a fish named Shirley accentuate sinister machinations that involve Mae and the missing money. To keep her safe from women in ugly shoes, homicidal bankers, and Mafia henchmen, Kitt risks exposing his true profession, which doesn't trouble him as much as being in love with a woman who's still in love with a dead man. If he can't protect Mae, he'll lose the best butler—and scrambled eggs—a spy ever loved.