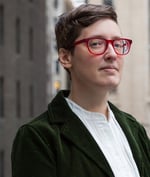 As readers, we use stories as mirrors (seeing ourselves) and windows (seeing others), but often forget about how the act of creating those stories can impact the artist. This is especially true of underrepresented creators, who may uncover pieces of their identity while writing about someone else. In today's post, we're highlighting graphic novelist Alison Wilgus, creator of a new graphic novel duology, Chronin.
Chronin (Vol. 1 out today!) details the adventures of a bisexual college student from the future... stuck as a samurai in Edo-era Japan. Wilgus is a bestselling writer for the Avatar: The Last Airbender comics, Cartoon Network's Codename: Kids Next Door, and First Second's Science Comics: Flying Machines, and she cohosts the podcast Graphic Novel TK with Gina Gagliano.
In comic format, Kori Michele (the Other Side anthology) interviews Wilgus about how creating her new book gave her a way to examine her own gender identity and sexual orientation. For those of us who love comics, this is a fun way to read about the genesis of these two books and how queer creators can use their art as a way to think about their identity.
Want more? You can check out an excerpt of Chronin Vol. 1: The Knife at Your Back at Tor's blog here, and a second excerpt right here!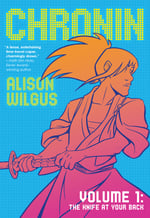 Chronin Vol. 1: The Knife at Your Back
is on sale
today
, Feb. 19th.
Alison Wilgus's Chronin Volume 1: The Knife at Your Back: is an action-packed, time travel adventure--first in a graphic novel duology.
Her name is Mirai Yoshida.
She was not born in Japan.
She is not supposed to be in 1864.
But, through a time-travel mishap, Mirai is stuck with no way out. Help may be found when she befriends Hatsu, a humble tea mistress harboring a dangerous secret. Yet time is running short for the entire nation, because Mirai knows that the shogunate is about to fall. Learning the way of the sword might be her only path towards survival.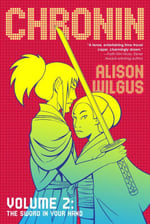 Chronin Vol. 2: The Sword in Your Hand
will be available on Sept. 10th.
Japan's history will never be the same. The timeline has veered off course with the abrupt deaths of prominent players in the nation's past, influencers who were supposed to start the Meiji Restoration. Now Mirai Yoshida, former Japanese-American undergrad turned samurai on the lam, may never find her way back to where she belongs.
Unless a high-stakes plan is enacted. With help from her newfound friends, Mirai must instigate a peasant uprising to correct the course of history. But in order to succeed, she faces a dangerous and powerful fellow time traveler, an enemy who accidentally glimpsed his country's destiny and didn't like what he saw.
Chronin, Volume 2: The Sword in Your Hand concludes the adrenaline-fueled adventure that asks: when time is of the essence, is it more important to save yourself or the future?