If you've got young readers in your life or library, here's a chance to win a copy of Best Friends, by Shannon Hale and LeUyen Pham!
My own kid loves this book and the first one in the series, Real Friends. Highly recommended for kids starting to navigate the ups and downs of making and keeping friends, plus knowing when to break up with friends who aren't so great.
Here's a reaction shot from when we got the first copy of this book: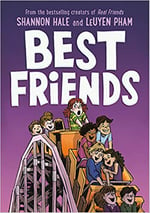 Bestselling creators of Real Friends Shannon Hale and LeUyen Pham are back with a true story about popularity, first crushes, and finding your own path in the graphic novel, Best Friends.
Follow your heart. Find your people.
Sixth grade is supposed to be perfect. Shannon's got a sure spot in the in-crowd called The Group, and her best friend is their leader, Jen, the most popular girl in school.
But the rules are always changing, and Shannon has to scramble to keep up. She never knows which TV shows are cool, what songs to listen to, and who she's allowed to talk to. Who makes these rules, anyway? And does Shannon have to follow them?
Best Friends releases on 8/27. More about the book here (affiliate link).
And now for the giveaway!
We are not being compensated for this giveaway but did receive this copy from the publisher for free for review purposes. (It's a duplicate.) The giveaway will be open through 8/17/2019. Winner must have a US mailing address. Void where prohibited. No purchase necessary to win.
To enter, use the widget below or click here.