As always, there's a lot going on in the land of romance comics!
The big Indie Slice of Life sale is still running over at Comixology with huge markdowns on comics like Love & Capes, Bonnie N. Collide, and the erotic masterpeice, YES, ROYA. That last one is only $4.99! This sale ends tomorrow, 9/28.
Gumroad is donating their proceeds from sales today, 9/27, to hurricane relief in Puerto Rico. We've bought rather a lot of comics through Gumroad, and many your/our favorite artists have digital shops through the site. Worth taking a look!
Power & Magic Press, the team that brings you the queer witches of color in POWER & MAGIC and the upcoming IMMORTAL SOULS, is donating all of their gumroad proceeds to hurricane relief as well. Check it out here. If you read the review, you know that Suzanne loved every story in their first anthology, which is incredibly rare and a testament to how special this antho is.
Margins Comics, who publish DATES, two anthologies of queer historical fiction, is doing a similar promo today, with 25% off AND all proceeds going to Puerto Rico aid. Use code PR-RELIEF for the discount.
The next volume of the LADIES NIGHT ANTHOLOGY has only 7 more days to reach its Kickstarter goal. They're at 70% as of this morning, so it's totally doable! This volume is about sisters, the bonds we choose or are born with, and is written and illustrated by women and genderqueer creators from all around the world. Previews and more info here!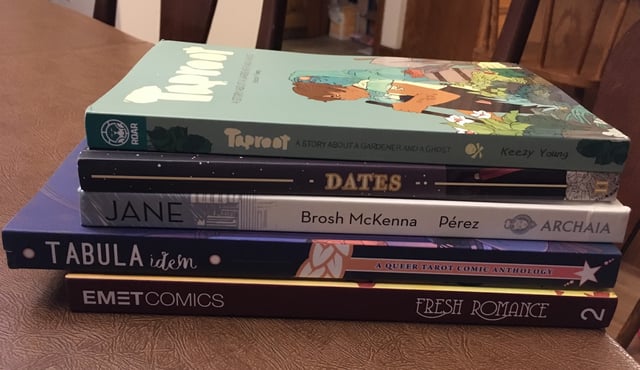 And lastly, we have a big stack of comics we're working through. Things are rather hectic over here, so we aren't reading as much as we'd like, but reviews are coming!