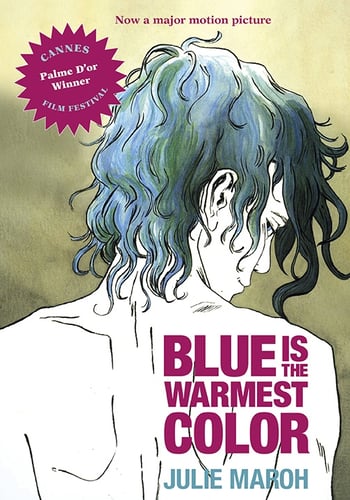 Title: Blue is the Warmest Color

Creators:
Format: EBook Print

Color: Color

Romanceiness: Romantic Elements
Heat: R
Tags: queer lesbian coming of age graphic novel

Where to Buy or Read
:
Buy it at your local comic shop or bookstore!
Synopsis from the Creator
:
Originally published in French as Le bleu est une couleur chaude, Blue is the Warmest Color is a graphic novel about growing up, falling in love, and coming out. Clementine is a junior in high school who seems average enough: she has friends, family, and the romantic attention of the boys in her school. When her openly gay best friend takes her out on the town, she wanders into a lesbian bar where she encounters Emma: a punkish, confident girl with blue hair. Their attraction is instant and electric, and Clementine find herself in a relationship that will test her friends, parents, and her own ideas about herself and her identity.
Vividly illustrated and beautifully told, Blue Is the Warmest Color is a brilliant, bittersweet, full-color graphic novel about the elusive, reckless magic of love. It is a lesbian love story that crackles with the energy of youth, rebellion, and desire.
First published in French by Glenat, the book has won several awards, including the Audience Prize at the Angouleme International Comics Festival, Europe's largest.
Love In Panels' Review
:
BLUE IS THE WARMEST COLOR was recommended to me by an instructor as a masterwork of sequential art, so when I picked it up, I had high expectations. It's also won several awards and been made into a movie, which is rare for non-cape graphic novels.
It's a lesbian coming-of-age story that starts and ends with pain, but the romance is beautiful and immensely moving. I was reminded of the work queer communities have done to get us to this place of openness. Yes, there's much work to be done, particularly with and for the trans community and for PoC in queer spaces. But to be taken back to the not-so-distant past as we follow Clementine through her journey of self-awareness and self-acceptance in the 90's? Oof. Spoiler: Clem's parents kick her out at age 17 when they find out her best friend is really her lover. I know that still happens today, but maybe a little less frequently? I can't speak to gay culture in France today, but in the US it's improved.
This is one of those stories in which one of the queer protagonists dies, but it's not because she's queer. This isn't a spoiler - the book opens with Emma visiting Clem's estranged parents following the funeral for Clem. Most of the narrative is told as written in Clem's handwritten journal, giving Emma and the reader a look at Clem's emotional journey. I was weeping at the end of the book, but I'm not sorry to have read it. It's not going to give you the feeling of Brokeback Mountain or other stories that mine gay pain for emotional power.
As for the art, Julie Maroh makes interesting and successful choices throughout. The only pop of color in the book is blue. Several pages have no written dialogue, giving facial expressions and action more weight. Maroh gives readers close-ups of Clem's smile after her first positive sexual interaction. We can feel the joy with her, just as we later feel her intense sadness. Emma is best depicted in the opening and closing scenes of the book, after Clem has passed on. Only then is Emma given the freedom to have her own story told, which makes sense considering that the entire middle is from Clem's POV.
TL;DR - this is an excellent book. I'm glad I read it. It's not a traditional romance, since there isn't a Happily Ever After, but considering that the two protagonists have a solid 13 happy years together? I'm willing to bend my definition.