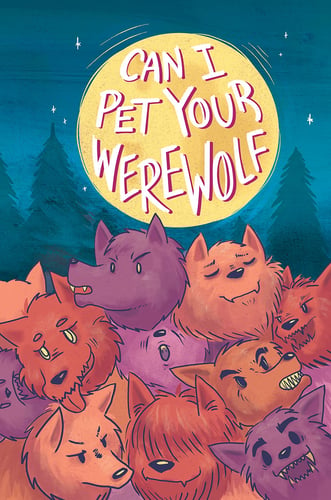 Title: Can I Pet Your Werewolf?

Creators:
Format: EBook

Color: Black and White

Romanceiness: Romantic Elements
Heat: PG13
Tags: fantasy paranormal anthology

Where to Buy or Read:
Synopsis from the Creator
:
A different take on those who get fluffy under a full moon. This is a collection of goofy, cute, and sweet werewolf stories. A black and white, 160 page book of comics. It includes work by:
Kel McDonald
Meredith McClaren
Rhinnon RS
Melanie Ujimori
Molly Muldoon
Alina Pete
Zach Lehner
Rashad Doucet
Seanan McGuire
Monica Gallagher
Caitlin Like
Mariah McCourt
Aliz Fernández
Kendra Wells
Nilah Magruder
Sophie Goldstein
Shauna Grant
Cat Farris
Aud Koch
Cover art by Melanie Ujimori
Love In Panels' Review
:
Werewolf stories tend to be about men turning into wolves and smashing things, which is all well and good, but it's nice to explore the soft underbelly of the myth every now and again. In CAN I PET YOUR WEREWOLF, Kel McDonald has collected a group of stories that range from teenage were-girls bonding with their mothers to a werewolf who transforms into a human when he comes out as gay.
As with most werewolf/shifter stories, several of these examine themes of transformation, acceptance, and found family. There are a few, however, that are purely fun. In one memorable example, a young woman is trying to help her partner figure out how to stop waking up naked and streaking home. They come up with a backpack solution. It's cute.
This is a light-hearted anthology that balances humor and love with some of the darker elements of traditional werewolf stories. While I didn't love every story in the book, it was an enjoyable way to spend an afternoon and I suggest picking it up for a not-too-spooky full moon read.