I don't do this often, but this comic looks so cute that I figured I'd share the announcement from Oni-Lion Forge!
In short: queer cheerleaders for "[fans] of Fence and Check, Please!..."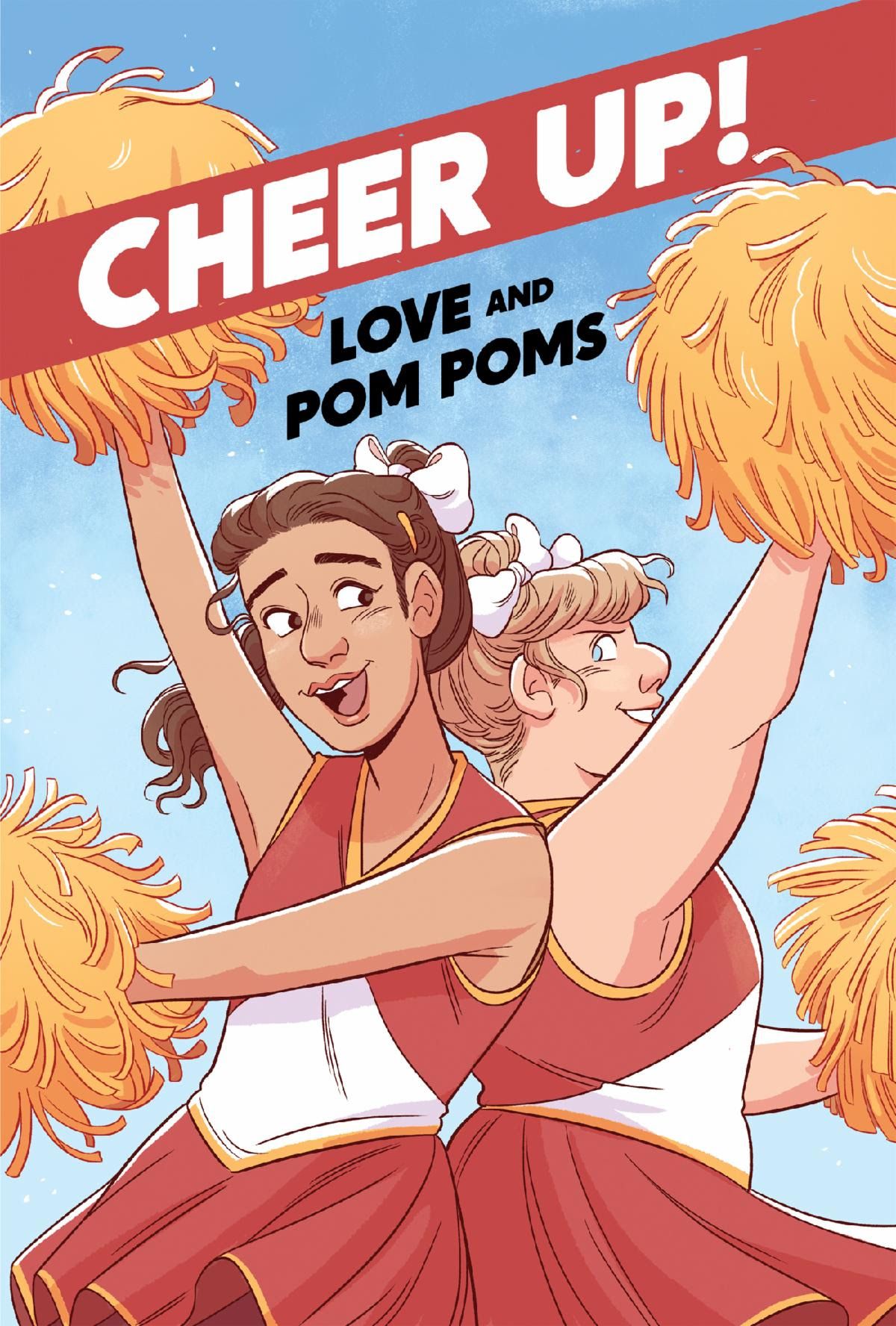 The longer version:

"The Oni-Lion Forge Publishing Group is pleased to announce the upcoming original graphic novel, Cheer Up!: Love and Pompoms, from the creative team of Crystal Frasier and Val Wise. Fans of Fence and Check, Please! will cheer for this fiercely close-knit group of girls as they take on the emotional highs and lows of relationships and high-school cheerleading in August 2021.
Annie is a smart, antisocial lesbian starting her senior year of high school, and for her it's all about the college applications. Who has time for extracurriculars when you're trying to be top of the class? But when her high school counselor informs her she needs to do more than just be an ace student, she decides to suck it up and join the cheerleading squad. Her former friend BeBe is a people-pleaser—a trans girl who must make her parents happy with her grades and social life in order to keep their support of her transition. Through the rigors of squad training and amped-up social pressures (not to mention microaggressions and other queer youth problems), the two girls rekindle a friendship they thought they'd lost and discover there may be other, sweeter feelings springing up between them. "
[For your pre-order needs: Amazon (affiliate link) and Goodreads]
And a little backstory...
"In the beginning, Annie and Bebe's story was going to take a very different direction, until the creative team made the decision to turn a few stereotypes—including those about cheerleaders— on their heads. "[Cheer Up!] was going to be a cute book about two girls who used to be friends, had a fight, and then made up and learned to support each other," says author Crystal Frasier. "The more I thought about that, the more I remembered the cheerleaders from my own high school, who were nothing like the stuck-up cheerleaders you saw in sitcoms or movies—they were a bunch of nerds and rejects who watched out for each other and who were pretty accepting of me. So the figurative 'girls supporting each other' ended up becoming literal when I decided to make everyone cheerleaders."
Bringing high-school athletics into the story proved to be the perfect outlet as the creators explored what it means for young teens to grow into their own—particularly queer teens. For Val Wise, that meant working on Cheer Up! was a chance of a lifetime. "Right from the jump I felt incredibly lucky to illustrate Cheer Up!, especially as my first graphic novel," he says. "It would have been so important to me as a sheltered, gender-confused teenager to read a book with a trans protagonist where transness isn't a tragedy or something to 'atone' for, but rather something to be celebrated. Even now in my twenties, working on this book made me feel joy for both who I am and who I was in high school." And thinking back to her own teen years, Crystal adds, "When I started writing Cheer Up!, my goal was to make the book I needed when I was a scared little trans girl in high school, showing transgender people as normal folks capable of happiness and surrounded by people who were imperfect but ultimately full of love and capable of growth."
Pep rallies, high-school angst, and teen romance offer up a delightful tale in Frasier and Wise's Cheer Up!: Love and Pompoms as it joins the growing world of sports graphic novels. Cheer Up!: Love and Pompoms will be available in stores and online on August 11, 2021. "

[For your pre-order needs: Amazon (affiliate link) and Goodreads]
About the Creators
Crystal Frasier is a girl from small-town Florida who now has twenty years' experience writing comics, fiction, and games. She has contributed to major brands like Pathfinder and Dungeons & Dragons, as well as small-press projects and anthologies, but she got her start self-publishing transgender-focused webcomics. Today Crystal is the proud mama of two energetic corgis, Calamity and Adamant.
Val Wise is a cartoonist originally from Florida who has contributed to a handful of anthologies, including Dates! and Wayward Kindred, as well as projects like Rolled & Told. He currently lives in the Southern US with his husband, two best friends, and two talkative cats named Biscotti and Ciabatta.