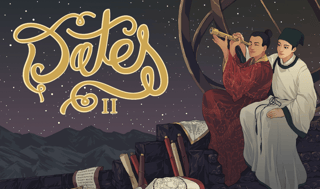 DATES II, the second volume in Margins Comics' series of queer historical fiction anthologies, is a beautiful compilation of comics and prose. The stories within tell of queer people around the world and throughout time, living their lives by their own rules. We reviewed the first volume, which you can read here, and noted that the quality of writing and illustration was inconsistent. I'm happy to say that I didn't find that with this second volume. As with most anthologies, not every story will wow you, but overall the quality is excellent.
This is a big book, with 19 black and white stories and additional full-color illustrations that add up to 268 pages in total. To review each story would take us both far too long, so I've pulled out a few to highlight. Enjoy!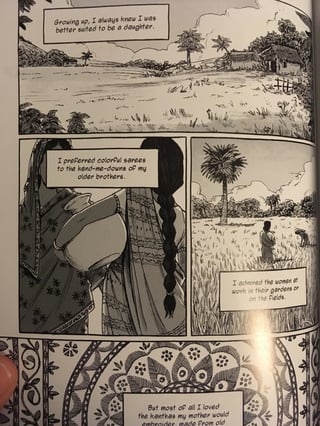 "Kantha," by Effie Lee, is the story of a trans girl growing up in India (I believe she is Bengali, though it's not specified). She watches her mother embroidering a kantha, which you can see in the bottom panel to the left, and despairs that she cannot create such beauty herself.
The narrative deftly uses the practice and development of a craft as a metaphor for the girl's path to womanhood, both as a trans girl and as an adolescent. It's a touching story of family and tradition, growth and acceptance. The artwork is beautiful, with fine lines and intricate embroidery. Definitely a standout.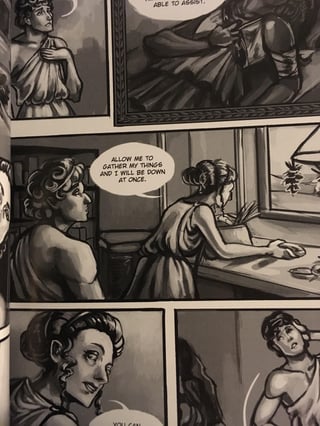 "A Bard's Tale," by Nicole Fieger, brings a bard to the house of a healer. He has no means with which to pay for her services, so he offers to pay her with a story. She gives him three chances, the last of which is naturally the winner.
The reason I've pulled out this story is because the artist uses two completely different art styles in the comic. One, which you see to the left, is full of heavy lines and shadows. The other, not pictured, is like what you'd see on a traditional Greek mural or urn. Each of the three stories the bard tells are illustrated in the style of Hercules or Zeus's exploits. It's clever.
I'm not certain whether the healer is aro/ace or just a solitary person, but the story that wins her agreement is that of a woman who decides to make her own way and is happy to live her life unpartnered.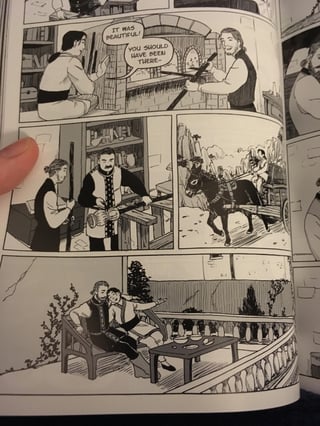 "Reflections of a Glassmaker," by Cat Parra, JJ Barnes, and Effie Lee, is my favorite in the book. It's the story of a glassmaker and a traveling merchant who meet and fall in love over a period of twelve years. Glassmaking in this time and place in Italy is such a lucrative and specialized profession that the masters are not allowed to leave.
As always, love finds a way. Besides being gorgeously illustrated, the love story spoke to my romantic heart and lifted this entry above the rest.
DATES II contains more nonbinary and trans characters than the first volume, but continues to present all characters with empathy and dignity, and never succumbs to the queer tragedy tropes that popular fiction often gives us.
Overall, it's a lovely book full of lovely stories that will give you some hope and escape in a time when we can all use some of both.