When DC announced they were launching new lines for kids and teens, Zoom and Ink respectively, fans everywhere were excited. And for good reason, as any medium requires an on-ramp for new readers and particularly younger readers. Hook 'em early and they'll read be readers for life and all that. The two lines are being merged into one for all younger readers now with titles for teens under the general DC banner, but that's a story for another time. In the meanwhile, they're still releasing the full line-up of graphic novels they announced earlier this year, which is full of really exciting, diversely populated titles.
One important difference between these books and their grown-up equivalents is that these are OGNs (Original Graphic Novels) instead of issues, which makes libraries and bookstores more likely to put them on their shelves. They're also an easy starting point for new readers, since these first several are origin stories and don't require anyone to figure out which issue of which run to buy.
With the release of Harley Quinn's book on September 3rd, the first four DC INK titles are out. All of them feature female main characters and two are superheroes while two are on the more villainous side of things. As with their DC Icons line of Young Adult novels (also origin stories), they've brought on some big names in YA fiction to write the books, and teamed them with well known illustrators. Each book has a distinct color palette which reflects the tone of the story and is rather striking overall.
Below are my thoughts on these first four and where it looks like the rest of the announced slate is going.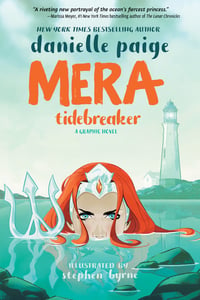 Mera: Tidebreaker, by Danielle Paige and Stephen Byrne
Originally known as "Aquaman's Wife," Mera is treated as a real person - a super ocean-dwelling person - in her book. She wants to prove to her father that she's a worthy leader and sets out to kill the boy who doesn't yet know he's Aquaman before her father's soldiers can do it. Except... she falls for him. It's an enemies-to-lovers story to be sure, but Aquaman doesn't know who he is or why they're enemies, so when Mera shows up on the beach ready to do murder, she can't do it. As with many comics, there's a theme of love being stronger than blind hatred, and of diplomacy as a valuable tool to diffuse conflict.
It's also really pretty. Mera's palette is a wash of sea green with red pops of color, such as her trademark bright red hair.
Suzanne borrowed this book from her library.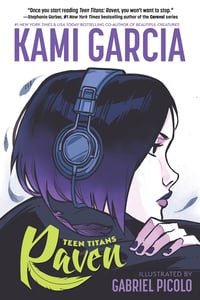 Teen Titans: Raven, by Kami Garcia and Gabriel Picolo
The goth member of the Teen Titans, Raven has always been a favorite. The book starts with a fatal car crash. Raven's in the car talking to her foster-mother about finishing adoption paperwork when they're hit and Raven's foster-mother dies. She then goes to live with her foster-mother's sister down in New Orleans. It's clear pretty quickly that said foster-mom and her new foster-sister, Max, have some magical abilities, and that they know something's going on with Raven. Turns out, there's a demon after/in Raven and it takes all of them working together to defeat it. Raven has to master her emotions, harness her strength, and believe in herself to cast the demon out once and for all.
As the cover copy says, there's a dash of romance in the book as well. Raven falls for a boy and it's very sweet until he betrays her. No happy ending there, except that Raven doesn't need external validation by the end.
Raven's pages are washed with blue and dark purple, full of shadows and heavy inks. Every few pages a colored panel draws the eye to an important scene or character. The demon is red, for example. Raven's kiss with The Boy is in full color and so are a few panels with her foster-mom and sister.
Suzanne purchased this book.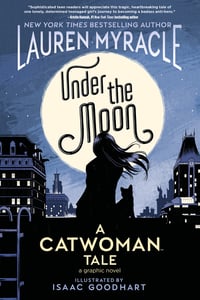 Under the Moon: A Catwoman Tale, by Lauren Myracle and Isaac Goodhart
Catwoman's tale is the saddest, I think. Selina starts out living with her mother and her mother's latest abusive boyfriend, who uses both women as servants, even though he's in her mother's home. He locks her in her room. He kills her cat. And he makes no secret of the fact that he doesn't want her living there. Since her mother won't defend her, she runs away and lives on the street. She falls in with a group of other homeless teens, learns Parkour... and how to steal. Bruce Wayne is nice to her, but she's too stubborn to accept help and ends up trying to steal from him. He's still nice to her and I yelled at them to kiss. It's a whole mess.
As a villain origin story, Under the Moon succeeds at making Catwoman (she calls herself Catgirl) a nuanced character instead of a straight villain. Her new friends become a found family and her driving motivation - once she gets past survival mode - is to keep the youngest of the group safe. Without spoilers, I'll just say that there's ample room for more books.
Catwoman's book is washed with blue, with occasional panels washed in other colors. Like Raven's book, it's tonally suited to the story and the illustration is excellent.
Suzanne borrowed this one from the library.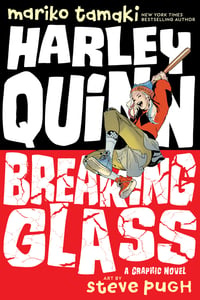 Harley Quinn: Breaking Glass, by Mariko Tamaki and Steve Pugh
Harley's book is a bit of a rollercoaster, just like Harley. Harleen's mother leaves to work on a cruise ship for a year and sends her to live with her grandmother. Only her grandmother already passed away and there's only a middle-aged gay man there to take her in. Harley's new family is comprised entirely of drag queens and I honestly loved them all. The first (only?) friend she makes is Ivy, a Black teen activist. (Ivy is the best character in the book, fight me.) Ivy teaches Harley about gentrification and the mega corporation that's buying their neighborhood and pushing everyone out. They even manage to get all of the buildings condemned, a move that leaves the residents and business owners no choice but to leave. Ivy's family organizes protests, but Harley, who has always been a scrapper, decides to take more violent action. She winds up meeting The Joker along the way, but I can't tell you more without spoiling the book.
Breaking Glass is a weird book, in the same ways that Harley Quinn is a bundle of contradictions. She's innocent but violent, empathetic but obtuse. She doesn't quite grasp what Mama (the man who takes her in) means when he says he's "an old fairy," and she doesn't understand why Ivy gets mad when she doesn't defend Ivy during a meeting with the racist school Principal. She does learn, but she's so busy jumping to conclusions and running ten steps ahead that she often misses what's directly in front of her face. Very true to character.
Breaking Glass is full of action panels and colored with red and green, a clashing combination that fits the overall chaos of the plot. Fans of Harley Quinn will likely be captivated, but some readers will find her meandering thoughts and speech muddle the plot.
Suzanne received a digital copy of this book from the publisher for review.
The next two books are adaptations of books I read as novels: Batman: Nightwalker and Wonder Woman: Warbringer. The first was unsuccessful for me, but I really enjoyed Warbringer so I might check it out even though it's the same story. After that are more brand new origin stories, including Oracle, Beast Boy, Batgirl and more. I'm not sure they'll keep going with the characters they've developed in these books, which is a shame because they're so much more interesting to read than the adult series in which the characters seem to have adventures but get rebooted so often that they're tricky to follow.
Books have been announced for most of 2020, so we have a bunch to look forward to!
Have you read any of DC's young adult line?