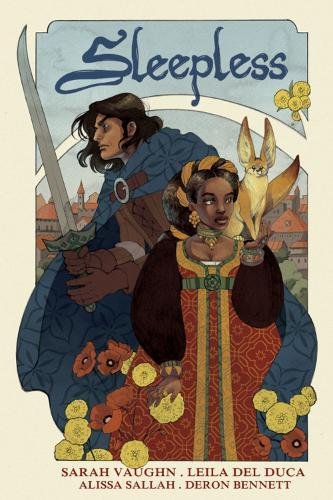 Synopsis from the Creator
:
Lady "Poppy" Pyppenia is guarded by the Sleepless Knight Cyrenic, but becomes endangered when an assassin threatens her life in the new king's reign. As Poppy and Cyrenic try to discover who wants her dead, they must navigate the dangerous waters of life at court, and of their growing feelings for one another. Writer Sarah Vaughn (ALEX + ADA, ETERNAL EMPIRE) and artist Leila del Duca (SHUTTER, AFAR) team up with editor / colorist Alissa Sallah and letterer Deron Bennett for this fantasy romance.

Love In Panels' Review
:
Review from Issue #1:
SLEEPLESS is a love story with a black princess (kind of) and her bodyguard who has sworn to not sleep (I think) in order to be her guard 24/7. It's written and illustrated by some really talented women. If you aren't sold yet, get thee to your local comic shop and flip through it.
The costuming looks renaissance-ish, with voluminous sleeves, high waistlines and billowing skirts and cloaks. The colors are rich and dark and it opens in a CRYPT. One of the first panels shows the two protagonists walking down a dark hallway full of bones, lit by a torch held aloft by the disembodied forearm bones of... someone.
It's spooky as all heck, but the two soon ascend to a coronation, where Poppy has to present a gift to the man replacing her late father, the former king. We quickly learn that all is not well, both because of her obvious apprehension about the coronation and because of looks and whispers as she approaches the throne. Her father's wife (not her mum) offers to take her away where she will be safe, but she says she needs to stay for her mother's return. Lastly? She's nearly assassinated.
And then it ends.
It's a hell of an issue and left me with so many questions. Who is trying to kill her and why? What's the history with her guard? Where is her mother and what is she doing there? In short - what is going on?! I can't wait to see what's next.