Hope Nicholson (Secret Loves of Geek Girls) and S.M. Beiko (Scion of the Fox) have a new project live on Kickstarter today and
It. Is. Stunning.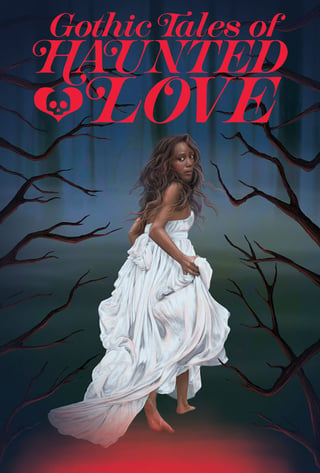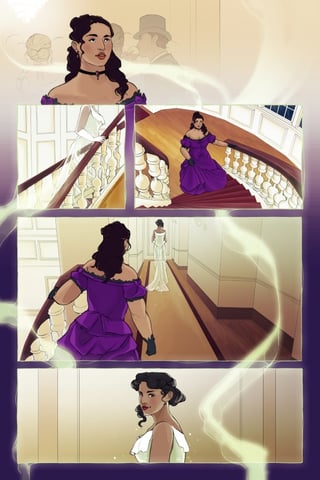 Above: cover art and a sample page from L'heure Verte by Femi Sobowale and Caroline Dougherty.
Combining an appreciation for the gothic love stories of the past with modern art and sensibilities (no rapey, racist, or otherwise icky content), the anthology is primed to give you the creepy romance fix you've always wanted.
Gothic Tales of Haunted Love will be 200 pages of full-color gothic romance comics, comprised of 22 original stories, featuring some of your (my) favorite creators, like Sarah Searle and Mel Gillman. The project is unique in that Bedside Press is also mixing in classic gothic prints from Lou Marchetti and a Korean/English comic from the 70s.
And, directly from the KS page, here's why I'm excited for this project and why I think Love in Panels readers will be too:
"Even though gothic romance comics enjoyed a particular heyday in the 1970s, the general gothic romance genre has been alive and well in literature, film, and television beyond cultural memory. Why? Well, maybe we like to be scared and seduced at the same time (safely distanced by the page!). The genre though is also full of tired tropes--blonde women shrieking across the thunderstorm-streaked moors of England, anyone?--and while we love the images gothic romance conjures, there could be so much more to it.
When reviewing the 150+ fervent submissions we received for this anthology, we selected our table of contents with an eye for not only subverting stereotypes, but reimagining them with claws sunk deep. While you'll still find swooners and ghosts and sprawling manses in these pages, you'll also find heroines falling in love with ghostly heiresses, creeping dread in Jamaica, a helpful spirit in 1950s Vietnam, desperation in 1890s gold-rush Yukon, Mexican and Japanese folklore, fashion and murder in 1970s Taiwan, and a clear demonstration that ghostly love isn't limited to white girls in white dresses and brooding lords in Victorian England."
Sound good? Go back it!