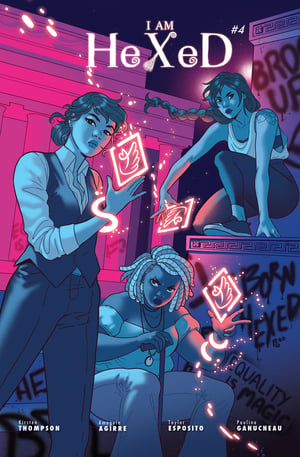 For those of us who like to wait for the last issue of an indie comic to get in on the crowdfunding action, that time is here! (I already backed this once before, but still.) I Am Hexed, a queer comic with so many witches, launches its fourth and final Kickstarter on February 16th!
We talked about it once before, back when the second issue was funding in 2019 and now's your chance to get the final issue or the whole thing at once!
I've now read the first three issues and the art and writing has held up. There are strong themes of persecution and political maneuvering, but the fact that basically everyone is queer makes it less metaphor than some other narratives. While there are lots of valid critiques of the consistent use of people with supernatural or magical powers (extra power) as a substitute for marginalized groups (less power), this one does a good job of explaining how people with magic might successfully be persecuted. The centering of magic-wielding people with other marginalized characteristics--including queer, disabled and BIPOC characters--certainly helps.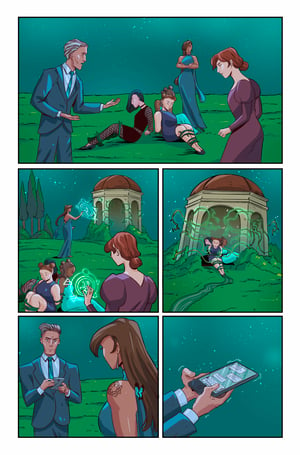 The series is written by Kirsten Thompson, but the interior artist changed halfway through. Amagoia Agirre replaced Christianne Gillenardo-Goudreau, but the art retains the same feel and style throughout. Bright colors, crisp lines and distinctive characters make this a joy to read. Having now read the first three issues twice, I can say it's also a joy on re-read.
The team for Issue #4 is:
Writer: Kirsten Thompson
Interior Artist: Amagoia Agirre
Cover Artist: Paulina Ganucheau
Variant Cover Artist (see variant cover below): Jenn St-Onge
Letterer: Taylor Esposito
Print artists: Yoshi Yoshitani, Bex Glendining, Alane Grace
Editor: James Emmett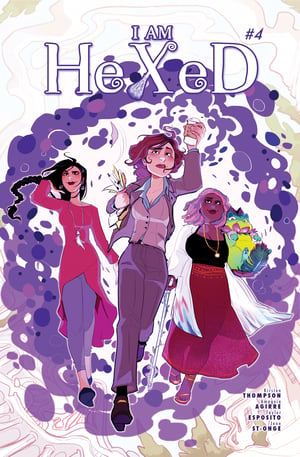 In short, this is a fun, queer comic for people who like witches, dislike religious and "religious" oppression and want to see some queer witches win. I'm most interested to find out what's going on with the witches working against our protagonists as it seems they're setting up a radical vs establishment type of conflict against the backdrop of oppression. We'll see where this goes.
I haven't read the fourth issue, but I have high expectations.
I've sprinkled some art throughout this post courtesy of the comic team, but you can see more at the page when the campaign launches. If you're reading this before Feb. 16, head over to the pre-launch page and sign up to be notified when it goes live!