We are doing the Kickstarter dance of joy this week, backing a few projects you may also want to check out:
Destiny, NY Volume Two
This is the second volume of this comic set in a NYC where magic is a real and accepted part of life, but you can snag Volume One at the same time. In Vol. 1, magical girl Logan is a teen, now she's turning 30 and trying to adult. From the campaign: "In this volume, we're digging deep into the lives of our characters. Logan has been in a relationship with Lilith Aberdine, a mysterious rich woman coming out of a shattered crime family, for a year now. As they attempt to survive in a city where Lilith's past causes new problems for them at every turn, the kids at Logan's former magical school have their own issues." 200 + black & white pages.
Mine! A Comics Collection to Benefit Planned Parenthood
Support Planned Parenthood with comics by Neil Gaiman, Gabby Rivera, Amber Benson, Gerard Way, Yona Harvey, Mara Wilson and many more!
Sweethearts of 1989: a LGBT/Trans Positive Romance Series!
This is a retro manga slice-of-life comic that wraps SOON. (9/3/17) From the campaign:
1989nk is short for 1989 nen no koibito tachi in Japanese, Sweethearts of 1989 in English. It's planned to be an ongoing series that has an all LGBT+ main cast and features a trans male main character!
It's a LGBTQ+ positive romance/slice of life story with some comedy elements about the everyday lives, struggles and goals of the four main cast, some but not all relating to their identities - and how it affects their relationships with each other and others in their life.
Its major themes are communication, respect and consent within different types of relationships. It's at its core, an mlm story featuring a gay trans male character that is meant to validate him, not exploit him.
Other random fun things:
- Oni Press put out a list of a few Spring 2018 titles and one in particular caught my eye... MY BOYFRIEND IS A BEAR. Apparently not gay slang in this case. We look forward to hiking shenanigans.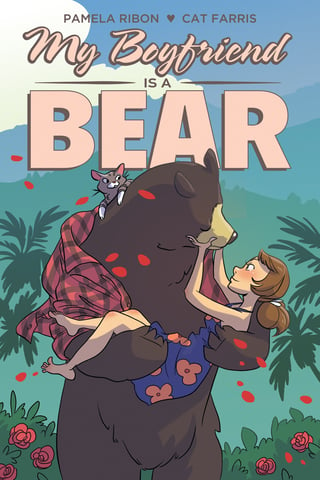 - There's a new CLUELESS comic! I'm not going to talk about it too much now because we're reviewing it in a couple of days, but here's a link if you want to check it out.
- A bunch of the comics we backed over the last 6 months are up for sale! Look for posts over the next few weeks on CAN I PET YOUR WEREWOLF?, DATES II, and TABULA IDEM.
As always, feel free to email me (suzanne@loveinpanels.com) with questions or suggestions.
Happy reading!