Limerence Press, the 18+ branch of Oni Press, is known for publishing Oh Joy Sex Toy and the Guide to They/Them Pronouns. But this time? This time they're getting into SEXY FICTION. We have an early announcement and preview and we cannot wait for you to see it!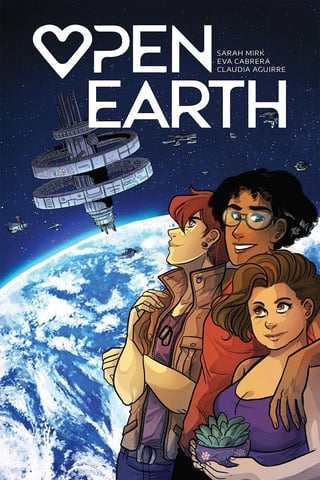 From their Press Release (emphasis mine):
*****
Limerence Press is excited to announce a new sci-fi erotica graphic novel, Open Earth, written by Sarah Mirk, a contributing editor at The Nib and author of Sex from Scratch: Making Your Own Relationship Rules, with art by the Eisner Award-nominated Kim & Kim team Eva Cabrera and Claudia Aguirre.
Rigo is a young woman of her time: specifically, the time just after the collapse of Earth. After living her whole life on a small space station orbiting the planet, the cultural norms and rules of her Californian parents are just history to her. In between work shifts at the station air farm, Rigo explores her own desires, developing openly polyamorous relationships with her friends and crewmates. When she starts to feel one of those relationships change, however, Rigo must balance her new feelings with the stability of her other relationships, as well as the hard-earned camaraderie of a small crew floating in the vastness of space. But, as the ship motto goes, "Honesty keeps us alive."
A heartfelt, positive, and erotic look at one woman's adventure in love and sex, as a new generation learns to make their own rules and follow their own hearts.
"I had the idea for Open Earth in my head for a long time without telling anyone," said Sarah Mirk. "It sounded too silly: a polyamorous romantic comedy set in space after the collapse of human civilization? Are you kidding me? But when Limerence gave me the chance to pitch the book, I realized that the heart of the story isn't silly at all. It's about people figuring out what they want and finding the courage to communicate. It's about deciding what lessons to learn from previous generations and what ways of living we have to create anew for ourselves. While I've been making comics ever since I was a little kid, this is the first graphic novel—and actually, first piece of fiction!—I've published. I would be terrified, but I feel like I'm not doing this alone, I have a really stellar team with Claudia, Eva, and our editor Ari. They are top-notch collaborators."
"I loved working with such talented women, drawing Sarah's story has been a very fun process, I love the characters and their dramas, the beautiful meaning of friendship and love," said Eva Cabrera. "Open Earth has characters so varied that you will always feel identified with someone, with their problems and their dreams. Claudia's colors give life to my drawings, it has been great to work with her. I had the opportunity to meet Ari Yarwood in person and that made us connect even more and understand our work, she has become one of my favorite people. Open Earth has been a great experience since it is the first polyamory story that I have drawn."
"Open Earth is a lovely sci-fi/rom-com which I wish I could read more often: a diverse cast, a very fun protagonist and the ever-present ghost of planetary collapse," said Claudia Aguirre. "We get to see how a new generation adapts to life on a space station after Earth becomes uninhabitable. We see how they live and how they love through the eyes of our adorable protagonist, Rigo. Personally, I loved working with the Open Earth crew, the story, the hilarious nature of Rigo's exploits, and of course, all those sexy dreams about burgers."
Open Earth is slated for release from Limerence Press, an imprint of Oni Press, September 26, 2018.
******
You wanted to see pages? Here you go!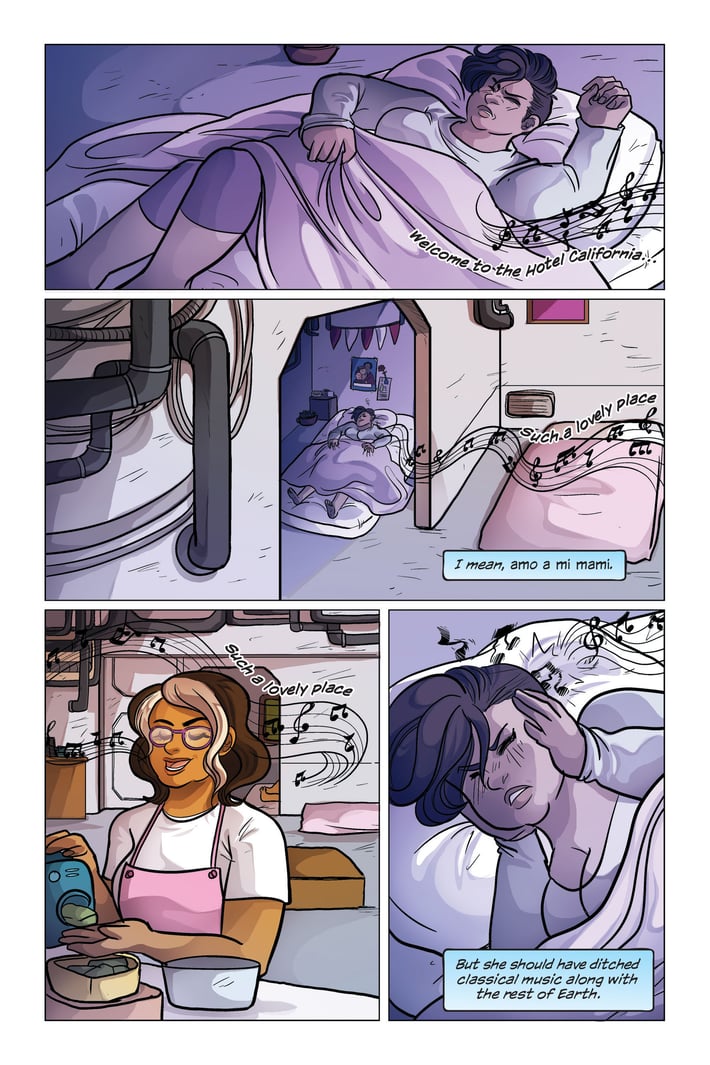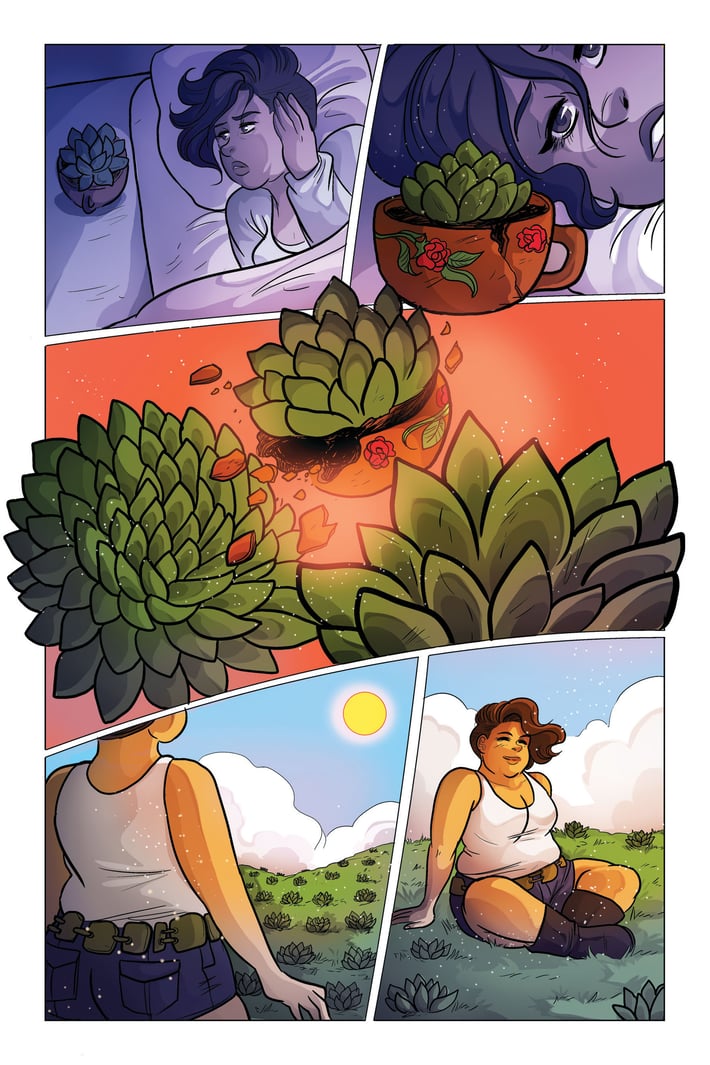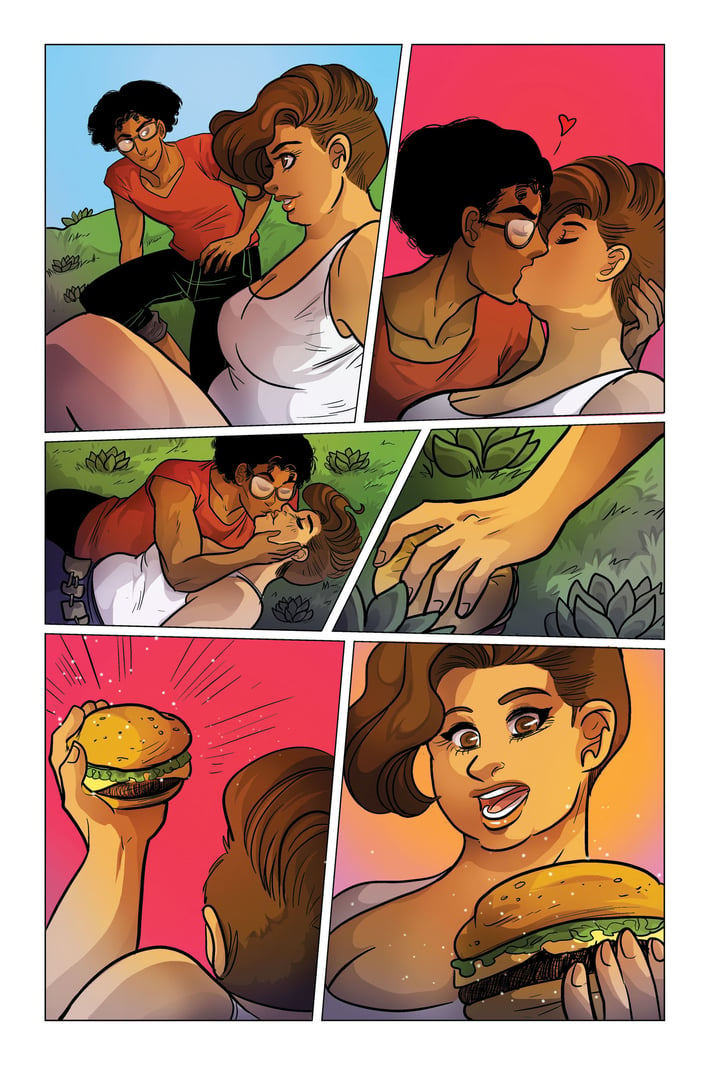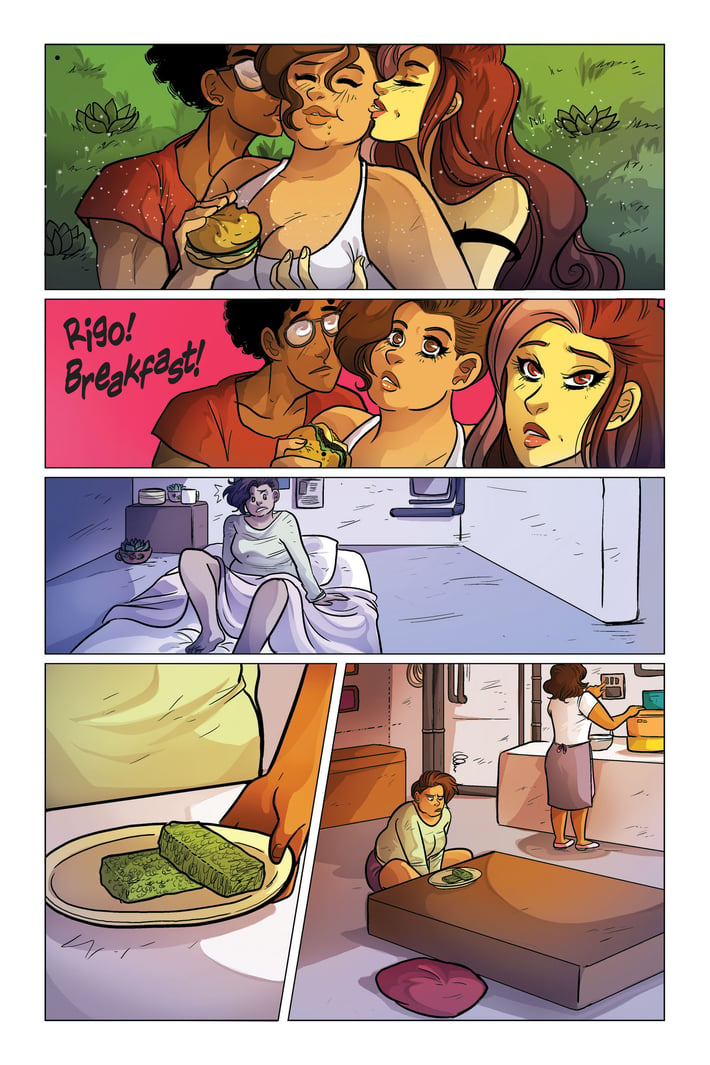 Now, who wants a burger?