Before I hop into the review on this one, I'd like to note that colorists rarely get the attention they deserve. Though her name isn't on the cover, Sarah Stern's colors set the Autumn/Halloween tone for Pumpkinheads and the book wouldn't be the same without her.
Check out these sample pages for an idea.
***
Pumpkinheads follows two friends as they follow a winding path through the pumpkin patch where they work. It's their last night there, last night together, last night working the pumpkin patch before they head off to senior year and then college. You should know that this is no ordinary pumpkin patch, however. With permission from First Second, I'm sharing a couple of photos of the inside front and back covers, which show the place in daytime, when the book starts, and at nighttime, when the book ends.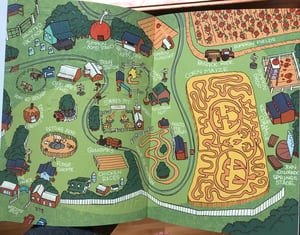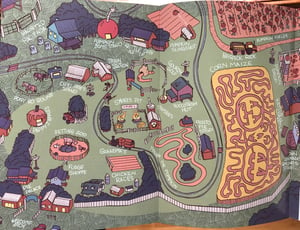 As you can see, this pumpkin patch is more like a country fair or at least a fall destination, not just a place to pick your future Jack O'Lantern. Josiah (Josie) has had a crush on The Fudge Shoppe Girl since his first season at the patch, so Deja decides that this is the night he's going to finally talk to her. Except she's never where she's supposed to be. Not in the Fudge Shoppe, where they've arranged to work their shift. Not at the S'Mores Pit, not at any of the places they're sent to. At some point, Deja decides they have a secondary mission: sample all of the treats the patch has to offer. (There's one called a Pumpkin Bomb, described as "vanilla ice cream sandwiched between two wedges of pumpkin pie, on a stick, dipped in chocolate.") They also run into several people, including two named Jess, that bisexual Deja has dated over the years.
During their (mis)adventures, the pair of them say a whole lot of very nice things to each other and it becomes pretty clear that they're into each other. But they've been chasing another girl around all day and into the evening, so will they ever realize it? And if they do, how will they keep in touch after they leave the patch? (Spoiler: There's a happy ending.)
Faith Erin Hicks's illustration is excellent as always, showcasing her skill at capturing emotions and movement. Rowell's story is full of funny, unexpected things, like a rampaging billy goat and a miscreant who keeps stealing Deja's snacks. And since the book is definitely set in an idealized version of rural America, it's a delightful way to spend a couple of hours.
Suzanne purchased this book.
Please note that this is rated PG-13 in our system, but it's really just PG.