We're nowhere near done yet, but some of the massive #queerromance tag from Twitter has been added to the searchable comics database! This is likely going to be done in batches of 10, so be patient with us, please.
Here's what we've added today: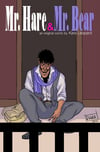 Mr. Hare & Mr. Bear - Single dad (of triplets!) helps out an injured man. Mystery and romance.
Hazy London - Long-running slice of life drama/comedy
Freakshow - 1920's historical mystery/drama
Nigh Heaven and Hell - Medieval fantasy/drama with queer elements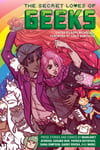 The Secret Loves of Geeks - Follow-up to The Secret Loves of Geek Girls, this encompasses creators of all gender and sexual orientations. Stories about love, sex, dating, and being a geek.
Cindersong - An LQBTQ+ fantasy webcomic that follows an epic journey
I Like You - A college boy and a rain god?! Gay fantasy webcomic.

Underhook - An 18+ wrestling comic with Glow vibes.
Contact High - A 30 pg 1-shot sci-fi comic set in a time when touch has been outlawed.
Adustrio and Lunam - WLW fantasy comic. Cute!