The first volume of Gamer Girl & Vixen is called "Flirty Money," and that spirit of fun and puns continues throughout the book. I saved it for a rainy day and, while you could certainly refer to all of 2017 that way, I was happy to make it my last comic read of the year. See, it's about "love, lesbians, and larceny," which is a delightful twist on the traditional uber-hetero uber-serious superhero comics that seem to dominate the genre.
Gamer Girl & Vixen is about two wannabe supervillains, Gamer Girl (Liz) and Vixen (Bianca), learning to villain and falling in love. Although they attend the same university and have a class together, their meet-cute occurs while GG is testing her new hologram bracers and Bianca is practicing her thievery. They end up running away from campus security together, then from Jump Shot, a superhero-in-training. So. Many. Basketball. Puns.
The book follows a traditional romance arc, with a meet-cute, a big reveal, dark moment of the soul, resolution, and an HEA. Both of them are in long-term relationships with other people when the book starts, however. Bianca is dating a man because her mother is a controlling awful-person (that's a noun), and Liz is living with her girlfriend, Ellen, even though their relationship is way past its expiration date. I have a general dislike of cheating in the books I read, but I guess they don't "technically" cheat until after they've broken up with their SOs, so I'll give that a pass.
I am also pretty done with the out character having to convince the closeted character to choose her over acceptance, but it's certainly a big part of Bianca's character that she's the perfect sorority girl and feels a strong need to maintain her public persona. (See her bedroom?!) Sure enough, the costumed adventurer thing is addressed. How better to transform yourself into a completely different person? As Jump Shot and Gamer Girl tell Vixen, it's a pretty obvious metaphor. (See the third sample down below.)
If you're wondering if you should buy Gamer Girl & Vixen... maybe? Do you like the idea of lesbian supervillains? Can you handle some really irritating yellow-on-aqua and white-on-red text boxes? Do you want to spend $19.99 for 105 pages of content? If the answer to all of these is "yes," then I say go for it. Despite text-boxes-to-burn-your-retinas, I really enjoyed it. I do think that if I had paid $20 for it, I would have been frustrated, however. Comics are expensive for a host of reasons, but usually if I buy a trade of this length, I expect it to be in the $15 range. If, however, you go to their website, you can read the entire first issue for free! I'd suggest starting there before you make a purchase.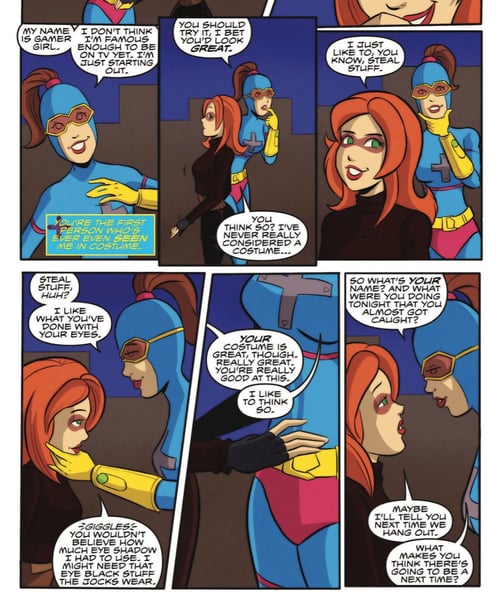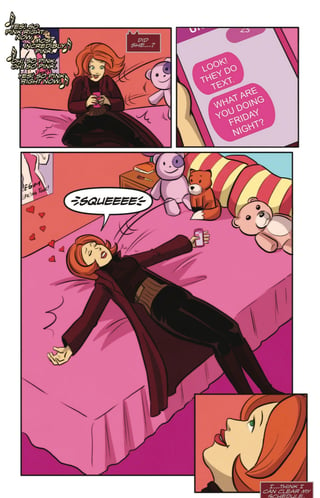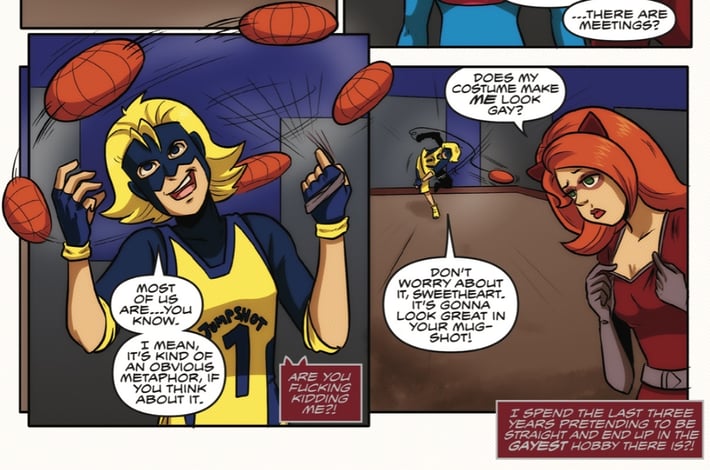 (Love in Panels received a copy of this book from the creators in exchange for an honest review.)