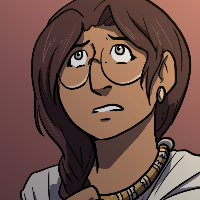 Title: Maiden of the Machine

Creators:
Format: Webcomic

Color: Color

Romanceiness: Romantic Elements
Heat: PG13
Tags: fantasy steampunk gothic

Where to Buy or Read:
Synopsis from the Creator
:
Elizabeth Watson is a young woman trapped between ideals that she can never reach.

Too traditional to take part of her adventurer family lineage and too poor and obscure to be a true society lady, Elizabeth's fortunes may change for the better with the introduction of famed industrialist Mr. Lovelace in her life. She is soon pulled into his world of industry and conspiracy- where violence is the norm, sky pirates roam the skies and a woman with wings made of brass and steel hunts in the night.

Maiden of the Machine is a Gothic Adventure comic and updates weekly on Mondays and Thursdays. Maiden of the Machine is recommended for PG13/YA level readers for violence, depictions of emotional abuse, and sexual situations.
Love In Panels' Review
:
Maiden of the Machine is a story about a pair of down-on-their-luck sisters seeking adventure. The elder sister (Abhaya, known as Abigail to her cousins) seeks it to make ends meet. The younger sister, Elizabeth (known alternately as Eliza, Lizzy or Bette), finds her curiosity and sense of wonder stoked by a chance meeting with Mr. Lovelace during one of their jobs. (I am also now suspecting that the titulary Maiden of the Machine is neither of the Watson women, but in fact a character who is revealed only about ¾ of the way through.)

The series has been going on for about two years now, and readers should know that the romance doesn't start until about two years in, but once it starts, it is definitely there! The characterization of the two female leads (both women of color!) is strong, and I have a good sense of how they'll react to various situations. Despite setbacks, each finds ways to push ahead. The quasi-Victorian setting will also be quite familiar to many, as there is talk of estates, marriages, allowances, and plenty of social awkwardness around "proper" modes of interaction.

It's also a very slow burn mystery - there have been plenty of breadcrumbs dropped so far, but I've yet to have an "aha!" moment or feel like I know where the leads go. The fourth main character, Jules, has some kind of ulterior motive, and it may be sinister, but I honestly don't have enough information to know whether or not I'm guessing correctly. I love the artwork and the Watson women, but I need more connections between the dots for the plot to really hook me. There are recurring motifs (of a dragonfly and of the Lovelace logo) that appear to be in conflict with each other, but the nature of the conflict is unclear, which robs one of the big reveals of a lot of it's power.

Overall, I'm interested to see where this goes. If you enjoy strong characters and the near-Steampunk setting, I'd encourage you to give it a shot.