Jen Wang has given us all a gift with her first solo graphic novel. As the title suggests, it's the story of a Prince, Sebastian, and a dressmaker, Frances, who meet when Sebastian's parents hold a ball to find him a wife. The Cinderella comparison ends there, though. Frances doesn't attend the ball, though one of her creations, worn by a young lady who wishes to scandalize society, catches Sebastian's attention.
In the two pages below, you'll see Frances' and Sebastian's first meeting, during which he wears a cloth over his head to hide his identity.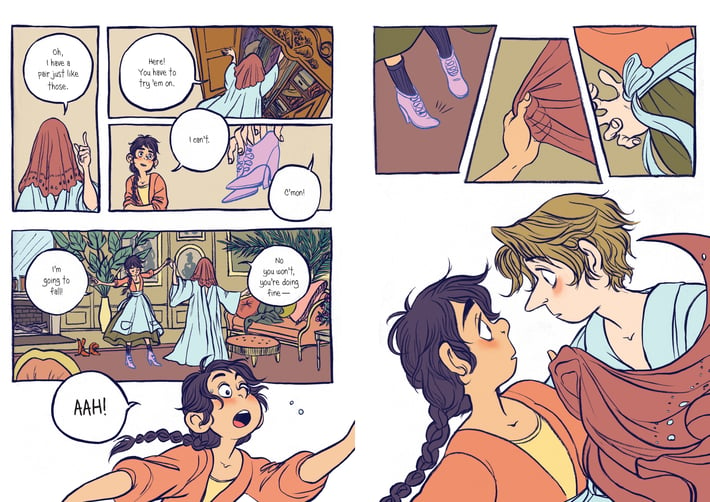 Clearly, the disguise doesn't work for long. It's at this point, very early in the story, that we learn Sebastian's secret: he loves fashion, particularly dresses. He explains that sometimes, it feels right to wear a jacket and pants and present as a Prince. But sometimes, he feels like a Princess. Frances is a kind and creative soul, and quickly becomes Sebastian's seamstress full-time. At night they go out together, with Sebastian dressed in her Frances's creations, and it's not long before his female alter-ego, Lady Crystallia, becomes the most talked-about Lady in Paris.
Let's pause here to talk about the art. Wang ends the book with a few pages on her process, both writing and illustrating. While I enjoyed her work in the graphic novel IN REAL LIFE, a collaboration with Cory Doctorow, this one feels... more. She pencils and inks by hand, a style that seems to really work for depicting the movement and flow of the dresses. The lack of shadowing is most definitely a style choice that takes some getting used to, but again, it works with Wang's art. Her backgrounds, undoubtedly a beast to research and draw, beautifully set the story in time and place.
The story itself is high stakes and high drama, with both main characters at pivotal moments in their lives. Frances, fired by her former employer for that scandalous dress, needs a job, but she also wants credit for her creations. The fact that she is Prince Sebastian's seamstress means that she can't also be publicly known as Lady Crystallia's seamstress, lest he be discovered. Sebastian is under pressure from his parents to select a suitable bride, and soon. He's not out to them or to anyone but his bodyguard Emile and Frances. Frances and Sebastian have a sweet relationship built on trust and art and fashion and fun, but eventually the weight of their dreams and expectations pulls them apart. Wang has filled the story with enough subplots (thread pun here) to keep you guessing until the end of this 280 page work.
Romance readers - I'll warn that the ending is more of a happy-for-now than a happily-ever-after. The ending is left somewhat ambiguous, though the two of them are quite obviously in love and happily so.
Overall, this is a charming book, suitable for the YA audience and, I would argue, younger. THE PRINCE AND THE DRESSMAKER's central themes of friendship, self-acceptance, and self-expression are timeless and wrought with a skilled hand. I hope to see it in libraries around the country.