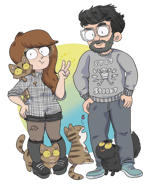 What's it like to write about a grim reaper attending college and falling in love? What's it like to draw super cute artwork that also manages to be super gothy? What cake would you bring into the underworld?
We asked, Sarah Graley answered!
Kim Reaper is back on September 5, but you can catch up with the entire first volume now.
Without further delay, Amy's interview!
***
I'm excited to read more about Kim and Becka! What adventures will they get up to in Vampire Island?
Aw thanks! This time Kim and Becka will travel to a beautiful and mystical new location—which also happens to be the home of many, many vampires. Kim isn't too keen on that. And also Tyler is there? It's not the most romantic island they could've visited, but it is fun.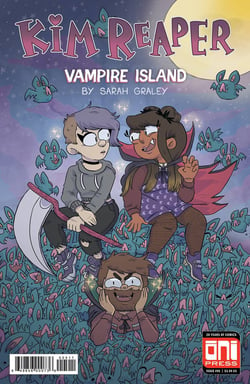 One of my favorite parts of the series is that although Kim and Becka's relationship is unique (I mean I've gone on some interesting dates but never with a reaper) but they still have common place relationship problems. How do you balance the otherworldly issues with the normal ones?
I feel like the biggest otherworldly problem for our duo is that Kim works a crummy job—also a very normal problem! (I've also definitely worked so many awful jobs in the mortal realm.) The normal aspect of that problem I feel takes more focus for Kim and Becka than the otherworldly problem attached—what happens when you cross your scythe-wielding boss?
Becka seems very chill about the fact that Kim is a reaper. Do you think you'd be as chill if you found out your partner was a grim reaper?
I'd be stressed about it, but also impressed they kept it a secret for so long!
I read that your personal dreams of becoming a grim reaper inspired Kim's profession. What is it about paranormal, or generally spooky stuff, that draws you?
I think there are a lot of good stories linked to spooky things? I'm really into horror movies, and cryptids are so interesting! I don't believe in ghosts, but if you sit down and tell me a ghost story and mean it I'll probably be like, okay, ghosts still don't exist, but that ghost does! I like the openness of possibilities linked to the paranormal.
What are some of your favorite horror/paranormal pieces of media that inspired Kim Reaper?
Hmm! It was a Goosebumps book (Escape From Camp Run For Your Life) that spooked me so much as a child that led to the grim reaper dreams. I'm not sure if that book holds up though, it's been 17 years or so since I read it! The movie Shaun Of The Dead was probably also one of the earlier pieces of spooky media that got me really into the genre, despite it being a comedy—"Zomedy?" I should probably be doing a comic about zombies instead, ha!
It's such a joy to see queer characters in love in a normal (well, paranormal) setting. What inspires their love story? What are some of your own favorite love stories?
What I love about working on Kim Reaper, is despite the setting being paranormal, their relationship feels real. It's not easy for Kim and Becka—they have these ridiculous obstacles to overcome, and sometimes it can be tricky to see each other's side of the story when there are literal ghouls involved—but they communicate, have patience and have a stubborness in understanding each other. The last three are something I feel plays in my own relationship. (No ghouls happening in my love life though.)
I'm currently rewatching Steven Universe, and I love Ruby and Sapphire so gosh darn much.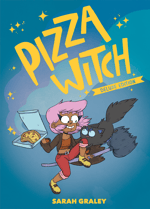 When you're developing a story, whether its your own property, a known franchise, or your autobiographical work, what's your process? How to you organize your story ideas? Is it difficult to balance writing and illustrating your work?
The first step for me is always doodling the characters. Whether it's my own story or licensed work, once I have the characters visualised, it's much easier for me to write them and imagine their reactions to certain situations! From there, I'll figure out the main plot points of the story, and then start writing and linking each point together.
With writing, it's rare for me to start drawing if I haven't already done layouts for the entire story—which I think makes it easier to balance the two!
Do you personally identify with any of these characters? If you could be a character in the series who would you be?
I think I'm a Becka! If someone told me about an island of vampires, I'd probably not think about the fact it's an island full of vampires, the kind that wanna suck your blood, and also insist on going too.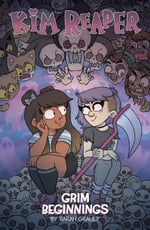 I love that Becka brings a cake into the underworld at the end of the first Kim Reaper trade. What cake would you bring into the underworld?
My mum makes an incredibly good chocolate cake, so I'd bring that with me. Then if I needed something to bargain keeping my soul with, and I hadn't eaten it all already, I could probably trade slices of that cake. It's really good cake!
What are some of your favorite comics and books right now? Any other comic creators you'd recommend that are telling equally sweet queer love stories?
I'm really enjoying Shan Murphy's slice of life comic, Bouquet. You can read it at: https://bouquetcomic.tumblr.com!
I've loved seeing your art evolve from Our Super Adventure to Kim Reaper to your recent Kickstarter project Video Games and Pizza Parties (congrats by the way!). But I love your cats the most! How do you inject so much personality into your furry children?
Aw! They're all such goofy little loaves of bread, not much changes from real life to the comic page. They make my job very easy!
What advice to you have to other creators writing queer love stories? What have you learned and what are you proud of in your own work?
Have fun!! Write the stories you wanna see, especially if they are cute. My advice would be tell me about your cute queer love stories 'cos i love them.
***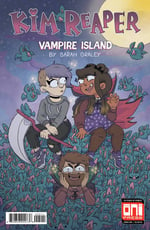 Tell us about your cute queer love stories, too!
Pick up the new issue (the first part of Vampire Island) on September 5th at your local comic shop, or wherever you purchase your online comics!
Want to get in touch with Sarah? Check out her website here.