Super Fun Sexy Times is a charming, sexy collection of five sci-fi erotica stories. They're pretty weird, very queer, and full of superheroes. The artwork is spare and has a muted color palette, allowing you to sort of fill in the details yourself. It's not a hyper-realistic style, which is totally fine because there are aliens.
There's even a page at the end of each story with superhero profiles of the two characters. It's a whimsical touch that puts the "fun" in Super Fun Sexy Times.
Here's a sample page from the first story, which is m/m no strings with a trans mc. It's a bottle episode, with two superheroes on opposite sides getting up to some sexy shenanigans while they wait to make their getaways. One of them has ice arms. and a vaguely lion-ish face.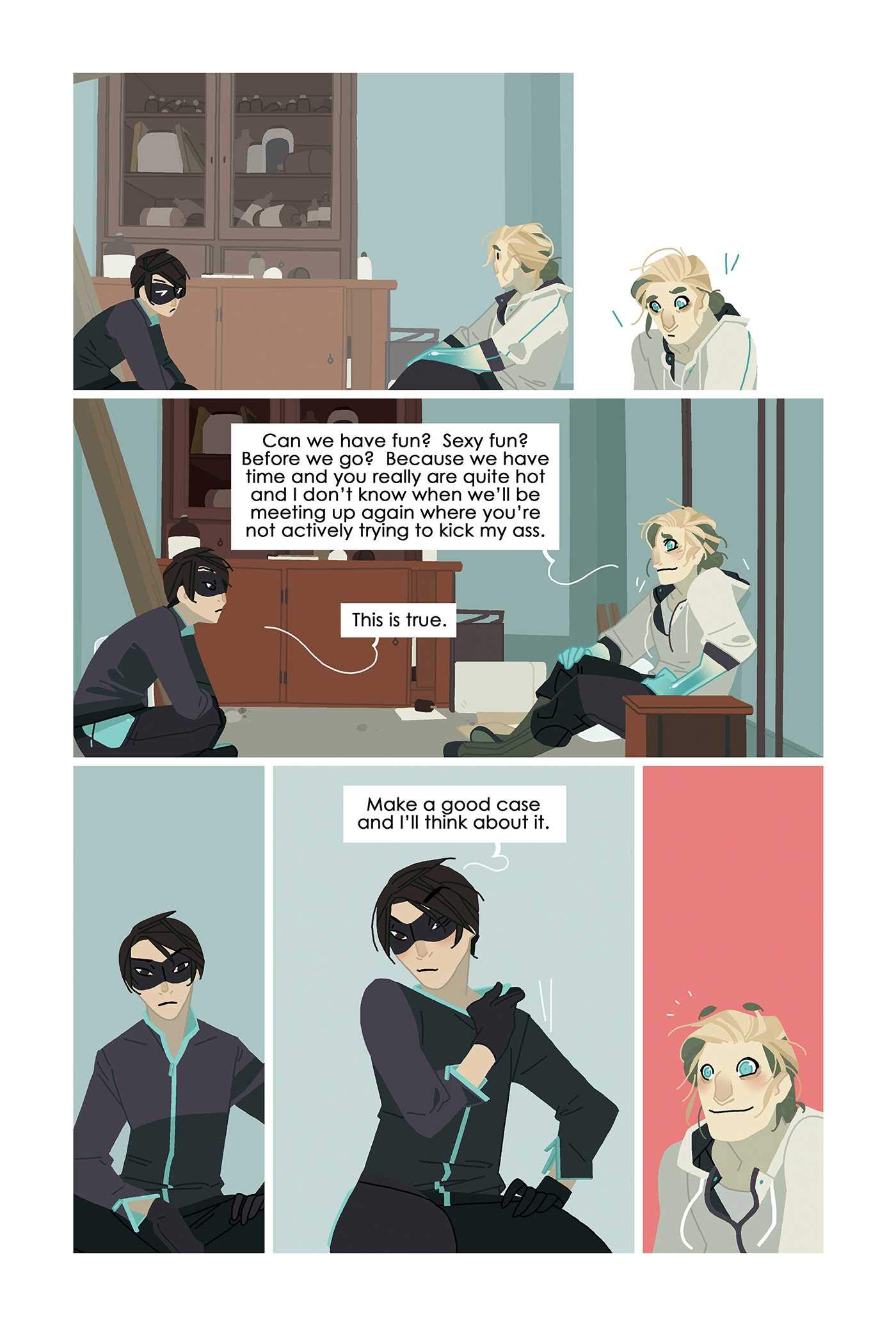 The remaining four stories are as follows:
2) An m/f "pre-fuck" negotiation between a cis white man and a cis Black woman (who is a virgin). This is full of sexual tension and turns into some kinky kitten roleplay. And they never touch each other. It's super hot.
3) Good Foundations is two villains, one human and one um... not. The story opens with the genderfluid human telling the femme alien?spider? partner that he has a secret. It's a secret that involves gender identity, but also lingerie. The whole thing is nearly unbearably sweet. (I hate spiders and somehow I was okay with this?)
4) Safe is about two superwomen of color doing an intruder/captive roleplay. It doesn't go quite as planned and soon enough, the "intruder" partner is giving the safeword... speculum. Now if you're going to find a word that stops everything immediately? Speculum is the word for you. The dynamic between these two characters was my favorite in the entire book. They're so clearly in love and have been exploring their fantasies together. It's respectful and sweet and the ending is loving and hot at the same time.
5) The Responsible Parties is about an aging white assassin and his Black civilian partner, who is waiting for him to come home for dinner. It's adorable and funny and has some distinct service elements.
Okay, that's the nuts and bolts of the book, plus some opinions. I think this is a great start to a new series and I'm looking forward to the rest. Unfortunately, this first volume isn't out until August, so we're going to be waiting a while. One for the pre-order pile, folks!
I received a copy of this book for review from the publisher via NetGalley.
Content Warnings: BDSM, intruder roleplay, assassin and supervillains?