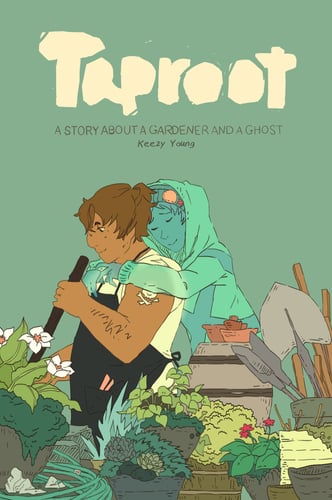 Title: Taproot

Creators:
Format: EBook Print

Color: Color

Romanceiness: Romantic Elements
Heat: PG13
Tags: paranormal gay queer fantasy

Where to Buy or Read
:
Buy it at your local shop!
Synopsis from the Creator
:
Blue is having a hard time moving on. He's in love with his best friend. He's also dead. Luckily, Hamal can see ghosts, leaving Blue free to haunt him to his heart's content. But something eerie is happening in town, leaving the local afterlife unsettled, and when Blue realizes Hamal's strange ability may be putting him in danger, Blue has to find a way to protect him, even if it means… leaving him.
Love In Panels' Review
:
This review is a bit late, since the 6 year old living in this household stole my copy of TAPROOT and ran off with it for a week. When I finally snagged it back and immersed myself in the beautiful, eerie world that Keezy Young created, I completely understood the 6 year old's urge to read it over and over.
Pitched as "a story about a gardener and a ghost," TAPROOT is part love story, part ghost story, part spooky fantasy. If, like me, you don't love horror but do love Halloween, this book is perfect for the season. There's a lot of eeriness to be had, particularly when Blue (the ghostie) starts being pulled through the veil. Said eeriness is balanced with beautiful verdant plant imagery and a sweet love story that transcends the limits of space and physical vitality. Without giving a spoiler, I'll warn romance readers that the HEA isn't what you probably expect/hope for in a romance.
You'll notice that I let my 6 year old read it - it's definitely something you can give to kids to read. There's a kiss, there's a bit of spooky, and some peril at one point, but it's very cute and the ghosties are kids and teens.
As for the art, you can get a pretty clear idea of Keezy Young's style based on the cover. The book is in color, with a palette of greens and browns and a muted blue that suit the book's themes of nature and life. It's a style that will either appeal to readers or be sort of "meh," and I think I fit into the latter category. The story, however, resonated with me enough that I eventually settled into the art style and ended up loving the book as a whole.