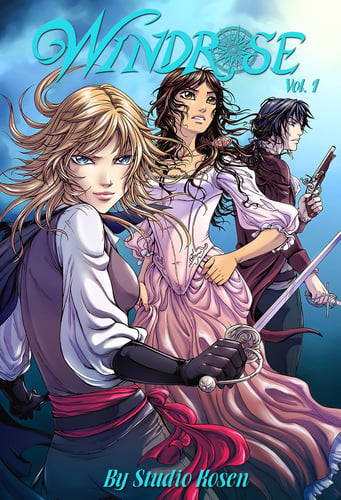 Synopsis from the Creator
:
It's the 17th Century, and the powers of Europe are struggling violently for dominion over the oceans. Danielle, daughter of a Spanish lady and a French merchant, flees her constrictive upper-class life when she receives a disturbing letter from her father, entrusting her with a strange miniature astrolabe. But on her way from Barcelona to Marseille, her life is threatened, she nearly drowns, and she is befriended by a handsome pair of travelers...but Angeline and Leon are definitely not what they claim to be.
By acclaimed comic creation team Studio Kôsen, Danielle's journey from the palaces of Western Europe to the heart of the Ottoman Empire will prove to be more dangerous, and more thrilling, than she ever could have imagined!
Love In Panels' Review
:
Windrose seems to be going for a slow burn romance between two of the main characters, and I dig it. Leon loves Angeline but she's falling for Danielle. Danielle feels... ? We don't know! There was an almost kiss, but with all the kidnapping and escaping and thievery and lying... who knows what's next?!
You may like this comic if you like:
- Pirates
- 17th century history and costuming
- Lengthy quests with recurring side characters
- Swordfights!
The comic is in black and white, with chapters posted online for free at Sparkler, advance downloads for VIP members, and books for purchase at Comixology, Sparkler, Amazon, etc.