You Brought Me the Ocean is an origin story for Aqualad, this time as a gay Black teen living in the US Southwest. So many secrets. His mother's been keeping him away for water his entire life, but why? What are the "birthmarks" on his arms and why do they glow when exposed to water? Is he gay? Why does everyone think he's dating his best friend Maria? And is it time to talk to the only out gay guy at school? Or do more than talk?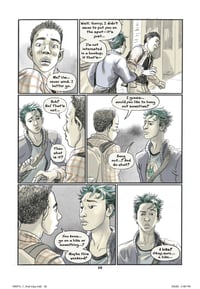 Long-time readers of queer comics will be familiar with Julie Maroh's art. Soft lines and a pencils and watercolor feel. Subdued colors. Lots of longing looks. This was my first time reading anything by Alex Sanchez, however, and I was pleased.
Jake (Aqualad) falls for Kenny, a Chinese-American boy with green hair and a conservative dad who uses a wheelchair. Kenny feels trapped in town because if he leaves his father will be managing the local inn alone since his mother passed away years ago. He's the only out gay kid and that's also isolating, even if he has some friends. The romance between Jake and Kenny is complicated but felt true and deep.
Readers should know that You Brought Me the Ocean is heavy on homophobia, including some actual gay-bashing. Jake's long-time best friend is Mexican-American and she's been waiting for years for Jake to finally want to date her. She's initially angry when she finds Jake and Kenny kissing, but it's not homophobia so much as really hurt feelings based on an assumption she never should have made.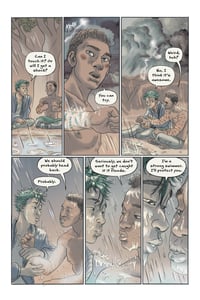 They're all seniors in high school, which adds another element of uncertainty to the story. I'm not sure about you, but my family decided that when I was 18, I got to know all the messy family business and this felt a bit like that. (Why is it that everyone wants to turn your life completely upside down when you're already in a period of massive transition?)
In all, this book is beautifully illustrated and a bit heart-breaking but ultimately a loving and hopeful origin story for a young man destined for great things.
***
If you'd like to buy a copy of You Brought Me the Ocean, please consider using one of these links to support the site: Amazon ◊ Apple Books ◊ Barnes & Noble ◊ Bookshop ◊ or buy at your local comic shop! As of this writing, it's also available to borrow on Hoopla.
***
Content Warnings: homophobia, bullying, assault
Suzanne received a copy of this book from the publisher for review. Images are used with permission from the publisher.