The first six parts of this series were educational, for the most part. The last one (part 7) was full of Adult-Only comics that contain sexual content. This one, however, is fun for a totally different reason! It's chock-full of comics I've enjoyed reading with kids.
If you need to catch up on the series, just click the "comics guide" tag and you'll see them all!
Part 8: Comics for Kids!
As a parent of two young kids and a comics fan, I've read a lot of kids and all-ages comics over the last few years. They've been a great way to bridge the time between picture books and independent reading, and my kids have "read" them since they were three years old. Comics are particularly fun for kids who aren't quite reading yet because they can follow the narrative without missing too much. The comics on the younger end of this list are those with limited speech and text, which makes them even more appealing to the preschool-2nd grade crowd.
Of course, once the kids are reading, there's no reason to stop the comics. We still love the medium, regardless of age, and these are some of the books we've shared and recommended to friends, family, and random people on Twitter. This list is surely missing a bunch of comics that your kids (and mine) will love, but I've got to draw the line somewhere.
Wishing you and the children in your life the very best of reading.
Any Age, Preschool and Up
These are comics with limited text and younger protagonists.

Zita the Spacegirl - This is a complete series of three volumes, but they each stand alone. Zita is a space girl, and her adventures are fun. This is the first comic I give to kids, and most libraries have it now. I've never had a kid tell me they didn't like it.

Mighty Jack - From the creator of Zita, this series follows a boy and his adventures after his backyard becomes a magical jungle. It's probably a little more advanced than Zita, but still fun, particularly for kids who enjoyed Zita.

Little Robot - Also by Ben Hatke, this is an adorable graphic novel about a little girl who befriends a little robot and they have to work together to keep him safe from the Big Robots. It won an Eisner!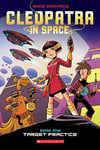 Cleopatra in Space - Four volumes are out as I'm writing this, with a fifth due later in 2018. (Six total are planned.) It's exactly what you think it is - Cleopatra in space, though Cleo has been washed a few shades whiter than she ought to be. The books have gotten more diverse as the series goes, but it's still not great rep. The books are fun and light on the text, though.

Star Scouts - Another space adventure series, with two volumes out as of this writing. This series is a little more advanced and could easily be in the next category, but it's perfect for kids who are ready to move on from Cleopatra and Zita.
For Kids a Little Bit Older
This range is marked as "a little bit older" because of either mild violence or a more complex narrative.

Fairytale Comics, Nursery Rhyme Comics, and Fable Comics - This is a series of three collections by many different comics creators. They're fun adaptations of the classics you know and some you might not. You can turn your kids loose on these or read them together.

Science Comics - I love this series, and not just because I'm a nerd. These are the sort of book that will leave your kid spouting off facts for days, but they're also written in a conversational tone, with jokes and things kids find funny (like dog farts). The series is continually expanding, so there's something for everyone! We have Dinosaurs, Volcanoes, and Coral Reefs.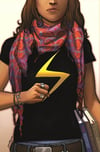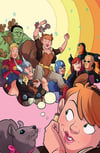 Ms. Marvel and Squirrel Girl - These are Marvel superhero comics with female leads that my kids love, even though they don't understand half the content. Squirrel Girl is a computer science student in college and Ms. Marvel is a high schooler. Your mileage may vary, depending on your kid's tolerance/understanding of violence.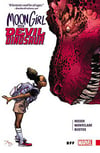 Moon Girl and Devil Dinosaur - This is another Marvel superhero comic BUT the main character is 9 years old and has a T Rex. IT IS AWESOME. Lunella is super smart and awkward, but saves the day. There's a scene in Volume 2 where Ms. Marvel comes to town to talk to Lunella about being a hero and it's the best thing I've ever read from Marvel.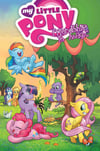 My Little Pony - Yes, really. Like the modern show (now with 7 seasons), the comics are funny and well written. There are also tie-in comics for Strawberry Shortcake, Frozen, Star Wars, and lots of other popular franchises.

Mouse Guard - For the kid who likes fantasy and/or anthropomorphized animals. Similar to Redwall.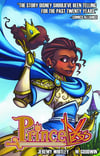 PrinceLess - Some of the references may go over your kid's head, but the heroine is a black princess who kicks ass and doesn't conform to gender expectations. She frees herself in the first volume, then sets out to free her sisters, who have also been locked in towers by their father, the king. Adrienne befriends another girl and they end up on all sorts of adventures that I can't share with you because of spoilers. It's truly an all-ages series, and I'd read it even if my kid didn't like it.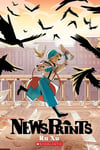 Newsprints - This is a standalone graphic novel about a girl selling newspapers in a city at war. Only one paper in the city is telling the truth, and girls are expected to sell cookies to support the war effort, which makes the story about the power of words, friendship, and doing what's right. It's also really pretty.

Delilah Dirk and the Turkish Lieutenant and sequels - This is a historical fantasy/fiction series that's hard to categorize. There's a bit of enemies-to-friends, with Greek heroine Delilah and the eponymous Turkish Lieutenant on opposite sides of the law. In the first volume, she teaches him to enjoy a less regimented (literally) life. It's a fun romp, full of humor and adventure.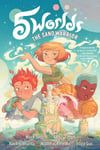 Five Worlds, Vol. 1 is The Sand Warrior - This was, hands-down, my daughter's favorite new graphic novel in 2017. She's read it a half dozen times and has been begging for the next in the series ever since. It's billed as "Star Wars meets The Last Airbender," so you'll know its an ensemble sci-fi/fantasy epic. What you don't know is how adorable the art is!

Compass South and Knife's Edge - Twin kids leave 1860 New York to go on a seafaring adventure! The art in these is utterly charming and you can find them in a lot of libraries.

The Nameless City Trilogy - This trilogy wraps up in 2018, and it's so good that I've bought it four times now. One set for us, three as gifts! The series takes place in a city that's changed hands so many times that it's stopped having a single identity. The populace is diverse and fractured, and the first book starts with a boy from the ruling group and a girl from the streets becoming friends and preventing a Big Bad Thing from happening. The series continues as the two of them work to unify the city and prevent more Bad Things. It's hard to describe the plot without giving much away, so just take my word that it's compelling and you'll want all three volumes at once.

MFK - This is an all-ages fantasy with stunning artwork and limited text. The main character is a bit of a recluse, on a journey to scatter her mother's ashes. There's an epic plot happening elsewhere, though, and she keeps getting caught up in it. Some of the themes will probably not make much sense to the younger crowd, which is why it's here.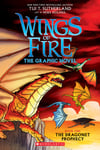 Wings of Fire, Book One of the Dragonet Prophecy - A graphic novel adaptation of the popular Dragonet series. Dragons! No people, just dragons!

Real Friends - This is listed on Amazon as ideal for kids ages 8-12 and I agree. The story is about navigating middle school - cliques and bullies and so on - and how to find your real friends. It's also about why good friends are worth the struggle, and how to be one yourself. Hale has a lot of experience writing for kids, and it really shows in her approach to a tricky topic. Somehow it's fun to read!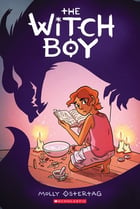 The Witch Boy - A fantasy graphic novel about a boy who comes from family with magical gender roles. He wants to be a witch, but gets in trouble for trying to learn. It's a story about being true to yourself and (subtly) about talking to your family when it's hard. The protagonist is 13, but I think the story is appropriate for younger kids.

Amulet - This is a really popular fantasy series that can be found in a lot of libraries. There are 8 volumes out and it's listed for the 8-12 year range. (This was "too scary" for my own 6 year old, but YMMV.)
Looking for more? A bunch of the Babysitters club books have been converted to graphic novels, as well as books like A Wrinkle in Time, the Percy Jackson series, and many others. My kids have also really enjoyed the DC Super Hero Girls line.

Kids Around 9 and Up
This group of recommendations is for kids between the All-Ages category and Young Adult. YA these days tends to include books that contain significant violent content and complex themes, like adult comics but with teenage protagonists. These are somewhere between kids and adult, so you'll want to judge suitability on a case by case basis.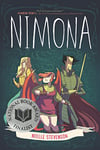 Nimona - This is a widely recommended comic that's won a bunch of awards. It's also more violent than I was expecting it to be. The heroine is more of an anti-heroine, in that one of the other protagonists spends much of the book trying to convince her to stop being quite such a good assistant villain. The premise is that Nimona is the assistant to a villain and they're working to bring down the Good Guy. Of course, the Bad Guy and the Good Guy are in love, so neither wants to actually kill the other person. It's complicated.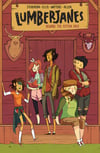 Lumberjanes - From the creator of Nimona, a series about a group of girls having supernatural adventures at camp. From the blurb: "Five best friends spending the summer at Lumberjane scout camp...defeating yetis, three-eyed wolves, and giant falcons...what's not to love?!"


March Trilogy - This is a definitely a series for kids who can read and/or have a parent nearby to discuss the content. Co-written with Congressman John Lewis, the trilogy details Lewis' journey from his youth through the Civil Rights Movement. It covers a wide array of topics, including voter suppression, nonviolent protest, civil disobedience, hope, and struggle. It's also not a series that pretends everything is fixed, which makes it more powerful and relevant.

Boxers & Saints, also American Born Chinese - The first two are a historical comic about the Boxer Rebellion, told from both sides (one for each). American Born Chinese is a semi-autobiographical comic about finding identity as a Chinese-American boy. All three are by the same creator, so the art style is similar. These are often in libraries.

Smile, Sisters, and Drama - These are all by Raina Telgemeier and your library will most likely have a copy since they're super popular. They each cover the pre-teen suburban white girl experience and will probably be enjoyed by the same. (Her 2016 title, GHOSTS, has been noted as having poor representation of the history of the Missions in California.)

Raven The Pirate Princess - This is technically a spinoff of Princeless, which is in the All Ages category up above, but it's such a great series that I think it easily stands on its own. Raven is the daughter of pirate royalty, trying to win back her family fleet from her two dastardly brothers. She forms a diverse all-girl pirate crew and gets into all sorts of messes. Raven is of Chinese descent and is strong, smart, and impulsive. She's also attracted to women, which leads to love-triangle struggles after a couple of volumes. Raven's crew is great, and they provide levity and gravity for the series in turns. We wrote about it here!

The Prince & The Dressmaker - This is listed as YA because there's a bit of romance, but my kid read it and enjoyed the beautiful dresses and the friendship between a seamstress and a genderqueer prince. We reviewed it here!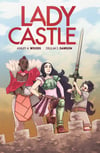 Ladycastle - This was a 4-issue complete series from BOOM! that's been gathered into one print volume. It's a diverse female-led fantasy comic in which the men of the castle all go off to fight and never come back. The women quickly take over and prove to themselves and everyone else that they're more capable than anyone ever thought. I especially appreciated that the women are able to prove their worth in a wide variety of ways, not just strength and cunning or skill with weapons.

In general, First Second and the Graphix line from Scholastic are worth keeping tabs on. They're both putting out some original works that are great!
And that's a wrap!
If you have any questions, please feel free to send them to suzanne@loveinpanels.com. I'll gather questions as we go and answer them at the end if they aren't covered in a post. Happy reading!