In an unexpected but very appreciated development, my favorite kids/teen comics publisher, First Second (part of Macmillan) sent me a box of early/recent finished copies! I decided to record as I opened the box, which is full of titles appealing to kids ages 5-teen.
Though this site covers queer/romance comics, we've reviewed quite a few of First Second's YA titles as they often feature LGBTQ+ characters. And since my 8 year-old is obsessed with graphic novels, we read a ton of them and I recommended a bunch in our Comics Guide - right here in this post. (Please note that our comics guide also includes a post that features comics for the 18+ crowd.)
Until I can find a better home for them, I'll probably do periodic roundups of graphic novels for kids and post them here. I'm going to tag them as "kids comics."
On to the unboxing! I'll post affiliate links to all the comics below the video in case you miss any.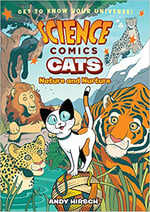 Science Comics: Cats: Nature and Nurture
By Andy Hirsch (Author)
Release Date: August 13, 2019
In Andy Hirsch's Science Comics: Cats, we meet feline friends from the tiniest kodkod to the biggest tiger, and find out what makes your neighborhood domestic cats so special. Equipped with teeth, claws, and camouflage to survive everywhere from deserts to mountaintops, how did these ferocious felines make the leap from predators to playmates... and are they even done leaping?
Every volume of Science Comics offers a complete introduction to a particular topic―dinosaurs, the solar system, robots, and more. Whether you're a fourth grader doing a natural science unit at school or a thirty year old with a secret passion for airplanes, these books are for you!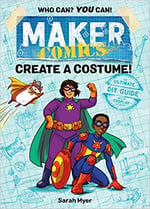 Maker Comics: Create a Costume!
By Sarah Myer
Release Date: August 6, 2019
The comic convention is just a few short weeks away. All Bea and Parker need now are great costumes . . . but won't the supplies and materials cost a fortune? Not if Bea and Parker follow a few simple instructions from Costume Critter, the world's cutest cosplayer!
With Maker Comics: Create a Costume! you can create fun, easy, budget-friendly costumes. And you don't have to start from scratch: a few simple modifications can transform thrift store clothes into a variety of costumes. Even mastering the sewing machine isn't as hard as it looks! You can make amazing costumes―all you need are the right tools, a little know-how, and a lot of imagination.
Follow the easy step-by-step instructions and you can make these costumes!
Magical girl (or boy!)
Witch or wizard
Animal hoodie
Space traveler or astronaut
Superhero (or villain!)
Alien or monster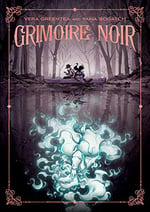 Grimoire Noir
By Vera Greentea (Author), Yana Bogatch (Illustrator)
Release Date: July 23, 2019
Beautiful, spooky, and utterly enchanting, Vera Greentea and Yana Bogatch's Grimoire Noir is a charming graphic novel about coming to terms with your own flaws and working past them to protect those dear to you.
Bucky Orson is a bit gloomy, but who isn't at fifteen?
His best friend left him to hang out with way cooler friends, his dad is the town sheriff, and wait for it—he lives in Blackwell, a town where all the girls are witches. But when his little sister is kidnapped because of her extraordinary power, Bucky has to get out of his own head and go on a strange journey to investigate the small town that gives him so much grief. And in the process he uncovers the town's painful history and a conspiracy that will change it forever.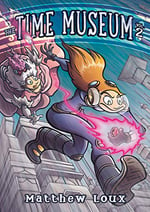 The Time Museum, Volume 2
By Matthew Loux
Release Date: June 11, 2019
In this second volume of the Time Museum duology by Matthew Loux, Delia and her team of time travelers head to Versailles in 1778.
Delia and her fellow time travelers are ready for their next big mission, and this time they won't be working alone. With the help of a more seasoned Epoch Squad, led by none other than President Richard Nixon himself, the team heads back in time to save a historical alliance between the United States and France.
The plan goes awry and they find themselves trapped in the wrong reality, where the only ones who can help them are...themselves? Will the team be able to ditch their itchy French formal wear and escape the time loop they're trapped in? Or will this be their last mission?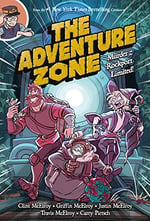 The Adventure Zone, Volume 2
By Clint McElroy (Author), Griffin McElroy (Author), Justin McElroy (Author), Travis McElroy (Author), Carey Pietsch (Author, Illustrator)
Release Date: July 16, 2019
In the second Adventure Zone graphic novel (adapted from the McElroy family's wildly popular D&D podcast), we rejoin hero-adjacent sort-of-comrades-in-arms Taako, Magnus, and Merle on a wild careen through a D&D railroad murder mystery. This installment has a little of everything: a genius child detective, an axe-wielding professional wrestler, a surly wizard, cursed magical artifacts, and a pair of meat monsters.
You know, the usual things you find on a train.
Hot on the heels of The Adventure Zone: Here There Be Gerblins, the smash hit graphic novel that launched the series, The Adventure Zone: Murder on the Rockport Limited picks up the saga where volume 1 left off. Both books are based on "The Adventure Zone," a tabletop RPG comedy podcast with downloads numbering in the tens of millions and an army of passionately devoted fans. With art and co-adaptation from Carey Pietsch, the McElroys are once again turning their raucous freewheeling D&D campaign into some damn fine comics.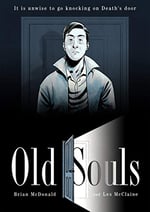 Old Souls
By Brian McDonald (Author), Les McClaine (Illustrator)
Release Date: June 25, 2019
From Brian McDonald and Les McClaine comes Old Souls, a supernatural graphic novel about addiction, obsession, and the things we do for family.
Chris Olsen has a good life. He has a regular job, a wife and daughter who love him, and a promising future. By any measure this is a good life, but it isn't his first.
When a troubling encounter with a homeless man triggers something inside Chris, memories of his past lives bubble to the surface. A lost Chinese boy, a wailing grandmother, and a love so powerful it never left his soul—all compete for his attention.
Chris sinks deep into the seedy and seductive world of "grave robbers," vagrants known for their ability to relive their former lives. But can he find closure to a tragic episode in his past without losing himself in the process?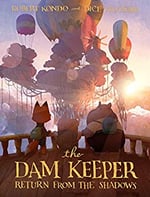 The Dam Keeper, Book 3: Return from the Shadows
This is the final volume in the trilogy, so here's a link to the whole series.
By Robert Kondo (Author), Dice Tsutsumi (Author)
Release Date: July 2, 2019
Based on an Oscar-nominated animated short by former Pixar directors, The Dam Keeper: Return to the Shadowsis the third and final volume in a breath-taking graphic novel series about a pig's epic journey.
Sunrise Valley is without a dam keeper, and time is running out. In less than twenty-four hours, the poisonous tidal wave of black fog will descend on Pig's home. While Fox, Hippo, and Van hurry east to warn the townspeople, Pig ventures on his own path.
Pig is following a trail of clues that are inexplicably linked to his father, and now that trail is leading upward. What he finds on a floating island above the clouds will shake him to his core, but it just might be the answer he needs to save his home.
Thanks to First Second for these gorgeous books! I'll give an update on my (and the 8 year old's) thoughts soon.