Oni Press dropped the first issue of Dream Daddy, a comic based on the indie hit video game of the same name. Dream Daddy the game is a dating sim in which you go round meeting a bunch of other dads and dating them. It's packed with dad jokes and gently pokes fun at dating sims in general. It's silly in a self-aware sort of way, though some felt it fetishized male/male relationships. Others were annoyed that you couldn't get an HEA with 100% of the dads.
I played the game a bit but quickly lost interest, if only because it's a PC/Mac game and I had to sit in my basement to play it. Dream Daddy's charm could not compete with the basement's uh... lack thereof?
Now that you have this scintillating backstory, here are my thoughts on the first issue of the comic adaptation!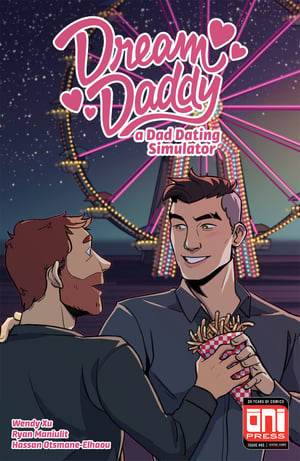 The first issue focuses on Craig, the "fitness dad," and the next four issues will be released on September 26th, October 24th, November 21st and December 19th. The second issue will center on "goth dad" Damien and "bad dad" Robert while the third will feature "cool dad" Mat. The fourth in the series will focus on "rival dad" Brian and "cool youth minister dad" Joseph while the final issue will follow "teacher dad" Hugo. Each of these dads is a dating option for the main character, customized and played by you in the dating sim, but given a universal appearance here because the comic format requires it.
In this first issue, we move back to town and meet our old college friend, Craig. Craig has a baby and an amicable relationship with his ex-wife. He stayed in town and convinces you to go to a class reunion at a place with yucky food.
You go to the reunion, hang out for a bit, then leave for better food and a stroll. A seagull steals your food, like a jerk, but then also manages to snag your watch! Jock Craig to the rescue! He climbs a cliff and takes back your watch. The two of you have a romantic sunset nosh with some seagulls and it's a weird and silly date that is maybe not a date but maybe is and... the whole book ends with a kiss.
This issue is as cute and silly and punny as the game, but I'm not sure how the rest of the series will gel. It sounds like perhaps each issue is a single date, which could be fun if it's done well. One of the issues is written by Spike from Iron Circus Comics, so I'll follow her anywhere, but my end verdict is this:
If you wanted to check out the game but couldn't, or if you're already a big fan of the game, you should pick this up.
Otherwise? Probably give it a pass.
You can pick up the comic at all the usual places, including Amazon and direct from Oni Press (more links in the widget at the top of the post).
If you want to try out the game, you can buy it on Steam.
Here's the full comic lineup: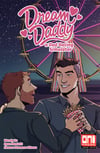 Issue #1: "Much Abird About Nothing" (Aug. 29)
(W) Wendy Xu (A/C) Ryan Maniulit
It's college reunion time! Who'd have thought that it's already been fifteen years since Keg-Stand Craig and the new Dad on the block went to college? This one's like a buddy cop comedy, only there are no cops and more avoiding old flames while trying to stifle an existential breakdown, bro.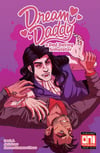 Issue #2: "Let The Right Dad In" (Sept. 26)
(W) Lee C. A. (A/C) Jack Gross
There's a new Dad in the cul-de-sac... and he's already sunk his fangs into the neighborhood! But Robert knows a vampire when he sees one, and he's armed with enough garlic and rewatches of F. W. Murnau's Nosferatu (1922) to get to the bottom of this mystery.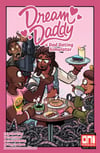 Issue #3: "Dream Ad-y" (Oct. 24)
(W) Leighton Gray, Vernon Shaw (A) Jarrett Williams (C) Jeremy Lawson
Sales are dropping at the Coffee Spoon, and Mat is looking for a way to drive new customers to the shop. Thank goodness the rest of the neighborhood is filled to the brim with enough seasoned craftsmen of the film industry to create the best local ad Maple Bay has ever seen! Just kidding, have you ever asked a Dad to take a picture of you? What can we say? The Dads and their kids try their best.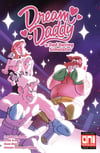 Issue #4: "Fair Deal" (Nov. 21)
(W) C. Spike Trotman (A) Drew Green (C) Reed Black
The science fair is tomorrow, and Daisy hasn't started her project yet! All she wants is a ride to the library and a participation ribbon. But Brian has bigger plans for her: wind turbines, working replicas of Mount Vesuvius, human genome editing. Turns out Daisy's not the only one who procrastinated, and Joseph is out to force Christian and Christie to become the next science superstars. Can the kids get their presentations ready before the librarian kicks them all out for a no holds barred Dad-off?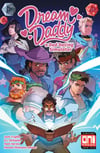 Issue #5: "Dungeons & Daddies" (Dec. 19)
(W) Josh Trujillo (A) D.J. Kirkland (C) Matt Herms
Hugo has been preparing for this moment for months, and it's finally here. He's wrangled all of the Dads to play an extremely popular but non-descript tabletop role playing game together! And with his carefully laid plans, Hugo is sure he'll be the best Dungeon Master they've ever seen… as long as they all take the game as seriously as he does.