DC continues to impress with their YA origin stories. We've reviewed several, with more to come soon, but this one was billed as a fantasy romance, so we decided to give it priority.
I have a spoiler related to this down at the bottom of the review.
If you know who Dick Grayson is, you know that he's destined to become Batman's sidekick (Robin) and then Nightwing. He grew up in a family of acrobats and doesn't have superpowers. But he is pretty great. What this means is that he can't ride off into the proverbial sunset at the age of seventeen if he's got this other big future ahead of him. Instead, this is a story about finding out who you are, how you can fight for a more just world and what you need to do to get to a point where you can.
The Lost Carnival opens with Dick reluctantly performing the same show yet again with his parents in a traveling circus. Like most of these origin stories so far, our protagonist yearns for more. Turns out, there's a competing circus across the road... with actual magic. Tensions are high, but Dick falls for a girl from the other circus--a girl with a very big secret.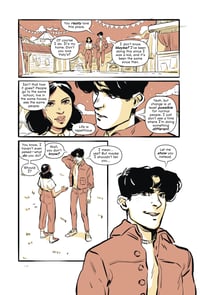 Sas Milledge's art isn't overly detailed, but is evocative and beautiful. Most pages are in three colors, black and white with either shades of blue or shades of red, depending at which circus the scenes are taking place. The magical circus setting is excellent, with 1930's hair and costuming.
In all, I recommend The Lost Carnival for fans of coming-of-age stories, Dick Grayson/Robin/Nightwing and anyone who likes a bit of historical fantasy and romance with their superheroes.
If you're ready to pick up a copy, here are some buy links for you!
Amazon ◊ Apple Books ◊ Barnes & Noble ◊ Bookshop
Spoiler: There is no HEA. Now, before you revolt and ask why I would cover a comic without a happy ending on a Romance Comics site, hear me out - it's important to the future of Dick Grayson that there isn't an HEA. And I think this was done well. It's deeply romantic, even if bittersweet.
Suzanne received a digital copy of this book from the publisher for review. (And has since purchased it.)
Content Warnings: violence, fire, grief, past death of parent, attempted abduction/imprisonment