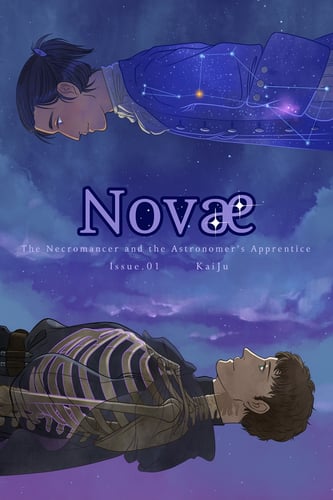 Synopsis from the Creator
:
It is 17th century France, the age of discovery and scientific revolution. Sulvain, a mysterious traveler, is absorbed in the Parisian academic scene. Through his friendship with the renowned Christiaan Huygens, Sulvain has the chance to study the latest discoveries of the distant cosmos. Deep in the library of Academy of Sciences, however, our traveler will meet Huygen's apprentice--Raziol Quamar--who will truly spark new lights in Sulvain's universe. But as the two grow closer, trouble brews in the city.
Love In Panels' Review
:
NOVAE is a beautiful comic. As of this writing, KaiJu has released two full chapters/issues and is part-way through a third. I would have kept reading this all day had I not run out of content. It's that kind of lovely.
I have a limited knowledge (and interest, tbh) in astronomy, but the building relationship between Sulvain and Raziol has got me hooked. Sulvain is mute, leaving the two to supplement their written conversation with a lot of facial expressions and touch. Long glances, subtle blushes, awkward excuses... it all rings true.
The story so far is centered around Raziol's study of Saturn's rings, a presentation, and a stargazing interlude. With humor, mystery, and a hint of something magical, this story will draw readers in and keep them there.