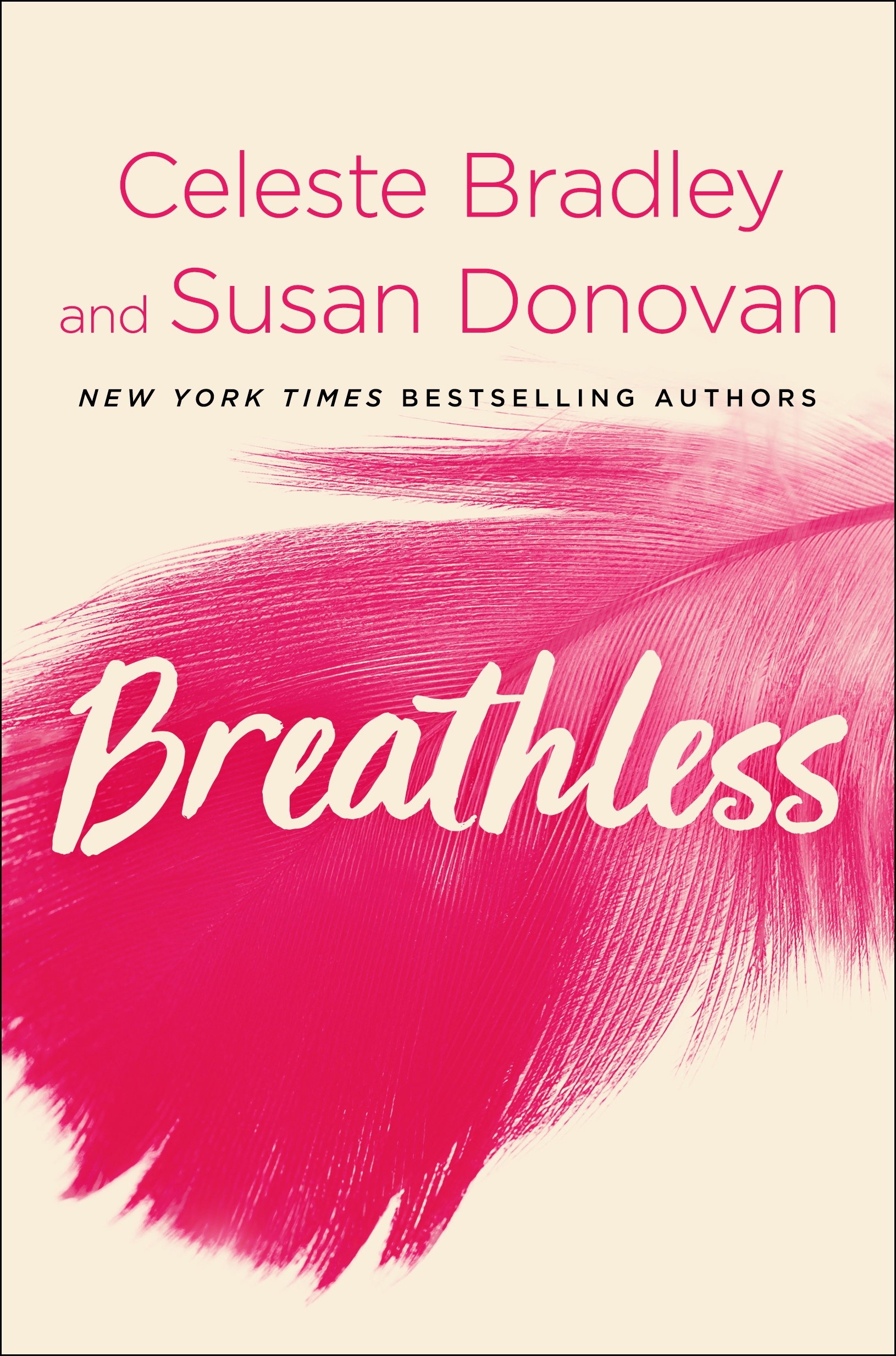 If you like time-slip adventures like Outlander and books by Susanna Kearsley, you may want to check out Breathless, a new novel from Celeste Bradley and Susan Donovan.
We have an excerpt for you below, but here's the summary:
In Breathless, bestselling authors Celeste Bradley and Susan Donovan will sweep you away—across continents and centuries, combining the best of all worlds in one unforgettable romantic saga.

She was "the Swan." London's premiere courtesan. Men want to be with her. Women loathe her success and yet admire her beauty, her riches, her independence. But when the jealous wife of her lover moves to have the Swan banished from her home on the high seas, she winds up crashed against Spain's rocky coast with no shoes, no clothes—and no name. Taken in by a tortured, sensuous man known as The Artist, the Swan comes to know the woman she wants to be—her artist's siren.

When Art Professor Brenna Anderson is in danger of losing her post at Harvard, the rule-following, prim professor is at a loss of how to salvage the shreds of her life. But when a new painting in the mysterious Siren collection is discovered in a dusty old house in France, Brenna does the unthinkable—hops on a plane to uncover the identity of the beautiful, enigmatic woman who is the subject of the paintings.

There's just one hitch—the frustrating, irritating, bold and beautiful art hunter Fitch Wilder is also looking for the Siren. He's been a thorn in Brenna's professional side for years, but when their individual quests lead them to team up despite being enemies, a whole new sumptuous world of art and culture opens up for the two of them. And with it, they enter a realm of passion and love…
About the Authors:
CELESTE BRADLEY is the New York Times bestselling author of the Runaway Brides, Heiress Brides, Liar's Club, and Royal Four series. Her novel Fallen was nominated for a RITA in 2002. "When you are overendowed with imagination and underendowed with punctuality, become a writer." Years of dreaming on the job paid off when Celeste Bradley quit the mainstream in 1999 and started writing historical romance. "Handsome heroes beat out cranky customers every time!" Bradley lives in New Mexico with her family, her desert garden and so many pets the house sometimes feels like an ark.

SUSAN DONOVAN's novels have won accolades for being witty, sexy, and entertaining. A former newspaper reporter with journalism degrees from Northwestern University, Susan is a New York Times and USA Today bestseller whose novels have been translated into dozens of languages. Susan is a two-time RITA Award finalist, and her novel Take a Chance on Me was named Best Contemporary Romance of 2003 by RT Book Reviews Magazine. She lives in New Mexico with her family and assorted dogs.
Buy The Book!
Ready to check out the book? We hope you enjoy this excerpt!
***
Chapter One
Paris
Door hinges groaned with age and disuse as Fitch Wilder got his first peek of history.
"Un capsule temporal…" his employer had whispered those words only moments before, as they'd climbed the narrow stairs of the vintage Paris apartment building and waited for the flat's door to be unlocked. Yet even as Fitch's eyes adjusted to the murky light, he could tell these rooms were more than a time capsule—he was about to step into a fine art wormhole.
"Oh, monDieu!" Jean-Louis Rasmussen gestured madly, pointing as if Fitch couldn't see the eerie sight for himself—a richly appointed tomb, still as death, undisturbed for seventy-five years.
Until right at that instant.
The indirect light of the hallway began to illuminate the details. Fitch saw heavy velvet drapes and Persian carpets, a gilt bronze writing desk, ornately carved tables covered in figurines, clocks, and blown glass. Paintings in gilded frames were stacked six-deep against Louis XV chairs. Sculptures hid in shadowy corners. Vases lined the fireplace mantel like soldiers from mismatched armies. It looked as if someone had planned a seriously badass rummage sale and then decided against it.
Perhaps not so far from the truth.
As he had recently learned, a young woman inherited this apartment from her grandmother on June 11, 1940. Talk about rotten timing. The very next day, Paris braced itself for the Nazi invasion, and the young mademoiselle locked down her grandmother's residence in the 9th arrondissement and fled to the south of France, never to return. Through the following decades, the woman's solicitor paid the taxes and insurance on the apartment until his client passed away just weeks ago at the age of ninety-three. In her will, the never-married woman carried out the wishes of her long-gone grandmother and bequeathed the apartment's contents to a variety of foundations, universities, and museums.
That was where Fitch came in. One of his occasional employers, the private Musee de Michel-Blanc, was among the beneficiaries, and he'd been hired to advise them
Read More [fa icon="long-arrow-right"]