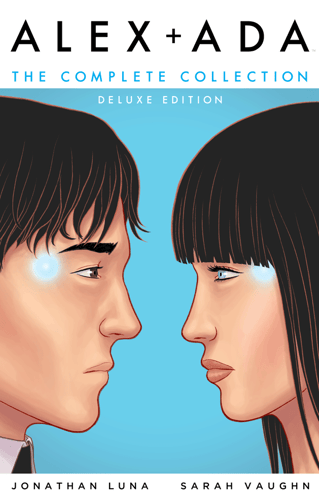 Title: Alex + Ada

Creators:
Format: EBook Print

Color: Color

Romanceiness: Definitely a Romance
Heat: R
Tags: sci-fi straight

Synopsis from the Creator
:
From JONATHAN LUNA (THE SWORD, GIRLS, Spider-Woman: Origin) and SARAH VAUGHN (Sparkshooter, Ruined) comes ALEX + ADA, a sci-fi drama set in the near future. The last thing in the world Alex wanted was an X5, the latest in realistic androids, but after Ada is dropped into his life, he discovers she is more than just a robot and takes a huge risk to unlock Ada so she can think for herself and explore life as a sentient android. Can they survive the consequences?
Available as 3 volumes, 15 issues, or 1 complete Deluxe Edition.
Love In Panels' Review
:
A guest review from Matt (that's Love In Panels's tech-wizard):
ALEX + ADA is a single single science-fiction romance that spans three volumes. It takes place in a world that you can see in the not-too-distant future, which makes the conflicts seem more real and plausible. Instead of iPhones, we have a network that can be implanted directly into your brain; some people love it, but some older people prefer the more personal touch of a video call to relatives. Just like today, but advanced so that I'm one of the old people.
The male protagonist, Alex, is somewhat heartbroken, slogging through life in an office job. His well-meaning grandmother decides to send him a lifelike robotic Tanaka corporation companion, Ada. He's immediately put off by the idea, and with good reason. A few years back, there was a robot that achieved sentience and went on a killing spree. It's not the killing spree that frightens Alex - it's the fact that this creature, who must obey his every command, might be sentient, and completely unable to grant consent. The treatment of women is definitely a prominent thread through the entire series.
Alex decides not to return the unit - something he considers to be a moment of weakness. He starts to frequent internet forums where people discuss how to "unlock" the sentience within a Tanaka robot. When Ada wakes up, neither Alex, nor the world, are ready for what happens next.
The first volume is a story of emotional exploration and confrontation of bigotry. Lifelike robots fall into the concept of the "Uncanny Valley," and make some people extremely uncomfortable. They're all tattooed so that they can't be mistaken for a "real" person. The second volume deals with the social strain of someone trying to pretend to be something they're not - Alex and Ada have broken the law by unlocking her sentience, and Ada has a huge struggle ahead of her as an illegal entity. This volume is much more centered on her than on the romance. The final volume is much faster paced than the prior two, and relatively violent (compared to the rest of the series). This should not be mistaken for rushing the ending (as many comics do) - it feels well-planned and is the end of a steady accelerative curve. Their illegal actions have real world consequences, and the ending was definitely not what I expected, but gives a really great perspective.
It's a very delicate romance that blooms between Alex and Ada, as they didn't meet in the best of circumstances. One partner has trouble treating the other as anything but a child; the other has difficulty with the brand new emotions she's capable of. Somehow, with a lot of reliance on their mutual friends, they're able to work through. The ending is satisfying and heartwarming.
The artwork is very straightforward, and simple enough to convert the messages. It's a very sanitized future, which fits in well with so many of the themes. There's a similarity between the sanitization of AI and the meticulous nature of streets, offices, houses. The robots aren't the only AI creatures, and the remaining AI force keeps everything well-groomed, and you can feel it. This also leaves the facial features of many of the characters feeling a little bland, but it's made up for in body language.
Overall, I can definitely recommend this to fans of science fiction, romance, or both!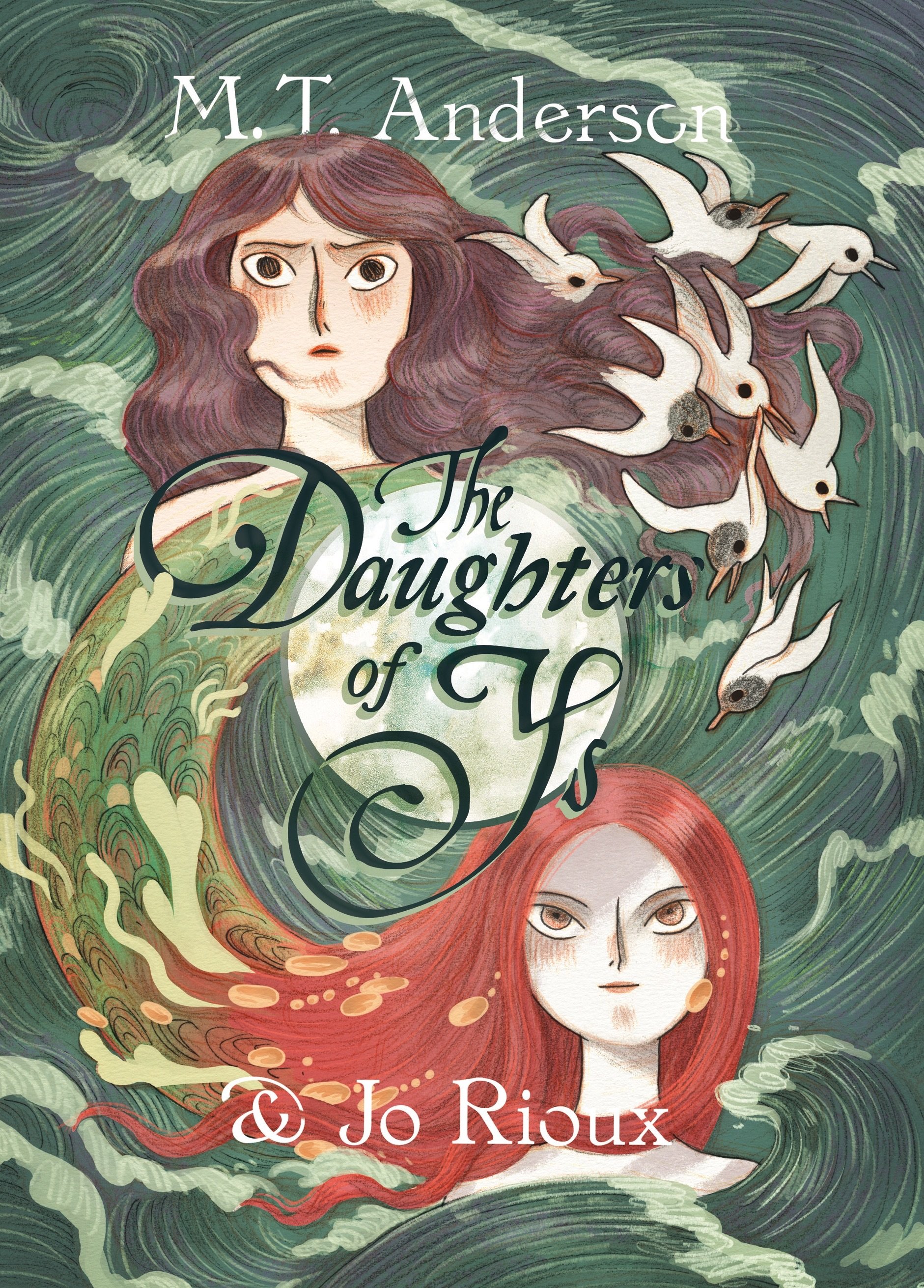 This is the book for you if you like:
1) messy sister relationships
2) magic, used for both good and evil
3) a distinctive art style with emphasis on watery tones and pops of red
4) folktales

The Daughters of Ys is a retelling of an old Breton folktale, set in a magically protected and constructed seaside city called Ys. (Similar to Atlantis, it's a magical city that's now sunken and never seen again.) The Queen, possessed of faerie magic, has just passed away and her two daughters are left with an irresponsible, grieving mess of a father. The elder sister takes to the countryside, bonding with animals and local people, even finding love with a commoner. The younger sister takes her anger and magic and uses them to keep the city going with her father. She does all the things no one else is willing to do and it's unclear whether she's actually "bad" or just does evil things. If she didn't do them, the city would fall into the sea and the sea monsters that guard it would attack all the inhabitants, so is all the murdering she does to feed the monsters and magic really that bad? Hmm.
Read More [fa icon="long-arrow-right"]